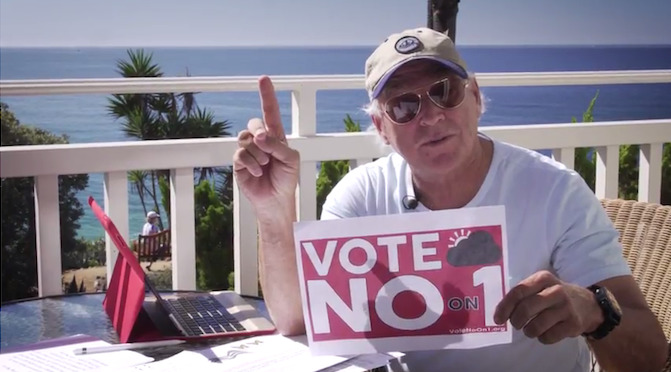 Amidst radio silence from Florida's utilities, solar advocates have rallied against utility-backed Amendment 1 that seeks to prohibit third party solar ownership as advance voting begins.
Early voting opened yesterday, hot on the heels of Amendment 1 being exposed for attempting to deceive voters into believing it is a pro-solar measure. After James Madison Institute's president of policy Sul Nuzzo characterised the Amendment as "an incredibly savvy manoeuver" that "would completely negate anything [solar advocates] would try and do either legislatively or constitutionally down the road", more than 185 Floridian solar supporters have banded together to oppose the measure.
Specifically, a broad coalition of solar businesses and organisations have formally announced a diverse list of bi-partisan opposition to the Amendment on the November 8 ballot, according to Floridians for Solar Choice.
"Floridians are being presented with a poisoned apple in the form of a confusing and misleading anti-solar amendment," said Tom Kimbis, interim president of the Solar Energy Industries Association. "Amendment 1 restricts the freedom of Floridians to go solar and leaves them at the mercy of monopoly utilities. The right vote for solar is to vote NO on Amendment 1."
"Power companies and groups opposing any form of alternative energy market in Florida have continually engaged in a campaign to label anything that would bring more energy choices to Floridians as 'subsidies' in an effort to invoke fear by outright lying," said Alexander Snitker, chairman, Liberty First PAC. "Amendment 1 is a pitiful attempt to prolong their stranglehold on the market."
A number of high-profile public figures have joined the support, including singer-songwriter and actor Jimmy Buffet who released a video urging fellow Floridians to 'vote no on 1'.
In fact, former vice president Al Gore retroactively voiced his opinion that utilities behind Amendment 1 are attempting to "trick" voters into ending net metering, even before such sentiment was exposed via Nuzzo's leaked comments.
During a stump for Hillary Clinton in the Miami area two weeks ago, Gore dubbed the measure a "phoney baloney" initiative whilst underscoring its deceptive nature.
"The things they claim protect solar are protections you already have," Gore said at Miami Dade College's Kendall campus on 11 Oct 2016. "But they are trying to fool you into amending your state Constitution in a way that gives them the authority to shut down net metering and do in Florida what they did in Nevada and just kill the solar industry."
Utility response
Amidst the sea of outrage and support for rejecting Amendment 1, Florida's monopoly utilities have remained silent. In fact, before the JMI audio leaked, Florida Power & Light CEO Eric Silagy defended the Amendment as the most "plainly written amendment I've seen in a long time".
"It's pretty clear," he continued at the time. "I don't think there is anything sinister or nefarious…"
However, according to the Miami Herald, utility-backed group Consumers for Smart Solar have taken to deleting tweets and Facebook posts in attempts to dissociate itself from JMI.
The ties between Consumers for Smart Solar and state utilities are harder to sever, as the funds raised in backing the campaign speak for themselves.
Florida Power & Light, Gulf Power, Duke Energy and Tampa Electric have contributed around US$17 million of the more than US$22 million raised by the political advocacy group, which only raised around US$10 from actual consumers, according to industry watchdog Energy and Policy Institute.
The Energy and Policy Institute also point out how the utilities who are contributing to the Consumers for Smart Solar campaign are acting contrary to their respective codes of conduct in financially supporting a constitutional Amendment that has been exposed as dishonest:
NextEra Energy, the parent company of top contributor FPL maintains in its code of business conduct & ethics that "We always community truthfully with the public", with Duke Energy pledging the same thing.
Regardless, the very utilities that bankrolled this controversial campaign remain unresponsive as solar advocates continue to speak out.