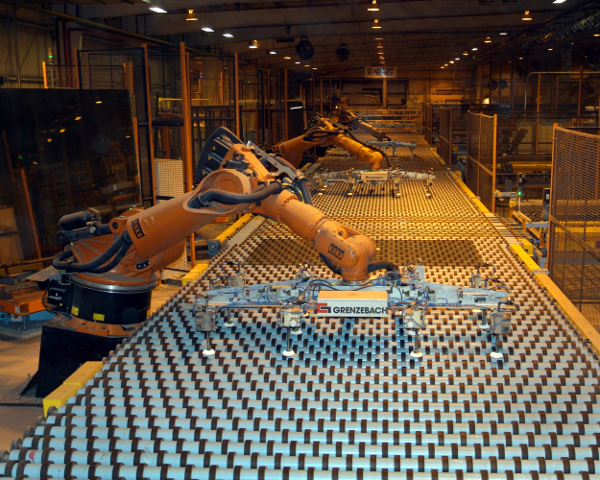 After witnessing solar prices stabilise and cell prices fall last week, glass prices have also started to contract. After taking off in H2 2020, the solar glass market would appear to now be gradually cooling off.
The latest glass price monitoring updates released by EnergyTrend showed that the current price for 2.0mm coated PV module glass was RMB31/㎡ (US$4.73), down 6.06%. The price of 3.2mm glass was RMB40/㎡ (US$6.11), down 6.98%.
Players throughout the PV supply chain who had suffered at the hands of continuously rising prices were feeling somewhat relieved by the price reduction. Excessive demands in H2 2020 had spurred the price of solar glass to rise by over 70%. Confronted by such scarce glass supply, module manufacturers were at a loss.

Driven by bullish demands and promising prices, the rapid surge in both sales and prices have contributed significantly to record high profits for all glass manufacturers.
Among them were Xinyi Solar, Flat Glass Group, An Cai Hi-Tech, CaiHong Group New Energy, Luoyang Glass and Almaden. These companies have published their 2020 annual reports, revealing enormous jumps in net profits year-on-year. A number of companies set net profit records, with the highest year-on-year increase – achieved by Luoyang – reaching 506.2%.
| | | | | |
| --- | --- | --- | --- | --- |
| Major glass companies | 2020 Revenue (RMB, billion) | Year-on-year Increase | 2020 Net Profit | Year-on-Year Increase |
| Xinyi Solar | 103.99 | 35.33% | 38.39 | 88.74% |
| Kibing Glass | 96.44 | 3.63% | 18.32 | 36.66% |
| Flat Glass | 62.6 | 30.24% | 16.29 | 127.09% |
| Luoyang Glass | 30.46 | 64.2% | 3.27 | 506.2% |
| CaiHong Group New Energy | 25.18 | 12.18% | 2.2 | 135.84% |
| An Cai Hi-Tech | 22.91 | 13.61% | 1.11 | 458.62% |
| Almaden | 18.03 | 52.22% | 1.37 | 241.27% |
Xinyi Solar and Flat Glass capture over 60% of the market, reaping nearly RMB5.5 billion
Earlier this month, Xinyi Solar reported its 2020 performance. The company had registered revenue of HK$12.316 billion (RMB10.390 billion, US$1.6 billion), an increase of 35.33% year-on-year. Profit attributable to equity holders had increased by 88.7% to HK$4.56 billion (RMB 3.85 billion, US$590 million).
In terms of business performance, Xinyi Solar had firmly retained the top spot in the PV glass sector. According to a report by Lyon Research, Xinyi Solar's gross margin was expected to remain at a relatively high level in 2021 as a result of better-than-expected average glass prices and gross margins.
To further cement its market leadership, Xinyi Solar has pushed forward multiple expansion plans, including the staged launch of four production lines totalling 1000 tons in Wuhu city and four productions lines totalling 1000 tons in Zhangjiagang city, all of which are expected to be commissioned by 2022. In addition, preliminary procedures for twelve 1000-ton production lines in Wuhu city and four 1000-ton production lines in Beihai city are now underway.
Another top PV glass company, Flat Glass, also made huge gains in 2020. On 29 March 2021, Flat Glass released its annual report for 2020, revealing that the company had achieved operating income of RMB6.260 billion (US$960 million) in 2020, a 30.24% year-on-year increase. Net profit attributable to shareholders of the public company was RMB1.629 billion (US$250 million), a 127.09% year-on-year increase.
Flat Glass's main glass plants are located in Jiaxing City in Zhejiang Province, Fengyang County, Chuzhou City in Anhui Province and Haiphong City in Vietnam. The company's management team predicted that PV glass would remain the key driving force of the company's growth in 2021. The company has, as a result, accelerated its glass production to meet strong market demands and further increase its PV market shares.
Among them, two PV glass furnaces in Vietnam with a melting capacity of more than 1000 tons per day, were commissioned in Q4 2020 and Q1 2021 respectively. The first PV glass furnace (Phase II, 1,200 tons per day) in Anhui Province was commissioned in Q1 2021.
According to the company, the construction of other PV glass furnaces (Phase II) in Anhui province would be accelerated, and these are expected to be commissioned throughout 2021. In addition, construction of the Phase III project in Anhui province (five glass furnaces, 1,200 tons/day/line) was also expected to be accelerated. The five furnaces are now expected to be commissioned in 2022.
As such, Flat Glass's capacity is expected to reach 12,200t/d by the end of this year and 18,200t/d by the end of 2022. Qi bin Group, a company that has not historically centred on PV glass, also increased its spending in this field last year. The company's high-transparency, rolled-glass substrate material project(Phase I, 1,200t/d)for PV modules broke ground on 28 December 2020. The phase expansion was part of six production lines that are integrated into one glass furnace with a total capacity of 1,200t/d. At the same time, an intensive processing production line was also constructed to process all the raw glass rolled out of the 1200t/d production line into highly-transparent substrate materials used in PV modules.
Luoyang Glass, Rainbow New Energy, Ancai Hi-Tech and Almaden witness substantial growth
In addition to these top players, companies like Luoyang Glass, Rainbow New Energy, Ancai Hi-Tech, Almaden also experienced notable business growth last year.
Luoyang Glass Corporation released its annual performance report for 2020 on 30 March 2021, demonstrating that the business had benefitted from PV glass market rebounds, increased sales and rising prices. Luoyang Glass achieved an operating income of just over RMB3 billion (US$460 million), a 64.2% year-on-year increase. Net profit attributable to shareholders of the parent company was RMB327 million (US$49 million), a 506.2% year-on-year increase.
In the renewable glass sector, Luoyang Glass's top-performing products were raw PV glass and deep processing products, including its 1.6mm-4.0mm super-white and high-transparency solar PV module covers and back sheets. To cater for the downstream technology routes requiring thinner and lighter products, Luoyang Glass has taken the lead in the research and development of ultra-thin, 1.6mm PV glass.
Luoyang Glass is forcasting for output of no less than 169 million㎡and an operating income of over RMB3.3 billion (US$500 million) in 2021.
On 26 March 2021, Rainbow New Energy published its 2020 results with operating income standing at around RMB2.518 billion, (US$380 million) a 12.18% year-on-year increase. Net profit attributable to shareholders of the parent company was about RMB220 million (US$33.5 million), a 135.84% year-on-year increase.
It also benefited from a booming PV industry and strong demands for PV glass, with the average price and gross margin of PV glass all increasing throughout the reporting period, leading Rainbow New Energy to focus on its solar PV business almost entirely.
According to the 2020 annual report released by Anchai Hi-Tech, the company's operating income had reached RMB2.291 billion (US$340 million) from for 2020, up 13.61% year-on-year; net profit attributable to the parent company was RMB111 million (US$16.8 million), up 458.62% year-on-year.
According to SCI99.com, Ancai PV New Materials, the wholly-owned subsidiary of Ancai Hi-Tech, operates a 900t/d PV glass production line with an annual output of around 39 million㎡ of processed PV glass, ranking seventh in the industry in terms of furnace capacity. At present, Ancai Hi-Tech is accelerating the construction of a 180,000 ton/year PV glass project located in Jiaozuo city.
Last month Almaden disclosed its 2020 annual performance report, revealing the company had achieved operating income of RMB1.803 billion (US$270 million), a year-on-year increase of 52.22%, while net profit attributable to the parent company was RMB1.37 million (US$270,000), up 458.62% year-on-year.
According to Almaden, the company's first furnace in Fengyang county has been providing a stable supply of raw glass since its commissioning in April 2020, which helped the company maintain remarkable growth in ultra-thin PV glass sales over the same period last year. Meanwhile, tight PV glass supply had led to significant increase in unit sales price over the same period last year.
Glass prices set to fall back to below RMB30 (US$4.58)
Having experienced sizeable growth in 2020, can the sector's glass providers continue along the same upwards trajectory this year?
PV glass remains the primary encapsulation material of PV modules. Having experienced rapid growth in 2020 and pushed by accelerated PV installation and bifacial popularity, the domestic PV industry is ushering in new development opportunities for PV glass providers.
According to industry forecasts, the market share of bifacial modules in 2020 rose substantially to 29.7% from 15.7% in 2019. The development of large area format and bifacial modules has been driving demand for wider and thinner glass, while overall demand for glass has also continued to grow steadily.
Solar glass furnace capacity has developed in line with the steady growth of glass demands. According to SCI99.com, as of the end of December 2020, the number of ultra-white rolled glass production lines had reached 173, while overall capacity totalled 29,540t/d, an increase of 16.48% year-on-year.
Mainstream glass companies have been working hard since the start of this year to promote the construction of new production bases. According to Solarwit and Blackhawk PV, the melting capacity for PV modules is expected to reach 50,000 tons by the end of 2021, enough glass annually for around 300GW of solar modules.
With the gradual release of new glass capacity, the material is expected to be in sufficient supply through H2 2021. In the guidance from one leading PV glass company, the selling price is expected to drop at least by 30% to below RMB30 per ton (US$4.58).
Other industry sources have suggested to PV Tech that leading providers of PV glass may indeed adjust prices this month in order to reduce the pressure on module production and dispel any pessimism that remains in the downstream sector. Citibank states that the highest PV glass price stands at around RMB43/ton at present.
As can be seen from the market performance over the past five years, glass companies remain greatly impacted by PV glass price, and the price drop attributed to new capacity additions may prove it difficult for providers to repeat the financial successes they achieved in 2020.