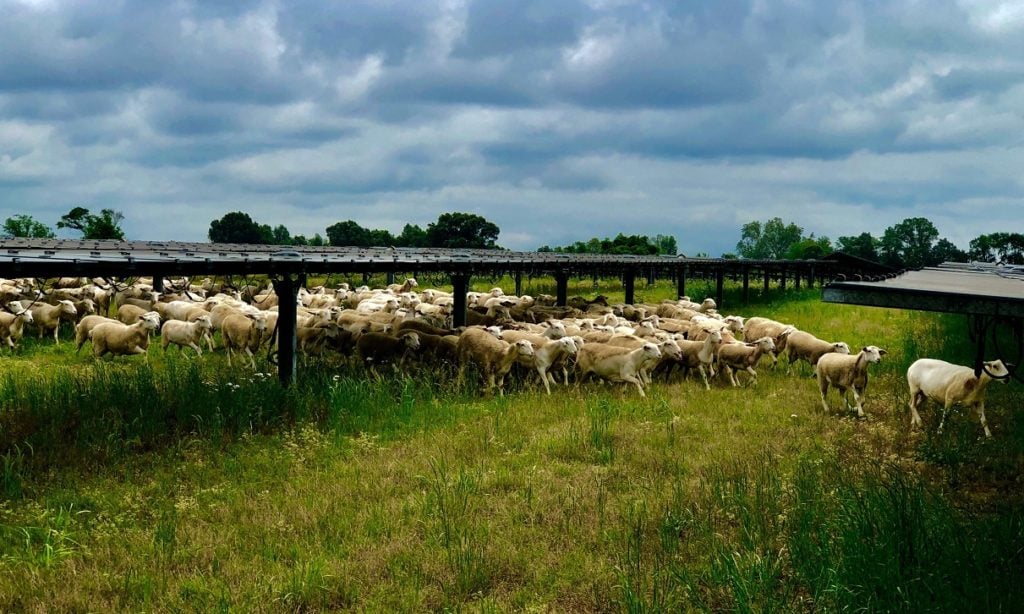 Raising more than US$1 billion in equity capital in the past year, US independent power producer (IPP) Silicon Ranch is looking to expand its model of developing, owning and operating large-scale PV plants while maintaining a strategy of co-locating projects with regenerative agriculture.
Following a US$225 million raise in late 2020, the Tennessee-based company announced last week it secured US$775 million in new equity capital – including participation from energy major Shell, which previously acquired a 43.83% stake in the IPP in 2018 – to support accelerated project development.
Recent years have seen Silicon Ranch develop a programme alongside farmers and ranchers to deploy holistic land-use practices on solar projects across the US, with grazing animals, plants and wildlife combining to enhance biodiversity and sequester carbon in the soil.
To scale its regenerative agriculture offering, the company has hired on-site shepherds, dubbed agrivoltaic technicians, to carry out routine maintenance activities at its solar projects while moving sheep around sites on a schedule to control grazing.
Matt Beasley, chief commercial officer (CCO) at Silicon Ranch, says the firm's regenerative energy model of using land to produce renewable energy and also take advantage of increased biodiversity and carbon sequestration while keeping sites in agricultural production "is something that we as an industry have a responsibility to address".
Launching its Regenerative Energy product in 2019, Silicon Ranch started developing standards to measure the relationship between regenerative land-use practices on solar farms and environmental, social and economic outcomes.
The company has since been awarded a US$1.8 million grant from the US Department of Energy to test a new solar tracker design and control system to accommodate cattle grazing underneath modules. This includes considerations for the time that cattle remain in each paddock and how the tracking system operates when cattle are grazing nearby.
"We are scientifically exploring to see if we can actually adjust our tracker designs to accommodate that larger animal," Beasley tells PV Tech Premium, adding that bringing in cattle to coexist with solar plants broadens the potential base of partners, as there are more cattle ranchers in the US than sheep ranchers.
Silicon Ranch's agriPV and carbon sequestration efforts tie into its acquisition last year of Clearloop, a start-up that helps companies offset their carbon emissions by funding new solar projects.
Beasley says that deal is in line with Silicon Ranch's vision for where the solar market is going in the US and around the world, with more counterparties going beyond powering their operations with renewables to look at decarbonisation and net zero strategies to offset Scope 2 emissions.
According to Clearloop, its mission of cleaning up the grid in US communities otherwise getting left behind by using carbon offsets ties the social benefits directly with the environmental and economic impacts of new renewables projects.
Beasley says Silicon Ranch has undergone a transformation in the last couple of years in the way it thinks about the land under its arrays and how that land can be managed to sequester carbon, creating a social return on investment that can be quantified. "We looked at Clearloop, we thought this is a group that's sitting around the corner and understanding where that market is going."
Last month saw Silicon Ranch and consumer-owned utility Walton Electric Membership Corporation complete the construction of three utility-scale solar plants that are now generating energy to help support Meta's (formerly Facebook) operations in Georgia. Totalling 287MWac, the plants are part of an ongoing collaboration between Silicon Ranch and Walton EMC to supply 100% renewable energy for a new Meta data centre.
Corporate buyers increasingly want to make sure that renewables that are powering their operations are coming from a new asset that wouldn't have been built without their influence, with more of those energy buyers "starting to see the impact and the influence they can have to move the market", Beasley says.
"Us pulling out of the Paris Agreement a few years ago, as a nation, really created this moment in time where cities and communities and companies said, 'We're still in it, we don't need Washington to help us influence our role in the world.' And I think that corporate leadership is continuing to look at what's next."
With 4GW of solar and battery storage systems contracted, under construction or operating across the US and Canada, Silicon Ranch is looking to use new equity to further build its presence in the US South. The company announced yesterday plans for an additional 252MWac of solar that will serve 16 subscribing cooperatives from across Georgia and also feature its Regenerative Energy model.
"We did the first large-scale project in Georgia, Tennessee, Arkansas, Mississippi, and now we're building the first utility-scale projects in Kentucky," says Beasley. "We are interested in pursuing new geographic markets but certainly reinforcing and expanding our footprint across this region is part of the strategy."
Questioned on the impact Joe Biden's Build Back Better Act could have on the US solar sector, Beasley says the company monitors federal legislation through its membership of the Solar Energy Industries Association but is now focusing on meeting demand from its existing corporate and utility customers.
He says: "In terms of our outlook of where the market is, the demand and the need are going to be there no matter what happens in Washington."