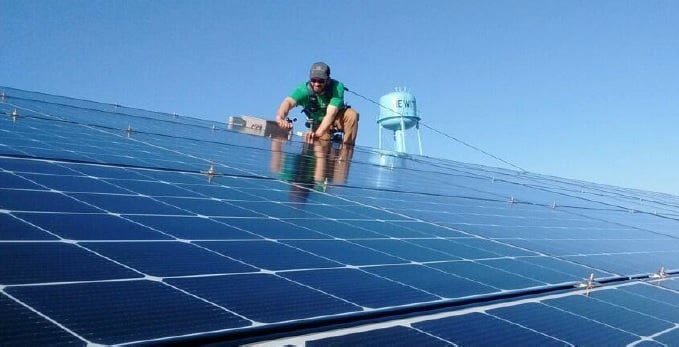 Major PV inverter manufacturer SolarEdge Technologies has continued to post record revenue and shipments in the third quarter of 2018, surpassing the 1GW of quarterly inverter shipments milestone for the first time.

In contrast to its nearest public listed rivals (SMA Solar, Sungrow and Enphase) SolarEdge's sales trajectory and immunity to current industry dynamics is setting the company apart in a crowded market.
SMA Solar announced last month that had been forced to lower its full-year revenue and profit guidance due to the market downturn in China that had led to plummeting product prices and delay's to PV Power plant development across major markets.
The company had lowered its expected 2018 revenue to be in the range of €800 million to €850 million, down from previous guidance of €900 million to €1,000 million. The company also guided a major decline in expected EBITDA, due to new restructuring charges and was expecting a break-even to slightly negative EBITDA for the full-year, compared to previous guidance of achieving EBITDA of €90 million to €110 million in 2018.
China-based rival Sungrow Power supply recently reported a 22% quarterly decline in revenue (operating income) in the third quarter of 2018, compared to the previous quarter.
Enphase has yet to report quarterly results but had guided revenue to be within a range of US$76 million to US$82 million, after posting Q2 revenue of US$75.9 million.
In contrast, SolarEdge reported another quarter of record revenue, which reached US$236.6 million in the third quarter of 2018, a 42% increase year-on-year and 4% higher than the previous quarter.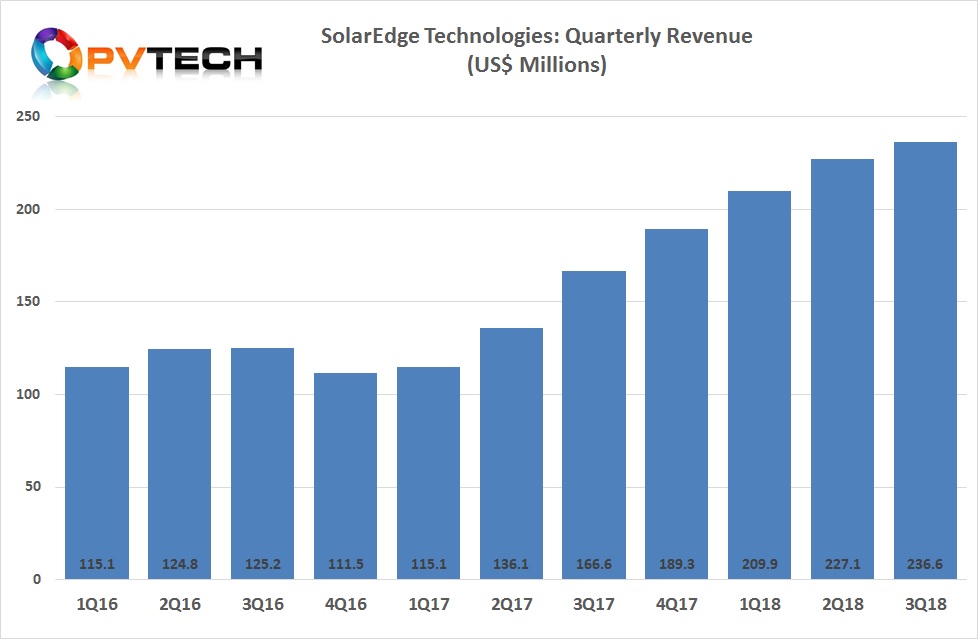 On a geographical basis management said in an earnings call that revenue from the US reached US$119.7 million, accounting for 50.6% of the total. Revenue in Europe reached US$83.9 million, a record and accounted for 35.4% of the total quarterly revenue. The rest of the world revenue also reached a new high of US$33 million, accounting for 14% of total revenue in the reporting quarter.
"This quarter we continued to grow our revenues and market share," said Guy Sella, Founder, Chairman and CEO of SolarEdge. "We shipped 1.1GW of systems and delivered over three million power optimizers, with record high shipments of commercial products."
PV Tech had previously highlighted that the company was close to reaching quarterly system shipments of 1GW and the shipment growth trajectory has been the strongest in recent years.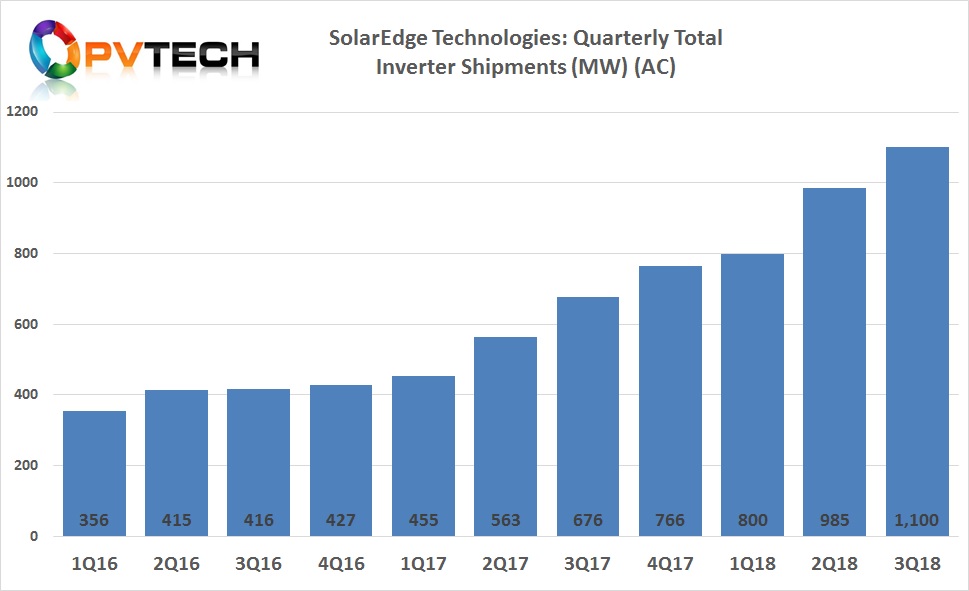 Within the system shipments milestone, SolarEdge reported 122,000 inverter unit sales, a new record.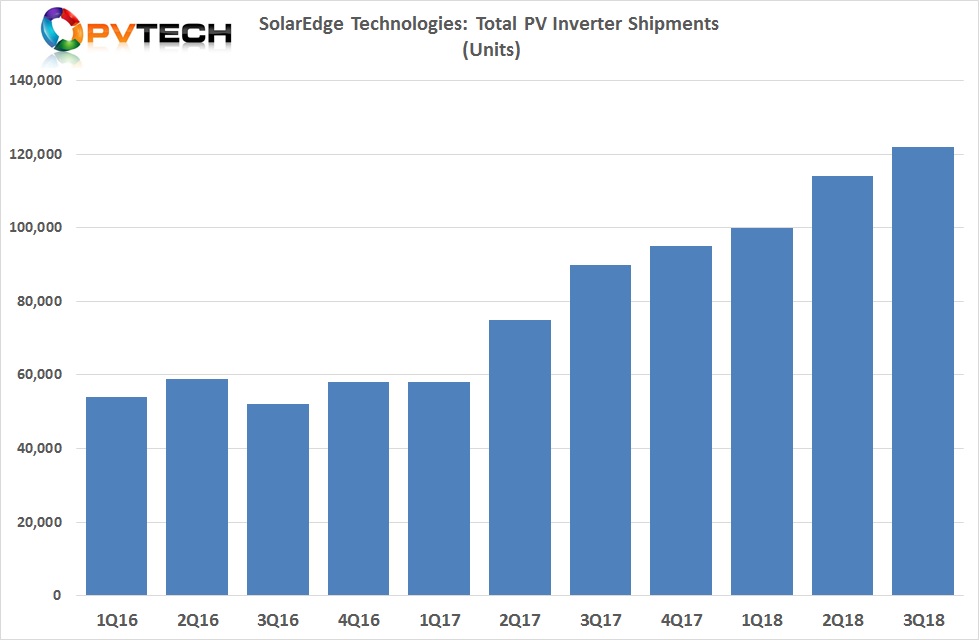 The company also surpassed the 3 million mark for quarterly shipments of power optimisers in the third quarter of 2018.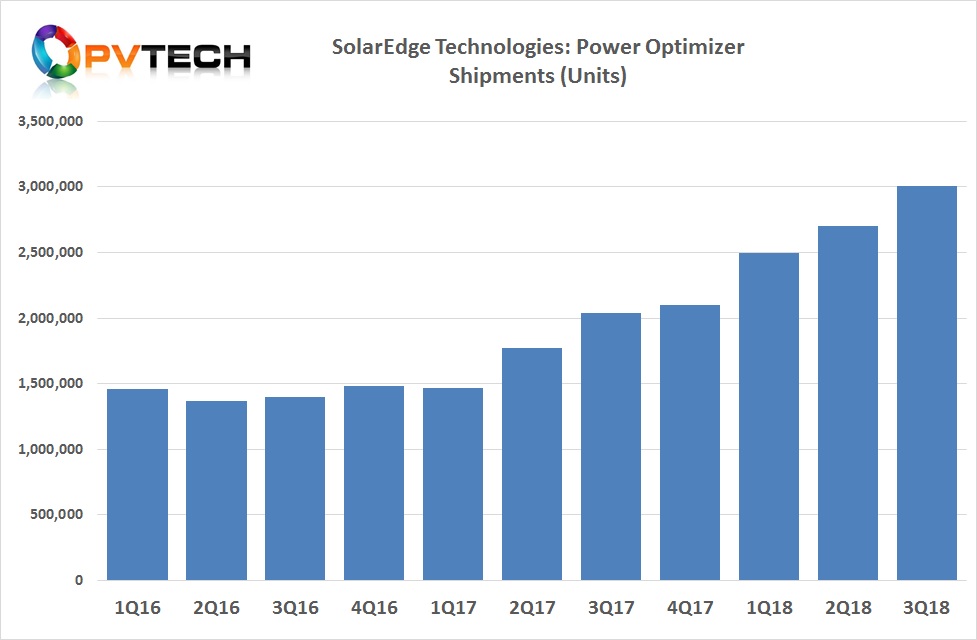 The only slight dampener was a small decline in its robust gross margins, which declined to 33% in the reporting quarter, down from 36.1% in the previous quarter and down from a recent high of 37.9% in the first quarter of 2018.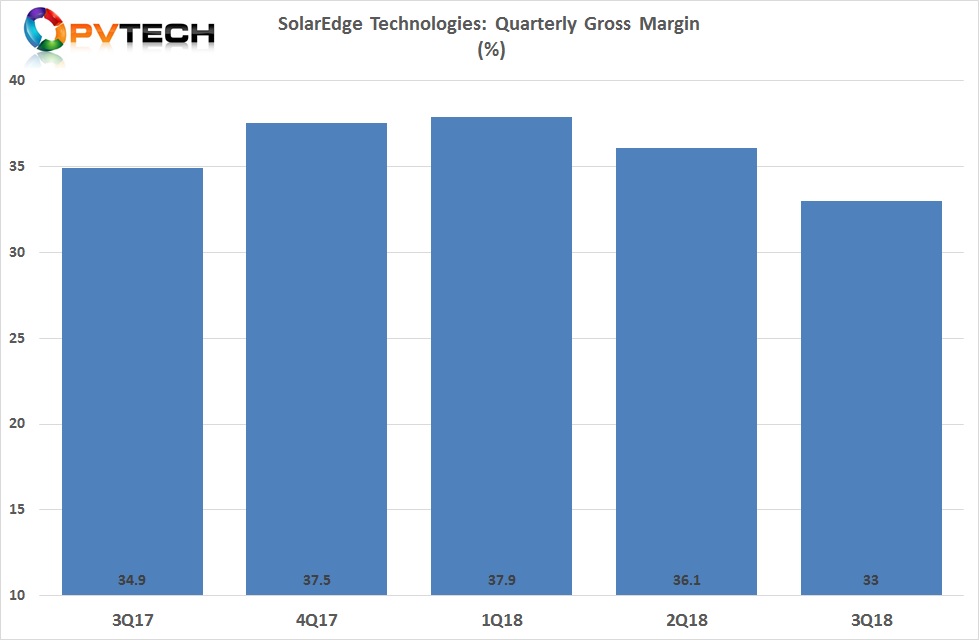 However, management highlighted in the earnings call that the pressure of margins was primarily due to continued strong demand and the challenges of expediting orders when shortages of critical components had remained an issue for the last 18 months, rather than ASP pressure cited by SMA Solar, due to the China 531 New Deal.
"The main decrease in our gross margin this quarter was a result of higher than expected customer support expenses," noted Sella in the earnings call. "Our efforts to satisfy market demand while introducing many new products yielded less focus on optimizing our support expenditures, both on product and delivery costs. In the coming quarters we will gradually reduce these supports related expenses while continuing to satisfy market demand and introduce new products."
This was also supported by sales and marketing expenses for the third quarter increasing to US$16.9 million, an increase of 6% compared to the previous quarter and 28% compared to the same quarter of 2017. The increase was said to be mainly attributable to an increase in headcount to expand its sales and marketing workforce.
The company reported GAAP net income of US$45.6 million compared to a GAAP net income of US$34.6 million for the previous quarter, and US$28 million in the prior year period.
US tariffs
More of an impact is expected from newly imposed US import tariffs on China, where final assembly has been taking place.
The latest tariffs came into effect on September 24, with a 10% import tariff on China built inverters and power optimizers with this increasing significantly to 25% on January 1, 2019.
Like other suppliers, SolarEdge is working on increasing its manufacturing capabilities outside of China, yet this would take at least several quarters before starting to circumvent such tariffs. As a result, SolarEdge has been forced to raise prices in the US, its biggest market, lower gross margins are expected over the coming quarters.
Guidance
SolarEdge guided fourth quarter 2018 revenue to be within the range of US$245 million to US$255 million, indicating full-year revenue would reach a minimum of around US$918 million.
The company also guided GAAP gross margin to be within the range of 30% to 32%, depending on the effects of recent M&A activities.