PV inverter manufacturer SolarEdge Technologies has reported record high fiscal first quarter revenue of US$115.1 million, up 16.9% from the previous quarter and 71.8% year-over-year.
SolarEdge shipped a total 356MW (AC) of inverters in the quarter, equating to 1,460,000 power optimizers and 54,000 inverters. North America remained its largest market with shipments totalling 232MW (AC).
The company said it had sold to more than 125 direct customers in 31 countries in the quarter, while sales in the US market accounted for 68.5% of revenue, down from 71.9% in the previous quarter.
GAAP gross margin was 29.1%, up from 28.7% in the prior quarter and up from 20.9% in the fiscal first quarter of 2015, which was due cost reduction plans, despite the company having to offer volume-based pricing discounts but also incurring lower ASPs from higher sales in Europe in the quarter due to exchange rates between the euro and the US dollar.
However, management noted in the earnings call that ASP decline was within its expected ASP per watt erosion guidance of 7.5% to 10% for 2015.
Guy Sella, founder, chairman and CEO of SolarEdge said: "We improved our gross margins and profitability while remaining within our plan for 7.5% to 10% price reduction for the year which we believe supports our goal to increase market share. These improved gross margins are a result of effective cost reductions which will continue to be a focus for our R&D team."
GAAP operating income in its fiscal first quarter was US$14.9 million, up from US$11.9 million in the prior quarter and up from operating income of US$2.4 million in the fiscal first quarter of 2015.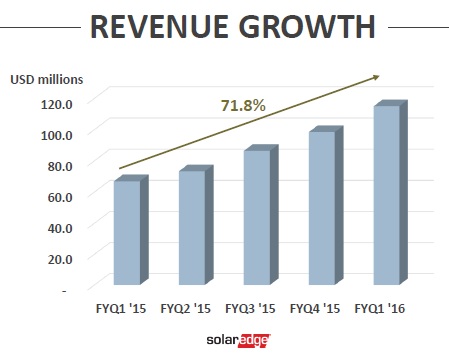 Guidance
SolarEdge said that it expected fiscal second quarter revenue to be in a range of US$118 million to US$121 million and a gross margin of 28% to 30%.