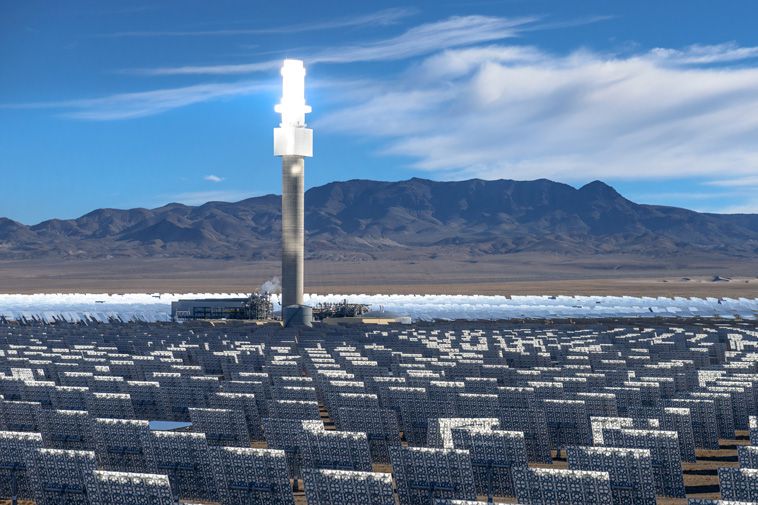 California's SolarReserve has announced plans earlier this week to build the world's largest solar project – an up to 2GW US$5 billion concentrated solar power (CSP) plant in Nevada.
The Sandstone array would require at least 100,000 mirrors and 10 towers, each with an accompanying molten salt system for energy storage purposes, according to SolarReserve CEO Kevin Smith.
In awe of the "big and ambitious" project, Smith told a local news outlet that the project could generate enough power, at a capacity between 1.5-2GW, to supply electricity to around one million homes. Although SolarReserve has already built an 110MW CSP plant in Tonopah worth US$1 billion, this latest venture would far exceed anything the company has ever done.
Moving forward, the company expects to locate a site, roughly 6,500 hectares, within the next six to nine months. A short-list of potential project sites has been made, with both final choices on federal land in Nye County.
Construction on the mammoth project is not likely to start before another two or three years, whilst the final logistics are settled. Once operational, Smith revealed that the project should create around 3,000 jobs. Funding for the project is expected to come from commercial financing, although the company is reportedly exploring federal loan programmes. However, subsidies for utility-scale CPS projects have recently been under scrutiny; following House Republicans reviewing federal loans in response to financial and environmental concerns triggered by Ivanpah.
In any event, no PPAs have been secured for Sandstone yet, but once they have, Smith expects the project to export most of its power to the California market.