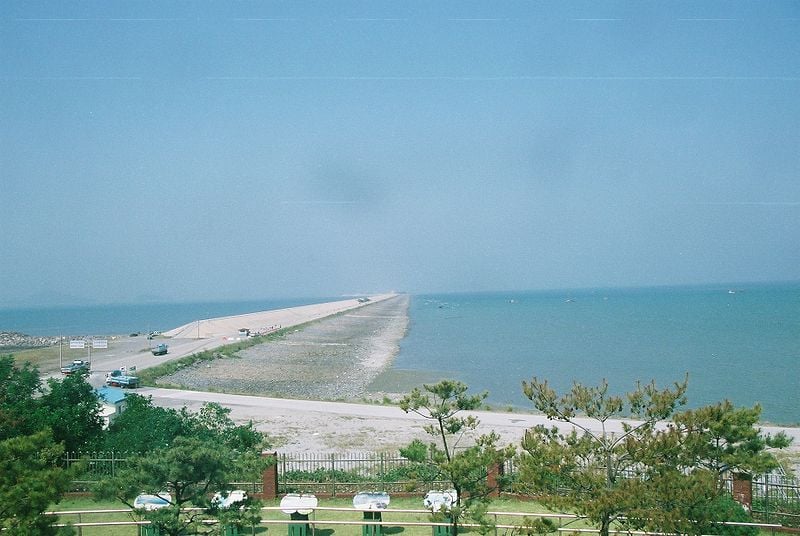 A huge floating solar project on South Korea's southwest coast has reportedly been given the green-light from the country's Defence Ministry after local papers suggested that reflections from the panels might disrupt operations at a nearby US airbase.
The mammoth 2.1GW floating solar project, planned for the Saemangeum Seawall dyke, was approved by South Korea's Ministry of Trade, Industry and Energy (MOTIE) in late July.
The plant will cover an area of 30 square kilometres on the largest manmade dyke in the world. It was specifically earmarked to be close to the airport, where business operations are low.
South Korea's Ministry of Defence assuaged concerns about the plant's future when it said on Thursday that US Forces Korea, which is stationed near the proposed site at the nearby Kunsan airbase, did not believe the array would disturb military aircraft, according to a report in Yonhap News Agency.
The floating solar project is the largest of its type ever conceived, 14 times larger than the 150MW floating project in China's Panji District developed by local firm Three Gorges New Energy.
MOTIE estimates that the KRW4.6 trillion (US$4 billion) plant will be capable of generating 2,759GWh of energy annually.
It will be built in two stages, with the first 1.2GW forecast to come online in late 2022 and the remainder of capacity in 2025.
The project will help the South Korean government meet its targets of generating 20% of its total electricity from renewables and adding 30.8GW of new solar capacity by 2030.
The government estimates that the floating solar project will generate 1.6 million jobs during construction.