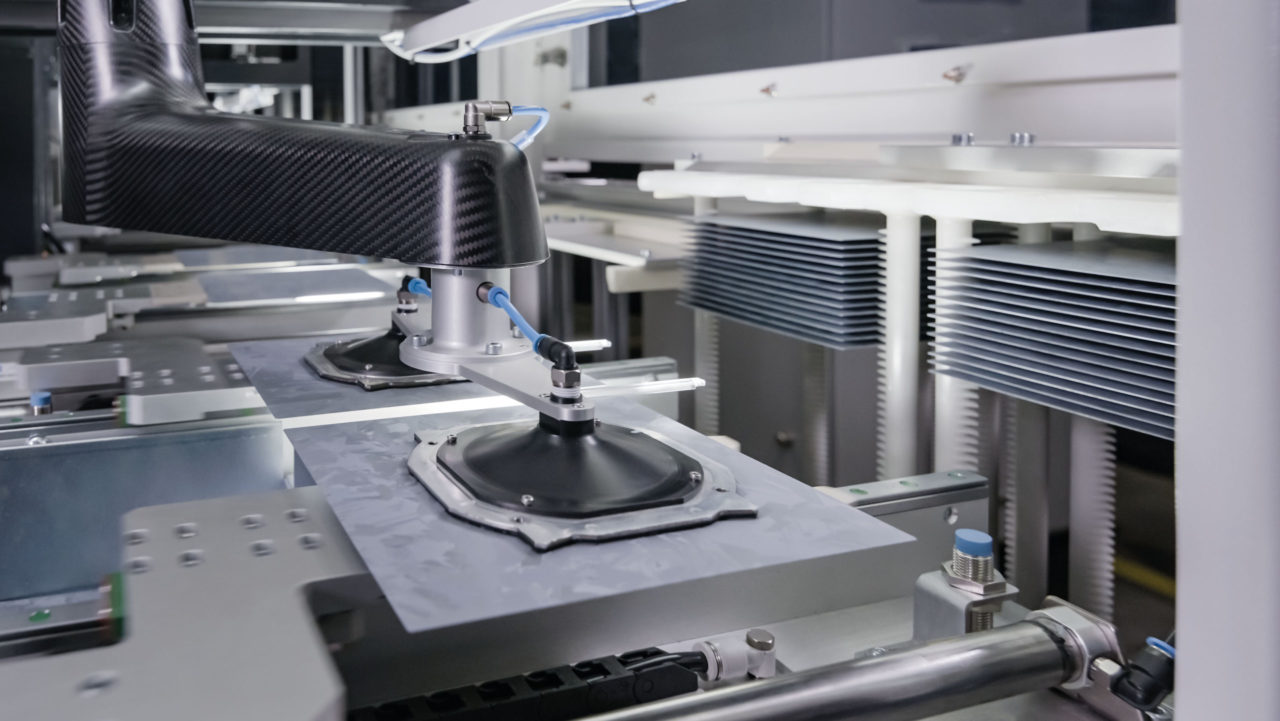 Manz launched its third generation 'SpeedPicker' 3.0 from its SAS series equipment for the specific handling of crystalline silicon wafers in the manufacturing of solar cells. SpeedPicker provides an automation solution for almost contact-free handling of solar cells throughout their entire production process.
Problem
The shift to higher automation to reduce production cost and improve yields through Industry 4.0 also requires wafer and cell solutions with high-throughput and contactless handling solutions, reducing breakage rates and minimize contamination.
Solution
Manz has equipped the SpeedPicker with various technological highlights, which make the handling system significantly faster, more precise and gentle on the workpiece and therefore more economical. The Bernoulli gripper enables solar wafers are moved free of contact using the Bernoulli 'effect'. A precision-directed flow of air onto the wafer lifts it in a hovering motion. The contact-free process is extremely gentle on the sensitive and brittle crystalline material, leaves no marks and thus increases the quality of the solar cells. Lifting and setting down the wafers between the individual process steps is monitored with two cameras which are integrated into the system: one camera measures the position of the wafer, while the other measures the exact position of the carrier pallet so that the wafers can be placed with maximum precision. This results in an improvement of the coating quality in subsequent processes. The SpeedPicker is a slider system which can be used either for unloading the wafers from the transport cassettes by vacuum or loading onto them. This prevents abrasion caused by micro-movements of the wafers on the tray, as was common when belts were used for transport.
Applications
Compatible with all crystalline silicon cell technologies including HJ and IBC cells.
Platform
The SpeedPicker 3.0 offers a maximum throughput of 8,000 wafers per hour. The breakage rate is currently just 0.05 percent. For efficient integration of the SpeedPicker in new and existing production lines, the system is built on a standardized machine base. In addition to cost advantages, this also offers a variety of configuration options. It is available in a version for loading/unloading at one equipment side (SAS 421 & SAS 422), for loading/unloading at facing equipment sides (SAS 411 & SAS 412) and for loading/unloading a wet bench. The SpeedPicker can also optionally be equipped with color inspection for quality control of solar cells and coated wafers. Simple connection to a customer-specific MES (Manufacturing Execution System) is also possible.
Availability
June 2018, onwards.