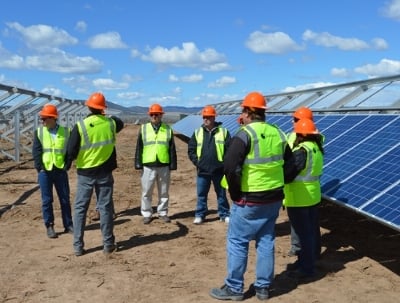 Bankrupt renewables firm SunEdison has confirmed that it will collaborate with its two yieldco companies, TerraForm Power and TerraForm Global to hopefully sell and monetize its controlling Class 'B' shares in both units.
SunEdison said in a brief statement that it would work with the yieldcos 'through a jointly managed sales process and accompanying marketing protocol,' related to the Class B shares, which would ultimately separate the yieldco's from the Chapter 11 company.
John S. Dubel, CEO of SunEdison, said: "This is a collaborative undertaking, marking the next step in SunEdison's chapter 11 process as we explore restructuring options including whether to monetize our interests in TerraForm Power and TerraForm Global."
Both TerraForm Power and TerraForm Global have received interest from hedge funds and asset management firms, some already shareholders in the yieldco's to purchase controlling shareholdings, securing existing investments and potentially preventing them from following SunEdison into bankruptcy proceedings.
Update
In related news, TerraForm Power said it had adopted a Stockholder Protection Rights Agreement that it had declared a dividend of one Right on each outstanding share of its Class 'A' Common Stock. The record date to determine which stockholders are entitled to receive the Rights is August 4, 2016.
Peter Blackmore, Chairman and Interim CEO of TerraForm Power, said, "The Rights Agreement was adopted in response to the potential sale of a significant equity stake in TerraForm Power by SunEdison and the announced accumulation of TerraForm Power Class A shares by entities affiliated with Brookfield Asset Management. The TerraForm Power Board of Directors believes it is in the best interests of all TerraForm Power stockholders for acquisition proposals for all or a portion of the TerraForm Power equity interests to be able to emerge in an environment free of a blocking position accumulated by possible bidders."