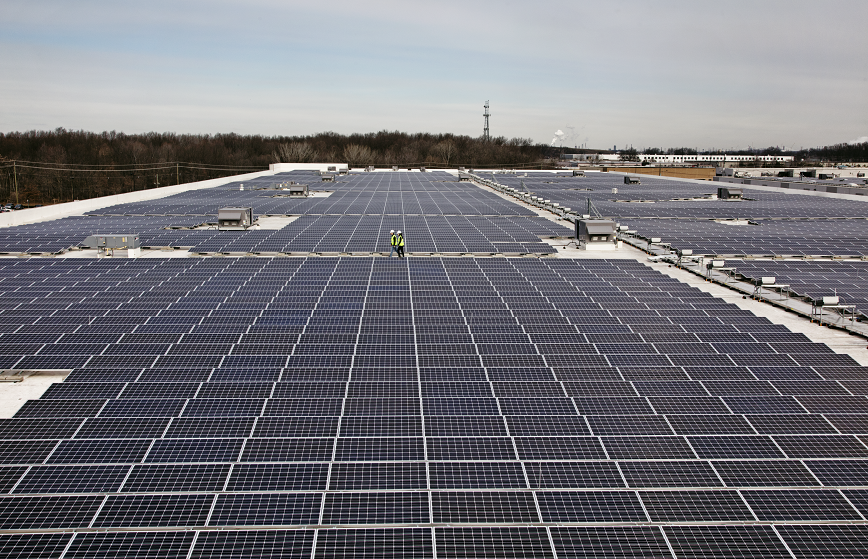 Amazon has announced plans for nine new utility-scale solar and wind projects in the US, Canada, Spain, Sweden and the UK, putting it on track to powering all its activities with renewables by 2025.
The company now has 206 clean energy projects, including 71 utility-scale solar and wind plants and 135 PV rooftops on facilities and stores, which, when operational, will generate 8.5GW of capacity for its corporate offices, fulfilment centres, Whole Foods Market stores and Amazon Web Services (AWS) data centres.
Among the nine projects are Amazon's first solar-plus-storage facility. Located in California's Imperial Valley, the installation will feature a 100MW PV plant alongside 70MW of energy storage, which the company said will allow it to help maintain the reliability and resilience of California's grid.
Other new solar facilities include a 400MW portfolio in Ohio, 170MW in Spain's Extremadura and Andalucía regions and the company's first renewable energy project in Canada: an 80MW PV plant in the province of Alberta.
The investments form part of Amazon's commitment to The Climate Pledge, an initiative co-founded by the company that calls on signatories to reach net zero-carbon emissions by 2040 – 10 years ahead of the Paris Agreement. It now has 53 signatories, including IBM, Unilever, Siemens and Microsoft.
Abigail Ross Hopper, CEO of the Solar Energy Industries Association, said companies such as Amazon "know the value" that solar can bring to their businesses. "Wall Street, customers and international businesses are all watching what American companies are doing about climate change, and this type of leadership can have a major impact on the climate crisis," she said.
Amazon's latest clean energy build-out comes months after the company invested in 26 solar and wind projects in markets such as Australia, France, Germany, Italy, South Africa. It has since backed the deployment of 62MW of 'moveable' solar arrays in Singapore that will be developed by Sunseap Group.
Amazon now claims it is the largest corporate buyer of renewable energy globally. Recent research from the Renewable Energy Buyers Alliance revealed the firm was by far the US' biggest largest energy buyer last year, procuring 3,163MW. It was followed by Google with a procurement of 1,040MW and telecom company Verizon with 840MW.