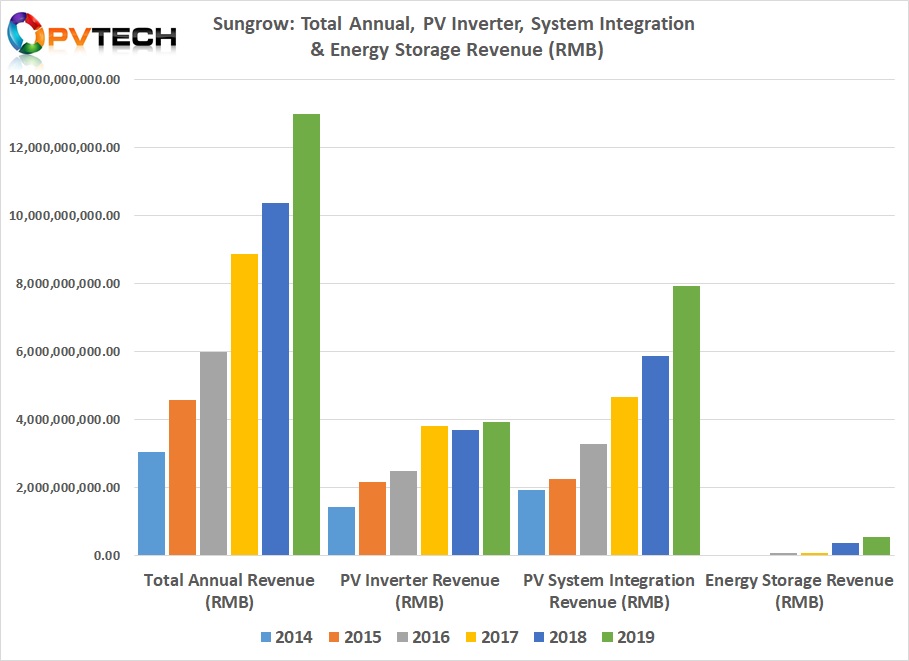 Major PV inverter manufacturer Sungrow Power Supply Co exported a total of 9GW of PV inverters to overseas markets in 2019, an 87.5% increase year-on-year, due to the significant decline in solar installations caused by policy changes in the Chinese domestic market stretching back to May 2018.
Sungrow reported PV inverter shipments across China were 8.1GW in 2019, down 31.9% year-on-year. Total inverter product shipments in 2019 reached 17.1GW, up just 2.4% year-on-year.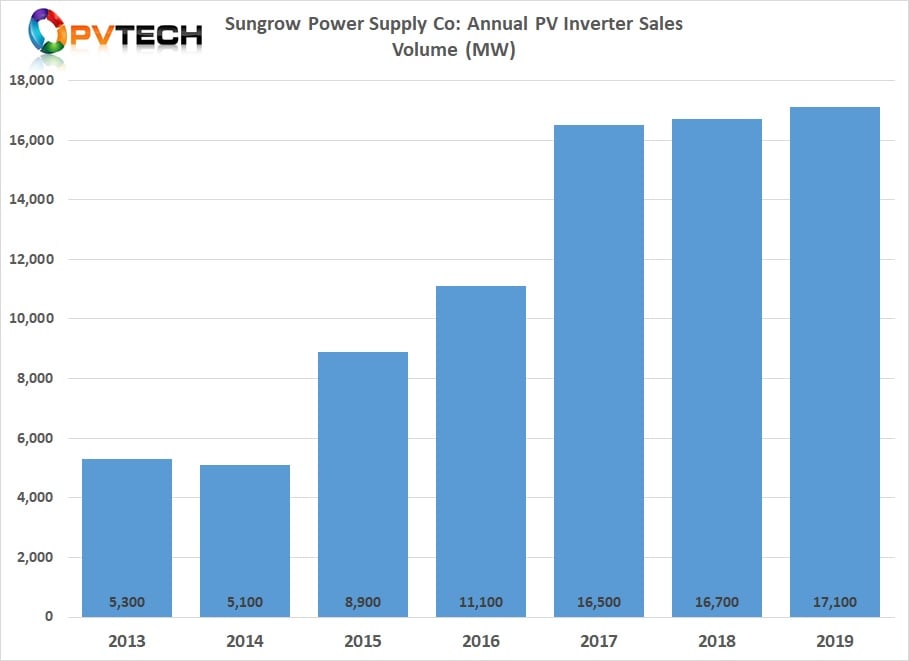 However, Sungrow said that its cumulative installed global PV inverter capacity exceeded the 100GW milestone in 2019, claiming to be the first supplier to do so.
A key export market was shipments to the Americas, which exceeded 3GW.
Financials
Sungrow reported total group revenue of around RMB 13 billion (US$ 1.834 billion), an increase of 25.41% compared to 2018.
PV inverter & power conversion product segment revenue was approximately RMB 3.941 billion (US$556.6 million in 2019), an increase of 6.99% from the previous year. This segment accounted for 30.3% of total group sales in 2019, down from 35.5% in 2018.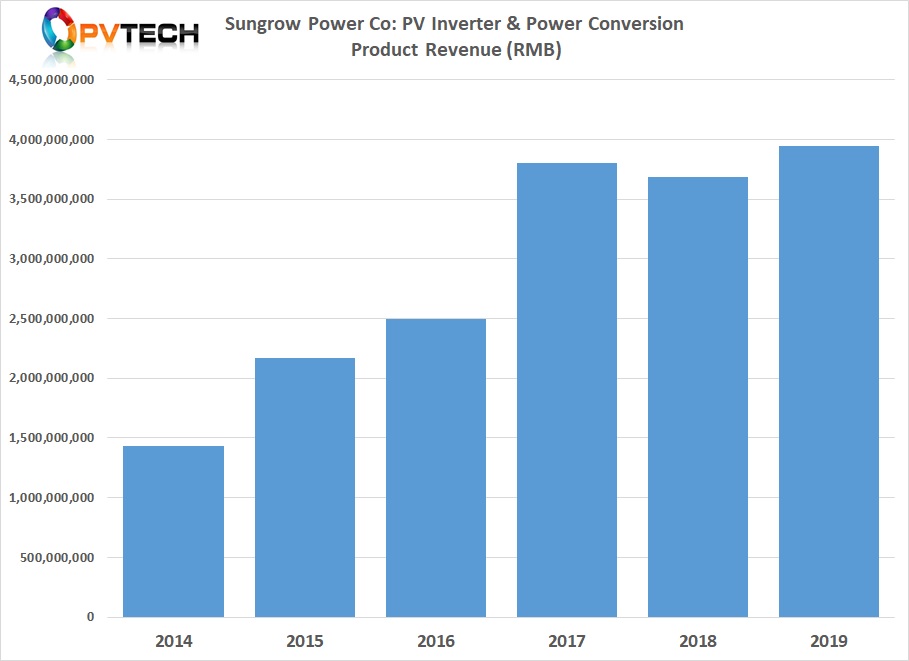 The main sales growth came from Sungrow's PV System Integration business unit, comprising EPC and O&M. This unit reported sales in 2019 of approximately RMB 7.9 billion (US$1.12 billion), up 35.3% year-on-year and accounting for 61% of total group revenue in 2019, up from 56.6% in the previous year.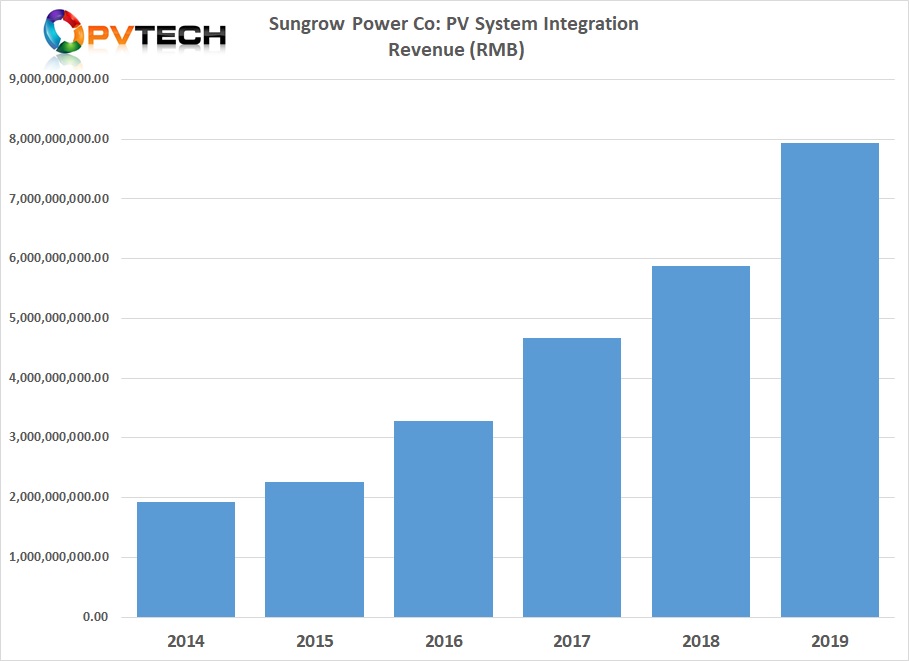 Coming from a smaller revenue base, Energy Storage reported sales of around RMB 534 million (US$76.6 million) in 2019 compared to US$54 million in 2018, an increase of 41.7%. Its share of total group sales also rose, climbing to 4.18% from the 3.69% share recorded in 2018.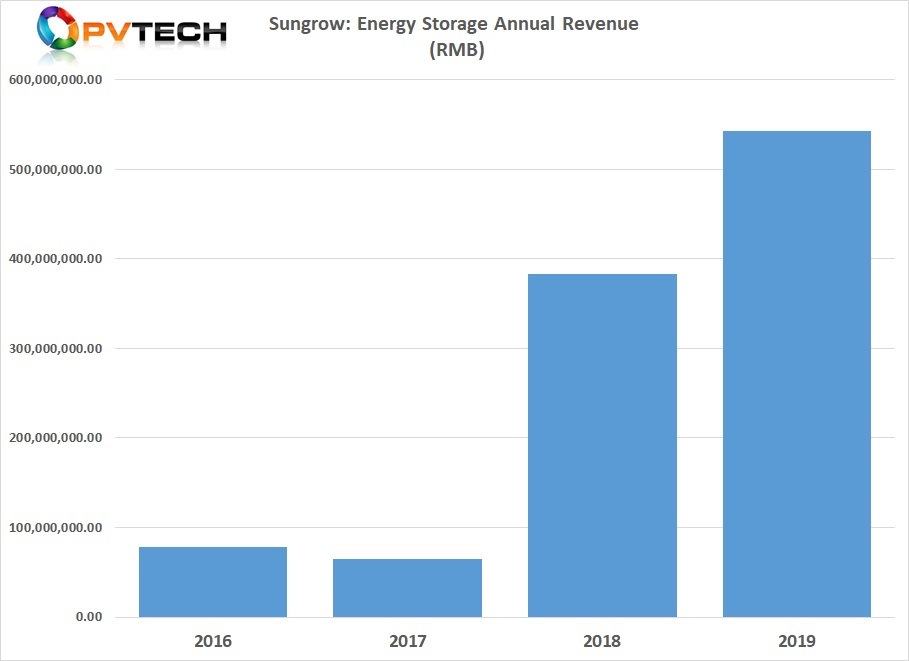 Sales expenses rose 31.61% year-on-year to RMB 918.4 million (US$129.6 million due to the major shift to overseas sales in 2019, but net cash flow soared, climbing to RMB 2.48 billion (US$350 million), a year-on-year increase of 1271.29%.
Net profit was RMB 2.48 billion (US$350 million) in 2019, an increase of 10.24% from the previous year.