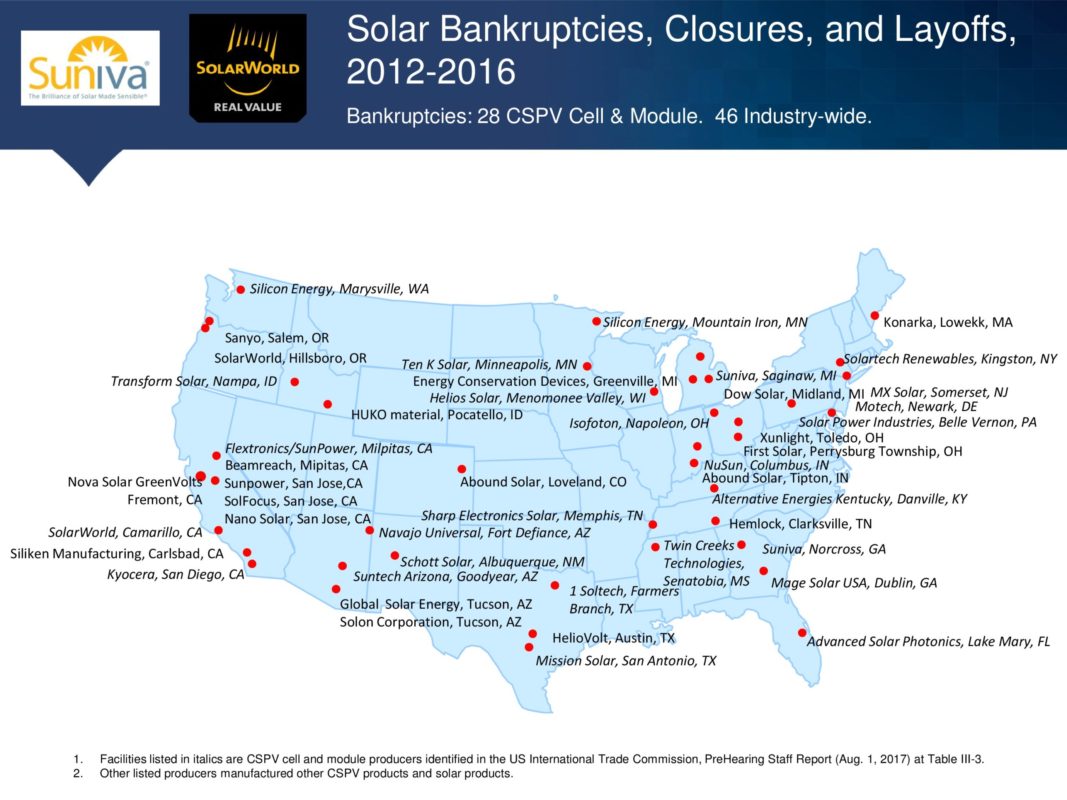 Suniva will tell Tuesday's hearing at the International Trade Commission that the US has handed over control of the next "meaningful" source of power generation.
In a preview of Suniva and SolarWorld America's testimony at the session, Matt Card, executive VP of commercial operations will introduce energy independence as an issue in the debate.
"As a country, we will have ceded manufacturing of the next meaningful source of electrical generation to China and its proxies in Southeast Asia and other global outposts," Card will say. "As we continue to stress the needs of energy independence as a country, the US, in fact, will have no control of its own destiny when it comes to power generation from the sun."
Another bankrupt manufacturer, Beamreach Solar will tell the hearing that the company's collapse was "in large part" due to an influx of imports.
The company went into Chapter 7 bankruptcy in January 2017, as first reported by Greentech Media.
Stephen Shea, formerly vice president at Beamreach Solar, which made lightweight solar modules for the commercial rooftop market will blame falling prices for the company's plight.
"Beamreach was forced in Chapter 7 bankruptcy in large part because of the surge of low cost imports," Shea will say. "Beamreach could not keep pace with the rapid reduction in prices driven by imports, first from China, then from countries like Taiwan, Vietnam, Malaysia, Korea, etc. and the resulting glut of product quickly destroyed the profit margins."
While the hearing kicks off, the Solar Energy Industries Association (SEIA) arranged for a group of solar workers opposed to the measures to appear in Washington DC.
The trade body also coordinated an open letter to the ITC signed by 69 US lawmakers.
"Solar companies in our states believe the requested trade protection would double the price of solar panels," the letter to the ITC said. "Increasing costs will stop solar growth dead in its tracks, threatening tens of thousands of American workers in the solar industry and jeopardising billions of dollars in investment in communities across the country."
The ITC's four commissioner's will vote on the matter on 22 September with two votes required to progress the case to the next phase. In the event of a positive vote the ITC would recommend measures to the White House with the final decision in the hands of the President.
Executives from Sunpower, NEXTracker, SunRun and NRG Energy and host of governments from major PV exporting countries will give evidence at the hearing.
Fired up and ready to go! Solar workers showing up to show the ITC what's at stake. #SaveSolarJobs pic.twitter.com/ZzJvMATbtB

— Abby Hopper (@HopperAbby) August 15, 2017