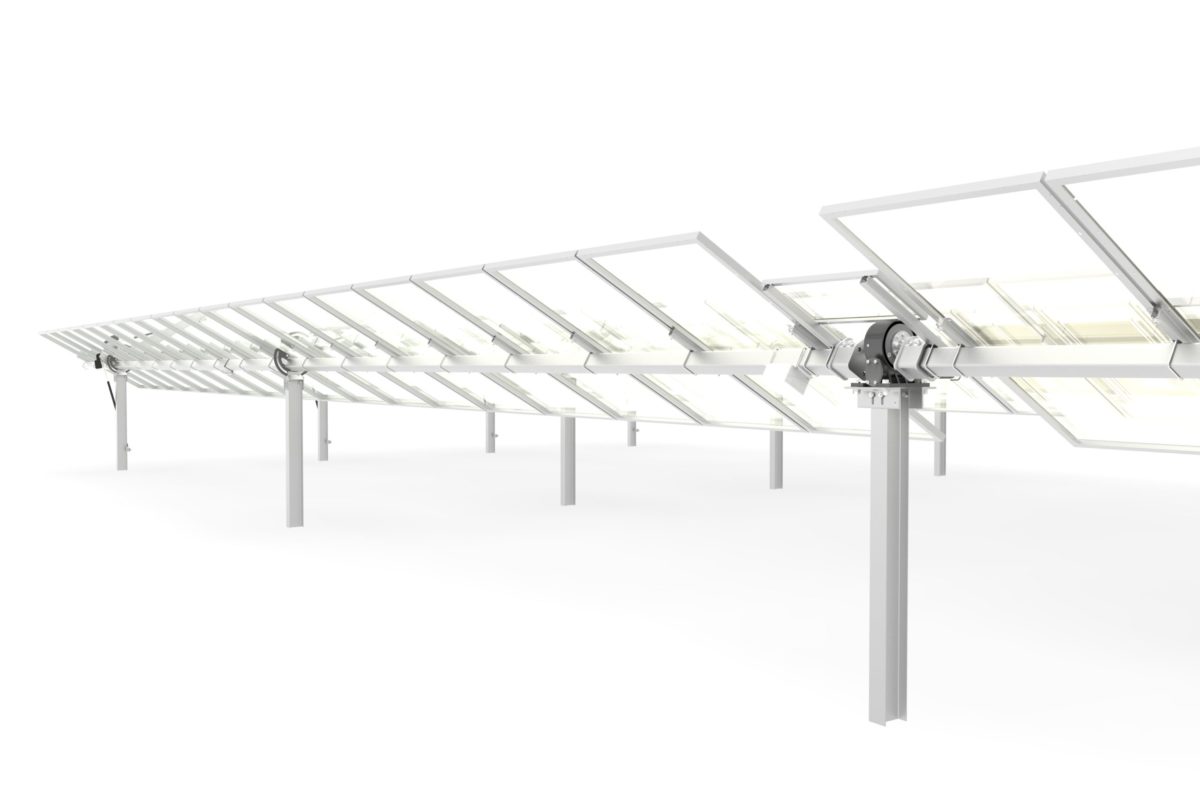 SunLink Corporation has expanded its portfolio of photovoltaic project solutions with the launch of the 'TechTrack Distributed' single axis tracker. TechTrack Distributed introduces 'dynamic design,' providing site flexibility and reductions in total project costs. TechTrack Distributed is the second single-axis tracker in the company's TechTrack product line, joining the internationally deployed TechTrack Centralized. The new system is being showcased at Solar Power International 2016.
Problem
The ability to control the damping and stiffness of a single axis PV array in real-time conditions could increase generation and reduce the risk of harm to the power plant. Providing damping when the single axis PV array is unlocked would increase system natural frequency.
Solution
Central to the system's innovation is a dynamic design feature called 'Dynamic Stabilization' through which the characteristics of the tracker are changed depending on real-time, sensor-observed environmental conditions. Beyond simply adjusting tilt, SunLink's TechTrack Distributed incorporates control over the damping and stiffness of the array, opening a completely new solution space for increasing energy output, maintaining structural integrity and lowering cost. The system solves the challenge associated with monitoring the thousands of electromechanical parts that make up a distributed tracker system via SunLink's 'VERTEX Project Intelligence Platform.' VERTEX enables next-generation real-time data monitoring and secure remote control, which provides greater visibility into energy assets, historical data collection and more efficient O&M – resulting in more valuable energy projects, according to the company.
Applications
Ground mounted utility-scale PV power plants.
Platform: TechTrack Distributed has enabled the maximum system torque be reduced by 67%, resulting in a stronger, lighter and more cost-effective tracker. Continuous tables and 120° tracking yield improved power density and generation, according to the company. Fieldwork is reduced by Terrain following of a 10% grade N-S, any practical E-W and up to a 5% change in grade post-to-post and fewer posts to install. Integrated solar panel and Li+ battery power a robust slew drive and motor. Communication is via secure, proprietary mesh network. SunLink also offers PowerCare installation and O&M services for TechTrack projects, making it possible for EPCs and developers to take on more projects successfully.
Availability: September 2016 onwards.