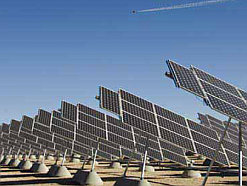 Integrated PV manufacturer, Wuxi Suntech is supplying 1500V (dc) solar modules to a 116MW power plant project in Aswan, Egypt
Suntech noted that its STP330-24/vfw (1500V) modules were expected to be fully delivered by the end of the third quarter of 2018.
Enerray, a leading solar power company on designing, construction and management of utility scale and industrial PV systems is building the plant and has partnered with Suntech in the past.
Shuangquan He, the president of Suntech, said: "In recent years, the PV market in Egypt is speeding up rapidly due to its excellent investment conditions, sufficient sunshine resources and sufficient support by government. To meet the increasing demand for electric power, the proportion of renewable energy supplying will reach 42% by 2025.
"We are so glad to cooperate with Enerray S.p.A. and look forward to having deeper and strengthened collaboration with Enerray S.p.A in the future. In the past 18 years, we have achieved great progress in product technology and gained brand reputation in PV market. Suntech offers an industry-leading 12-year product warranty and a 25-year linear performance warranty which is reinsured by the world-leading reinsurance company – Munich Re. We could expand the global business chart together based on a long and stable good partnership. Suntech is adhering to its original intention and sparing no effort to light each corner of the world by using the solar energy."