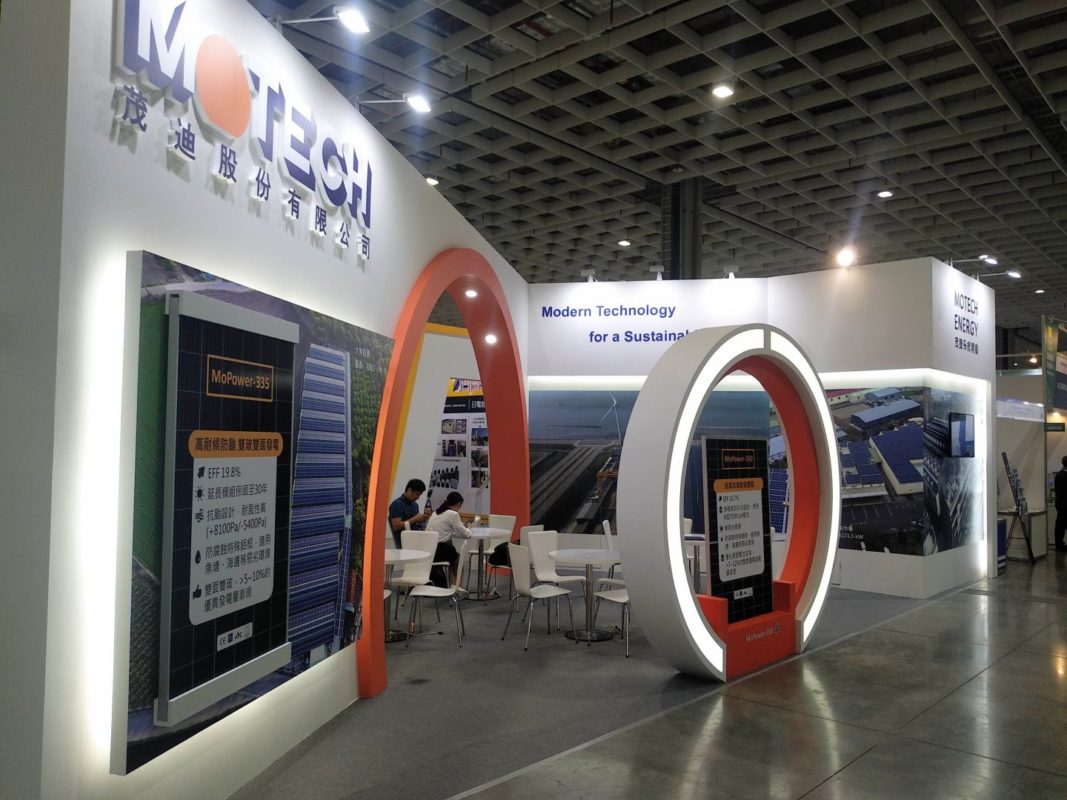 The rollercoaster witnessed in recent years by Taiwan's solar manufacturers is written all over the words of Jenny Hsu, global sales manager of Motech Industries.
Speaking to PV Tech and other publications at Energy Taiwan 2019, Hsu spoke candidly of the swift climbdown of the New Taipei City-headquartered PV cell maker, from global top 10 rankings in 2016 to factory shutdowns and major layoffs last year.
"We started 37 years ago and used to be very big, with 3GW in cell and wafer capacity. We used to be pioneers … but we failed," Hsu explains. "Any feed-in tariff changes cause a big impact to our industry, and demand decreased dramatically."
The downturn culminated in a "very difficult" 2018 for Motech, with some 1,200 workers fired at one time as the firm pulled the plug on a 1.1GW cell production line in Taoyuan, southern Taiwan. "Both for those who left and those who stayed, it was a very distressing time," Hsu remembers.
According to her, a strategy reset ensued in the following months, featuring internal discussions and a refocusing from pure-play cell manufacturing to modules and downstream work. "[Chair] Steve Tseng and others said, we're not giving up, we're coming back," Hsu adds.
Interviewed at Motech's exhibitor stand at the Taipei conference, Hsu explains the first of three recovery steps was an HR engagement series to ensure all was well with the remaining staff, some of whom had been part of the firm for 10 years.
"The second step was to focus on our financial structure to make sure we're strong," Hsu goes on to say. "By shutting down and selling the line, and the [factory] building, we received a lot of cashback and returned money to our banks, who are still supporting our funding."
The third step, Hsu continues in her enumeration, was for Motech to return to its "R&D roots". "We now have a new, automated module facility in Taiwan, which started running in April," Hsu adds. "We're continuing to invest in R&D even though these times are difficult."
Asked about Motech's Taiwanese peers, Hsu says some may have left it too late. "Adjusting was difficult for us but at least we got in at the right time," she says. "We suffered and tripped [but] I was never a prouder member of this company."
Diversification to fight tide of cheaper, bullish China rivals
Motech's troubles are hardly the exception in Taiwan. In the matter of a few years, the island territory has witnessed a comedown of its cell-making sector from global trailblazer to laggard, fighting to keep up with bullish rivals in mainland China.
Taiwan's PV body TPVIA has been among those following the trail of bankruptcies and closures. "China has obviously created big challenges," says special assistant David Lee. "We ranked top one decade ago but because we share the language, many talented people went there from Taiwan."
Alan Lin, a director at energy and tech group TATUNG, says his firm closed its solar wafer business because of China's "dumping". Frank Lu, vice chair of PV cabling supplier KS Terminal, warns the "many bankruptcies" of Taiwan's PV factories will complicate hitting solar capacity goals.
Some of the manufacturers still in business have chosen to fight the tide with diversification. AUO told reporters it has reacted to Chinese rival by adding downstream solar projects – ground-mounted, rooftop, floating – to its original remit as a maker of wafers, modules and others.
For their part, Taiwanese cell makers have not given up altogether despite the tough times. According to estimations from TPVIA's Lee, Taiwan's hold of the global PV cell market has dropped since its 40% share in 2013 but remains in the 10-15% region.
Motech, for one, has downsized but not fully retreated from the segment. As Jenny Hsu notes, PV cells account today for 10% of the firm's business, down from modules' 50%. The remaining 40% is downstream PV work in Taiwan, with Motech now starting to own the plants it builds.
According to Hsu, Motech's annual cell (1.4GW) and module (450-500MW) sales come from four factories in Taiwan and China, down from the eight it once ran worldwide. Modules – both mono- and bifacial, mono- and multicrystalline – are sold to South Korea, Japan and Europe, she says.
Motech, Hsu explains, is working to narrow the cost gap that separates Taiwanese PV makers from cheaper China. "[They] have been catching up and competing with our industry but … more and more clients are coming to us, to get the quality from us," she adds.
The decision to keep a stake in the cell business is strategic, Hsu says. "We keep investing in cells even though it might make us lose money but it's a key factor," she adds. "Because of local mandates, [Taiwan's] downstream boom will require a local cell production chain."
This story is the third of a series exploring the key takeaways from the Energy Taiwan 2019 conference in Taipei on 16-18 October 2019, attended by PV Tech.
See here for a first article written as the event kicked off and here for a second article exploring industry views on Taiwan's downstream solar ambitions