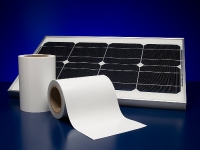 Backsheet producer Tomark-Worthen (TW) has acquired the products, technology, and trademarks of backsheet and solar insulation firm Madico.
TW, a joint venture between Tomark Industries and US-based adhesives, films and sheets specialist Worthen Industries, was formed in 2012 to produce co-extruded (HP-CoEx) backsheets.
The new acquisition includes all of Madico's certifications and intellectual property for its PV backsheet and solar panel insulation products. TW will be adding all of the former Madico PV products, such as the Protekt, to its own HP-CoEx backsheet products and speciality PV encapsulation materials.
Production started being migrated from Woburn, Massachusetts, to the TW facility in Nashua, New Hampshire, on 1 January 2018.
David Santoleri, president of TW, said: "This acquisition will enhance our Tomark-Worthen product offerings while building on Madico's significant brand name recognition and allowing customers to continue to purchase the Madico products."
Mark Fehlmann, VP of technology and engineering, said "We are happy to see the Madico line of PV products go to the very capable team at Tomark-Worthen. It's comforting knowing the products we created will continue to be used in the industry."
Prior to forming TW, Tomark Industries represented Madico for almost 20 years and helped to develop many of the Madico products during that time.