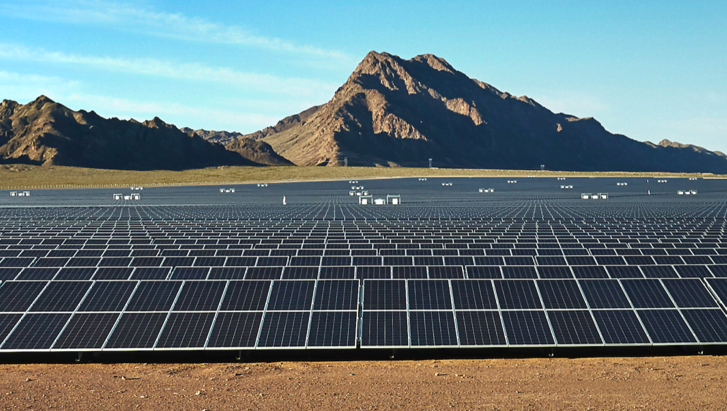 China's PV module companies released their financial reports for 2022 and the first quarter of 2023 at the end of April, with some of the leading manufacturers posting strong performance.
Currently, the competition among AAA-grade PV module companies is fierce. With the strong impact of Jinko Solar's tunnel oxide passivated contact (TOPCon) technology, the steady progress of JA Solar's integration, the "pressure" of Trina Solar's 210mm n-type i-TOPCon solar PV cells, and the strong entry of Tongwei, this year's challenge for LONGi's championship defence will be tougher than in previous years. Therefore, the module industry will enter a "multi-party rivalry".
Trina Solar
Trina Solar (688599.SH) released its Q1 financial report on 13 March. According to the report, the company increased its quarterly revenue by 39.6% to RMB21.3 billion (US$3.05 billion). Its net profit attributable to shareholders was RMB1.79 billion, increasing by 225.43% year-on-year, and non-recurring net profit was up by 252.4% year-on-year to RMB1.73 billion.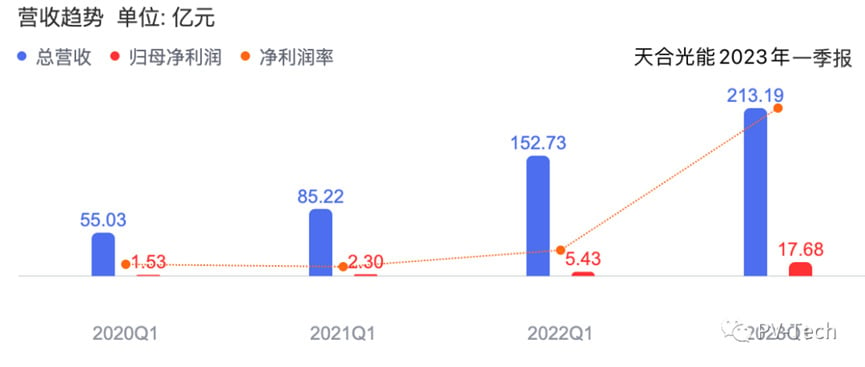 During Q1, Trina Solar's PV product business demonstrated rapid development marked by a notable surge in module shipment volume and sales revenue compared to the corresponding period the previous year.
Trina Solar attributed the growth to a substantial increase in sales of high-power 210 series PV products, which resulted from the company's enhanced production capacity and reduced comprehensive product costs, thereby driving up its profitability. Furthermore, the company implemented cost control measures related to material procurement, logistics transportation, and other period-related expenses.
Overall, Trina Solar's strategic positioning in the PV industry chain became increasingly apparent in the reporting period. While the module shipment volume for Q1 has yet to be announced, industry experts have estimated it to be more than 11GW.
For the full year, the company set a guidance of 65GW for module shipments, representing a year-on-year increase of over 50%. By the end of 2023, Trina Solar aim to have a silicon wafer, cell, and module production capacity of 50GW, 75GW, and 95GW, respectively, with n-type cells exceeding 40GW.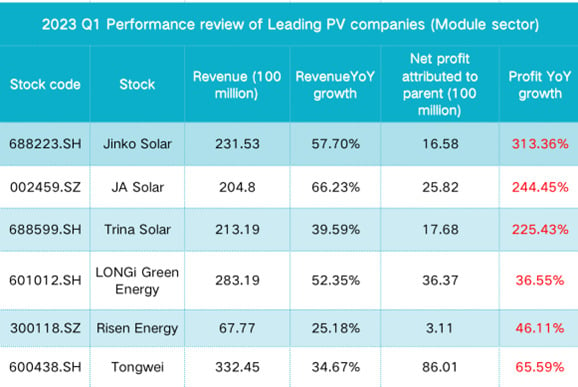 Jinko Solar
Jinko Solar (688223.SH) released its Q1 report for 2023 on 29 April. The company's revenue for the quarter was RMB23.2 billion (US$3.32 billion), representing a year-on-year increase of 57.7%. Its net profit attributable to shareholders stood at RMB1.66 billion (US$238 million), increasing by 313.7% year-on-year, while its non-GAAP net profit increased by 306.7% year-on-year to RMB1.22 billion (US$174.9 million).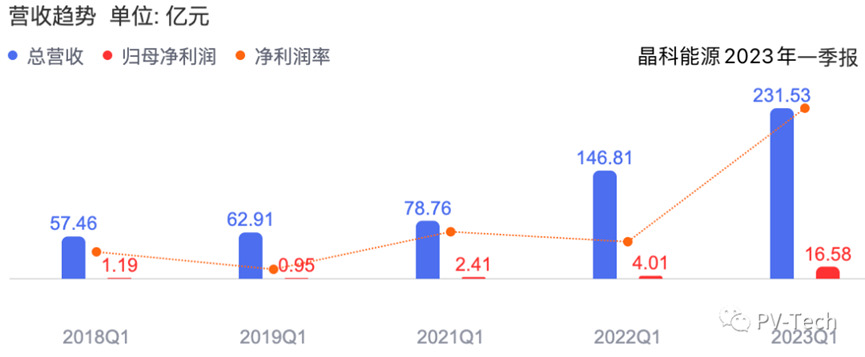 The primary factor behind the growth in the company's Q1 performance was the robust demand in the global market. Jinko Solar's revenue and profit rose significantly year-on-year due to the increased shipment volume of its PV modules and the ramp-up of its newly commissioned n-type advanced capacity.
Jinko Solar's total shipments in Q1 reached 14.49GW. Of the total amount 13.04GW were module shipments, which enabled the company to secure the top spot in the world for modules shipped last quarter. Notably, due to strong demand, nearly half of the module shipments were n-type modules, particularly high-efficiency Tiger Neo modules.
Therefore, the company set its annual module shipment target for 2023 between 60GW and 70GW, with n-type module shipments expected to account for more than 60%.
Jinko Solar emphasised its positive outlook for the PV market's medium- and long-term growth potential. It reiterated its commitment to investing in n-type capacity with competitive technology and cost advantages. The company plans to increase its production capacity of monosilicon wafers, high-efficiency cells, and modules by the end of 2023, aiming for 75GW, 75GW, and 90GW, respectively.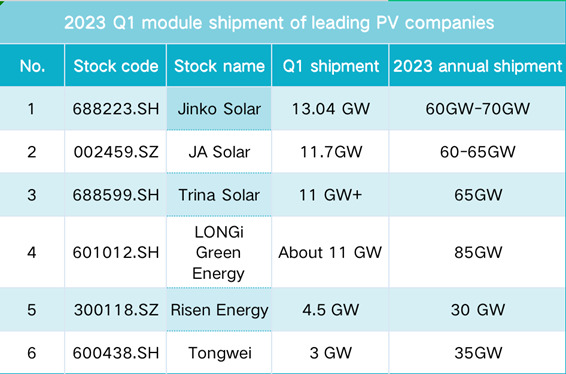 JA Solar
JA Solar (002459.SZ) announced its Q1 financial results for Q1 2023 on 27 April. The report indicated a steady performance with a revenue of RMB20.48 billion (US$2.93 billion), representing a year-on-year increase of 66.2%. The net profit attributable to shareholders stood at RMB2.58 billion (US$369 million), representing a year-on-year increase of 244.5%, while the non-GAAP net profit was RMB2.49 billion (US$357 million), up 254.8% year-on-year.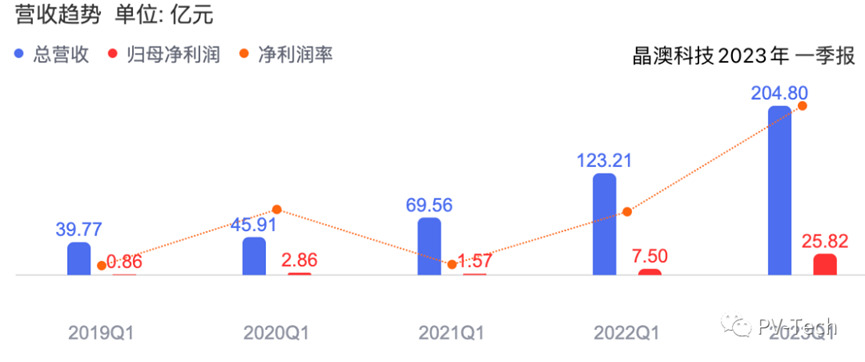 In Q1, JA Solar's cell and module shipments reached 11.7GW, including 152MW for self-use, with overseas shipments and distribution shipments accounting for about 58% and 30% respectively.
Furthermore, the financial report highlighted that JA Solar continued to prioritise capacity expansion during Q1. The company invested in constructing a new project in Ordos Hi-Tech Zone to achieve an annual production capacity of 20GW silicon wafers and 30GW cells.
Moreover, the company's 5GW module project in Xingtai is now operating smoothly. JA Solar plans to expand its module production capacity to 80GW by the end of 2023, with expected module shipments of 60-65GW, representing a year-on-year growth of over 50%. The company also intends to increase the proportion of silicon wafer and cell production capacity to 90% of the module production capacity.
It is worth mentioning that in January this year, JA Solar invested US$60 million to build its first plant in the US with a planned module production capacity of 2GW. The plant will start operating in Q4 2023.
LONGi Green Energy
On 28 April, LONGi Green Energy (601012.SH) released its Q1 financial report. During the reporting period, the company's revenue reached RMB28.3 billion (US$4 billion), increasing by 52.35% year-on-year. Its net profit attributable to the parent company was RMB3.64 billion (US$521 million), equivalent to a year-on-year increase of 36.55%. Its non-net profit increased by 35.7% year-on-year to RMB3.59 billion (US$514 million).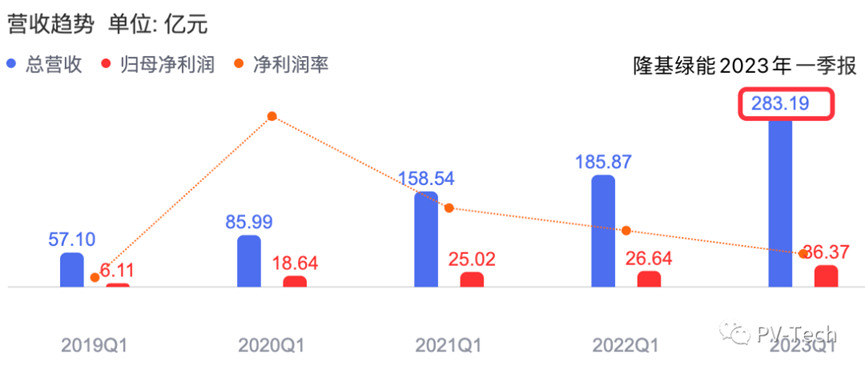 According to research, LONGi Green Energy's module shipment volume in Q1 was about 11GW, more than half of which were sold overseas. Meanwhile, the company said in its annual report that it aims to achieve a silicon wafer production capacity of 190GW, a cell production capacity of 110GW, and a module production capacity of 130GW by the end of 2023.
Regarding shipment targets, the company aims to ship 130GW of silicon wafers (including self-use) and 85GW of cells and modules (including self-use) in 2023. The company also announced a target of more than RMB160 billion (US$22.9 billion) in annual revenue for 2023.
Risen Energy
Risen Energy (300118.SZ) increased its revenue for Q1 2023 by 25.2% to RMB6.78 billion (US$972 million). The net profit attributable to the parent company was RMB311 million (US$44.5 million), representing a year-on-year growth of 46.11%. The non-net profit was RMB270 million (US$38.7 million), up 20.6% year-on-year. The company attributed the growth in profit during Q1 to the increased sales of PV products, which also led to a rise in sales revenue.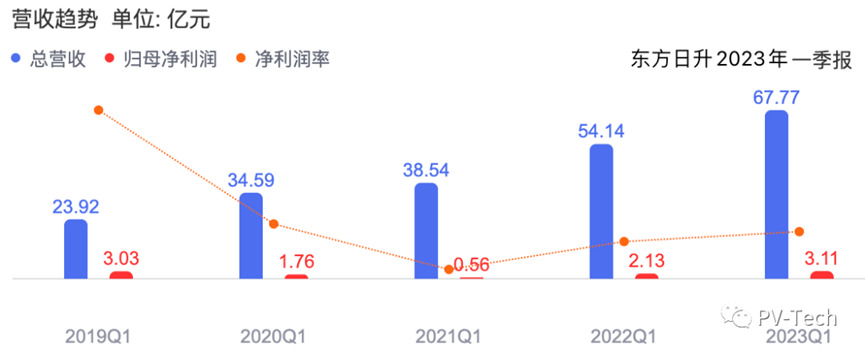 In Q1 2023, Risen Energy's module shipment volume was about 4.5GW, of which 39% was in China and 61% overseas. As of the end of 2022, Risen Energy's annual production capacity of PV modules was 25GW, while it aims to exceed 45GW in 2023 with a module shipment target of about 30GW.
It is noteworthy that Risen Energy leveraged its competitive advantage through heterojunction (HJT) technology. According to its investor relations activity record, the company's expansion of PV cell and module production capacity will primarily focus on n-type, and the new n-type cell and module production capacity will mainly rely on heterojunction technology.
Currently, the company has several ongoing cell and module production capacity projects, including the Zhejiang Ninghai 5GW n-type ultra-low-carbon high-efficiency heterojunction solar cell sheet and 10GW high-efficiency solar module project in Ninghai, Zhejiang Province; the 4GW high-efficiency solar cell sheet and 6GW high-efficiency solar cell module project in Jintan, Jiangsu Province; and the annual production of 10GW high-efficiency solar cell project in Chuzhou, Anhui Province. These projects will gradually start operating in the first half of 2023.
Tongwei
We also include Tongwei in the module discussion not only because it entered the module field, but also the strong competitive edge of the company.
Tongwei's Q1 financial report revealed that it had achieved a revenue of RMB33.2 billion (US$4.7 billion), representing a year-on-year increase of 34.7% in Q1 2023. The net profit attributable to shareholders reached RMB8.6 billion (US$1.2 billion), increasing by 65.6% year-on-year, while the non-net profit was RMB8.5 billion (US$1.2 billion), up 65.6% year-on-year.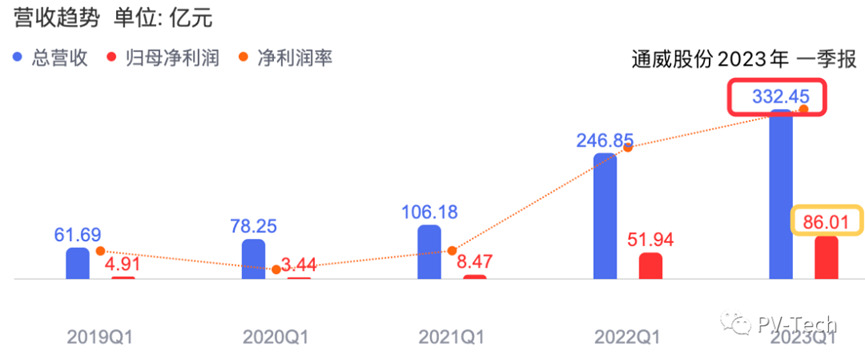 Since announcing its entry into the module sector in August last year and implementing the PV industry integration strategy, Tongwei has exceeded market expectations in terms of its speed of layout. The company's module sales volume in 2022 was 7.94GW, increasing by 226.1% year-on-year.
In Q1 2023, the company's module shipments exceeded 3GW. Although it lagged behind other module giants, the growth was impressive and surpassed many of its peers.
For the business plan in 2023, Tongwei will strive to sell 300,000 tonnes of high-purity polysilicon, 70GW (including self-use) of solar cells, 35GW of modules, and invest in new PV power generation business to build a solar-fishery integration project with a capacity of 1GW.
Looking ahead, the Chinese market will witness a fierce battle, while the overseas market is relatively straightforward. LONGi, Trina, JA, Jinko, and other companies' market share will be further consolidated and enhanced thanks to their brands, products, technology, channels, capital, and globalisation capabilities. A number of companies will follow them, including CSI Solar, Risen Energy, Astronergy, Tongwei, DAS Solar, and DMEGC.