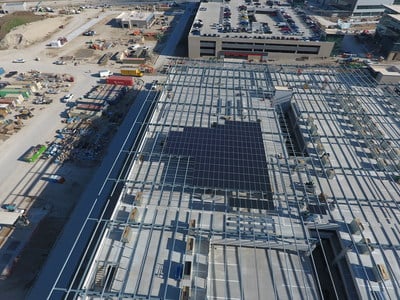 Toyota Motor North America celebrated the completion of its new North American headquarters in Plano, Texas, with the new building featuring Texas' largest commercial solar array ever developed.
The new headquarters, which required an investment of US$1 billion to develop and is located across 40 hectares of land, features an 8.79MW array that is comprised of over 20,000 solar panels.
Other features at the headquarters include a rainwater harvesting system and a commitment to utilise only renewable energy — purchasing all electricity not generated by the solar panels from wind generated by Texas farms.
Originally planned as a 7.75MW installation, the PV project added nearly 1MW of installed generation capacity during its construction phase. Around 50 certified workers were responsible for the development of the system, which features solar panels on steel carport structures across the top of four parking garages.
Nam Nguyen, SunPower senior vice president, said: "We're proud to partner with Toyota on this innovative solar project as the company works to achieve its ambitious sustainability goals. The unique long-span carport design will feature SunPower's high reliability solar panels that deliver 30% more electricity than conventional solar, optimizing Toyota's renewable energy investment."
In April, Southern Company subsidiary Southern Power commissioned a 120MW utility-scale solar facility in Texas.