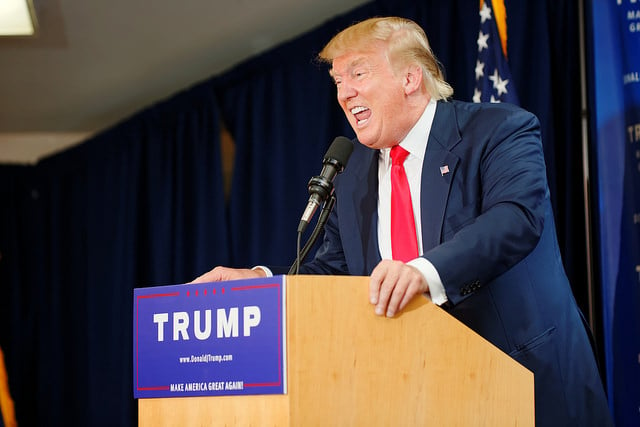 The Clean Power Plan has been killed by Republicans and is now pronounced dead, a group of finance experts have said, who also agree the ITC extension could be next.
"We continue to highlight the negative industry background on solar, and the election results should weigh even more on solar stocks," writes Kallo in a new report. "The Clean Power Plan (CPP) would have been a strong growth driver for the industry, but we believe it is unlikely to be implemented under a Republican White House. Importantly, we do not expect the Investment Tax Credit (ITC) to be rolled back, as the tax credit is unlikely to be changed retroactively. We expect a significant overhang on solar stocks due to negative sentiment trades and the oversupply in the industry. SPWR reports today after the close and we are cautious heading into quarter."
Reports have surfaced that Trump has selected Myron Ebell, director of the Centre for Energy and Environment at the conservative Competitive Enterprise Institute to lead his EPA transition team. Ebell has called the CPP "illegal" making it likely one of the first regulations in line to be scrapped.
Baird also predicts solar stocks will experience "near-term volatility" due to a period of overcapacity and new-founded uncertainty around US renewable policies. Not far off the mark, renewable energy publicly-traded companies such as First Solar and SunPower were among the hardest hit following the election results; at US$31.56 and US$6.31 respectively.
Importantly, we do not expect the Investment Tax Credit (ITC) to be rolled back, as the tax credit is unlikely to be changed retroactively.
ITC extension 'on the chopping block'
The investment tax credit (ITC) extension that is set to last until 2020 but may not fare much better, according to fellow equity research firm Roth Capital Partners.
"The Trump Presidency and GOP-controlled Senate & House are meaningful negatives for US solar. Although the Trump team has indicated to our sources that it has no plans to roll back the ITC extension, our checks suggest the ITC could very well be on the chopping block at some point. The CPP is effectively dead. All in, tens of gigawatts of solar demand are at risk. We see another leg down for all solar stocks in our coverage universe."
In fact, Roth ranks the likelihood of the ITC extension getting repealed as "meaningful".
"One of Trump's goals is to pursue tax reform and reduce the corporate tax rate to 15%. With the GOP controlling the executive and legislative branches, there is a meaningful probability that this develops momentum. One of our DC contacts suggested that when the Bush administration estimated the impact of eliminating all incentives and accelerated depreciation from the tax code, it could only get to a corporate tax rate of 29%. As a result, the Trump team will likely have to dig even deeper to get to 15%. We estimate that the value of the ITC is US$40-50bn, which is a large number that could pay for a corporate tax cut."
Before such a notion is brushed aside as preposterous, Roth cites the 1986 repeal of the ITC under the Reagan administration, to help pay for the major tax code rewrite.
Amit Ronen, director of the George Washington Solar Institute and 'behind-the-scenes' participant in the push for extension, previously explained to PV Tech the process that would have to be undertaken in order to repeal the ITC:
"It would take an Act of Congress because it is part of the tax code," he said. "In theory a president could push and use the leverage that they have to try and enact that policy but technically only an Act of Congress could do that.
"It is highly unlikely, but if you were to speculate you could say Congress could change any law they want. It's not impossible."
Ronen added that any one provision of the omnibus bill could be removed leaving the rest untouched.
"It's very unlikely to happen unless you have a Republican House and Senate and Donald Trump is president than I guess they might do that," Ronen told PV Tech back in May.
Now, as Donald Trump is indeed president-elect, the future of both the ITC extension and CPP is bleak.
Vishal Shah, research analyst at Deutsche Bank, however believes the current status quo in regards to the ITC is unlikely to change, but too casts doubt over the fate of Obama's CPP.
"We do not see any immediate impact on the federal ITC and believe state level policy outlook (already generally mixed) is unlikely to change.
"As for the second biggest potential policy change (which is currently, not priced into stocks and not impacting solar fundamentals) – we see some risk to the future outlook of the Clean Power Plan. Note that we have not seen much activity on this front in any case from the major utilities since the Supreme Court stay on this plan for the last few quarters. Most of the US C&I and solar projects are being announced due to the competitiveness of solar PPAs relative to other competing generation options and not in anticipation of CPP."