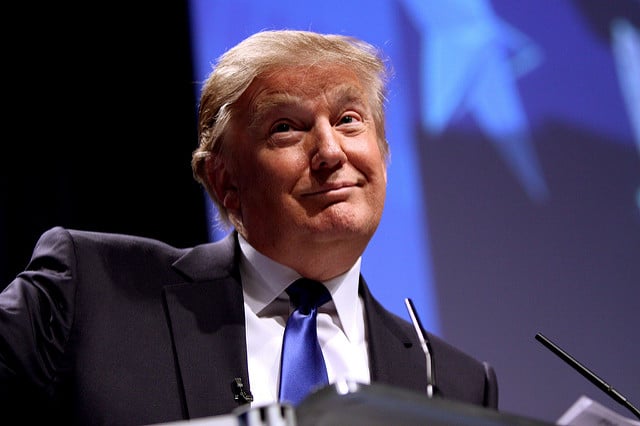 Donald Trump once again shunned solar and other renewables in favour for coal in his characteristic "America first" energy policy, while Hillary Clinton did not fare much better, but did at least reaffirm her commitment to fight climate change, albeit as an afterthought.
An energy question was asked at the tail-end of Sunday night's debate, leaving climate change and energy policy to be glossed over.
"What steps will your energy policy take to meet our energy needs, while at the same time remaining environmentally friendly and minimizing job loss for fossil power plant workers?" an audience member asked the Presidential hopefuls.
Attack on the EPA
Trump immediately seized the opportunity to lay into the energy policy of the Obama administration and the EPA: "[E]nergy is under siege by the Obama administration. Under absolutely siege. The EPA, Environmental Protection Agency, is killing these energy companies. And foreign companies are now coming in buying our – buying so many of our different plants and then re-jigging the plant so that they can take care of their oil."
The EPA is currently in court as parties decide whether it had exceeded its powers in its choice of implementation for Obama's Clean Power Plan, which essentially aims to drastically reduce carbon pollution. Whilst it may be controversial in its execution, the CPP was game-changing in that it was the instigator for the world's highest emitters of carbon dioxide making their largest emissions cuts.
The EPA did not take kindly to Trump's brash dismissal of its work, with two former chiefs releasing a statement on Hillary Clinton's website after Trump originally bashed green regulations and vowed to revive America's coal industry: "That Trump would call climate change a hoax – the singular health and environmental threat to the world today – flies in the face of overwhelming international science and the public conviction and commitment of almost 200 national governments that adopted the Paris Agreement on climate change in December 2015," the statement read. "Our leadership was essential to that agreement. To back away now, as Trump wants to do, would set the world back decades – years we could never recover. The young people in this country deserve far better than that as our legacy."
'We need much more than wind and solar'
Trump went on regardless to whitewash the role of solar in the energy conversation, stating during the debate: "Now, I'm all for alternative forms of energy, including wind, including solar, etc. But we need much more than wind and solar."
Again, this should come as no surprise, as the Republican nominee has never been an advocate of solar, despite accounting for 29.4% of new electric generating capacity installed in the US in 2015; identifying itself as a truly disruptive technology and exceeding natural gas for the first time. On the campaign trail in Pennsylvania in August, Trump incorrectly downplayed solar as "expensive", adding that "it's not working so good". Wind too, "kills all your birds", in the opinon of the real estate billionaire.
"Hillary Clinton wants to put all the miners out of business," Trump claimed, during the debate. "There is a thing called clean coal. Coal will last for 1,000 years in this country."
Whilst Trump is a well-known and ardent supporter of the coal industry, this is the first time he has touted clean coal – the carbon-capture technology that allegedly disposes of carbon emissions before they escape into the atmosphere. The reality is, as has been widely reported, that clean coal does not exist – at least economically on the large-scale Trump envisions.
Trump also took the opportunity to repeat his desire to reinvigorate the mining sector; claiming that the EPA was "killing" energy companies with its regulations.
"The EPA is so restrictive that they are putting our energy companies out of business. And all you have to do is go to a great place like West Virginia or places like Ohio, which is phenomenal, or places like Pennsylvania and you see what they're doing to the people, miners and others in the energy business. It's a disgrace," he added.
He also spoke of natural gas and the fracking boom before complaining about steel prices and "China dumping vast amounts of steel all over the United States" – in yet another rendition of his 'all-of-the-above' approach to energy policy.
Climate change an afterthought
Clinton, for her part, made a weak reference to renewables – asserting that US production of natural gas "serves as a bridge to more renewable fuels" whilst reaffirming the move "toward more clean, renewable energy as quickly as we can, because I think we can be the 21st century clean energy superpower and create millions of new jobs and businesses."
Solar advocates may be disappointed she did not elaborate on the rapidly emerging role of solar as a mainstream energy source in the US. Indeed, climate change itself was brushed aside; despite Clinton telling the questioner that her "comprehensive energy policy…really does include fighting climate change" which she deemed "a serious problem".
Whether that was a "comprehensive" enough response to the question, and the wider climate change phenomenon, has been doubted by industry stakeholders.
"The candidates spent very little time talking about climate change during tonight's debate but it is on the minds of so many Americans, especially as Hurricane Matthew continues to take a heavy toll here and in Haiti," said Greenpeace USA Executive director Annie Leonard, in a statement. "Climate change demands the attention of both candidates and their parties, and it is shameful that it was given so little."