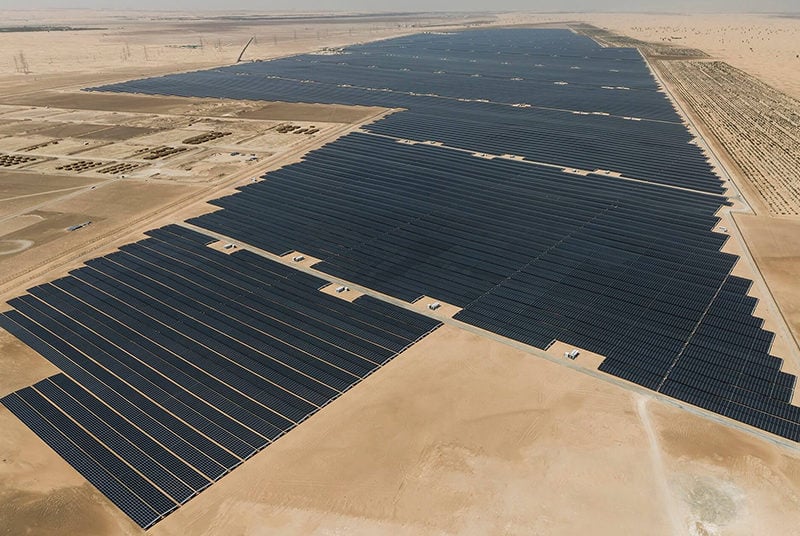 The UAE should increase its solar PV generation capacity sixfold by 2030, rising to 7.3GW, according to the latest report from the Emirates Water and Electricity Company (EWEC).
In its Statement of Future Capacity Requirements 2023-2029: Summary Report, EWEC recommends that the UAE should add up to 4.1GW of solar PV capacity as of 2029, including the planned 1.5GW Al Ajban project set to come online in 2026. It also recommends adding 300MW of battery energy storage systems (BESS) to stabilise distribution.
The capacity addition is necessary because of a rise in power demand and growing supply chain insecurity following the COVID pandemic and war in Ukraine, EWEC said, and solar PV additions were identified as providing "a significant system cost and emissions reduction benefit".
The report said that gross power demand in the UAE is set to increase by around 30% through 2029 to around 21.6GW. It recommended that, to meet demand, around one third of capacity additions from 2026 onwards should be solar PV. It also recommended extending or reconfiguring thermal gas generation plants to meet demand, as well as developing two reverse osmosis desalination plants to ensure consistent water supply to the country.
"Our Statement of Future Capacity Requirements Summary Report demonstrates EWEC's commitment to advancing the UAE's energy transition while continuing to ensure a secure and reliable supply of water and electricity in the UAE," said Othman Al Ali, CEO of EWEC.
"This report provides a powerful key reference that outlines Abu Dhabi and the UAE's future needs. Our growing portfolio of renewable and clean energy projects is accelerating the decarbonisation of the country's energy sector in line with the UAE Net Zero by 2050 strategic initiative whilst supporting the realisation of the Abu Dhabi Department of Energy's Clean Energy Target 2035."
In November the Abu Dhabi Ports Group began exploring potential distributed solar opportunities with subsidiaries of TotalEnergies. Abu Dhabi and the UAE more widely host what will be some of the largest PV plants in the world, like the 800MW Khalifa industrial zone installation which will power a green ammonia plant and the vast Mohammad Bin Rashid solar park in Dubai.