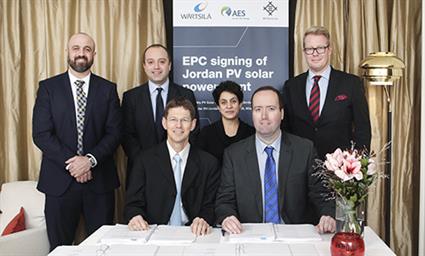 Finnish power source manufacturer Wärtsilä has broken into the solar industry with the launch of utility-scale PV systems. These include solar PV plants of 10MW and above, and hybrid power plants consisting of solar PV farms and traditional combustion engines, known as Smart Power Generation plants. Wärtsilä is also offering EPC expertise for these systems, and according to the company, is the first to offer utility-scale hybrid power plants of this kind. It will target utilities, IPPs and industrial customers.
The fusion of these sources of energy should result in fuel savings and contingent environmental and monetary benefits, Wärtsilä claimed. During irradiation hours, the PV modules are to produce the electricity for the end user, with the engines on stand-by or partially being operated, until sunset when the engines are ramped up. The idea is that the two sources work in synchronisation with the engines compensating for the intermittent output of the solar half of the unit, at an immediate and automatic pace.
The solar-engine hybrid plants are to be offered by the company as either an original build under a single turnkey contract or a retrofit, where solar modules are combined with an existing Smart Power Generation plant. Wärtsilä will acquire the solar PV modules for the EPC projects from leading module suppliers, it said.
The inaugural solar project announced by Wärtsilä in 2014 was a retrofit case: combining a 46MW solar PV farm in Jordan with IPP4, an existing 250MW engine plant. The farm spans 81 hectares and comprises inverters, switchgear, control systems and overhead transmission lines. It is scheduled to be completed in the last quarter of this year.
To date, Wärtsilä's installed power plant capacity is 60GW across 176 different countries. It plans to rapidly expand this by transitioning into the solar market. The company has forecasted annual sales to reach €300 million (US$339 million), across catchment areas in Africa, the Middle East, Latin America and Southeast Asia.
"We are excited to expand our portfolio with new sustainable innovations and help our customers reduce their carbon emissions. Large-scale solar is a big business, with the installed base expected to grow four-fold to 450 GW by 2025. Our competitive edge builds on three things: global EPC capability, a wide sales and service network, and an existing customer base in 176 countries," said Javier Cavada, president of Wärtsilä, in a statement.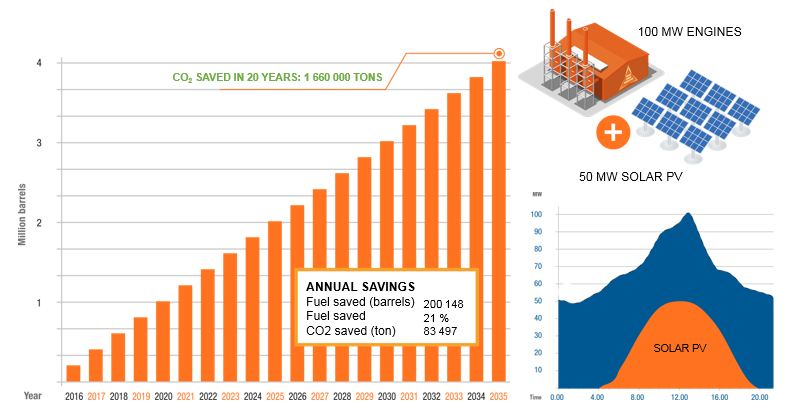 The addition of solar to Wärtsilä's power solutions is predicted to have incredible implications for reducing the carbon footprint, the company claimed. A hypothetical example presuming a utility-owned 150MW hybrid facility in an equatorial region, operating on a typical residential load profile, that comprises 100MW of engines and 50MW of solar modules could save 21% of the oil consumption of a solely engine-based plant. This represents a reduction of some 200,000 barrels per year. In carbon emissions, the reduction is equally 21%, or around 83,000 tonnes per year.