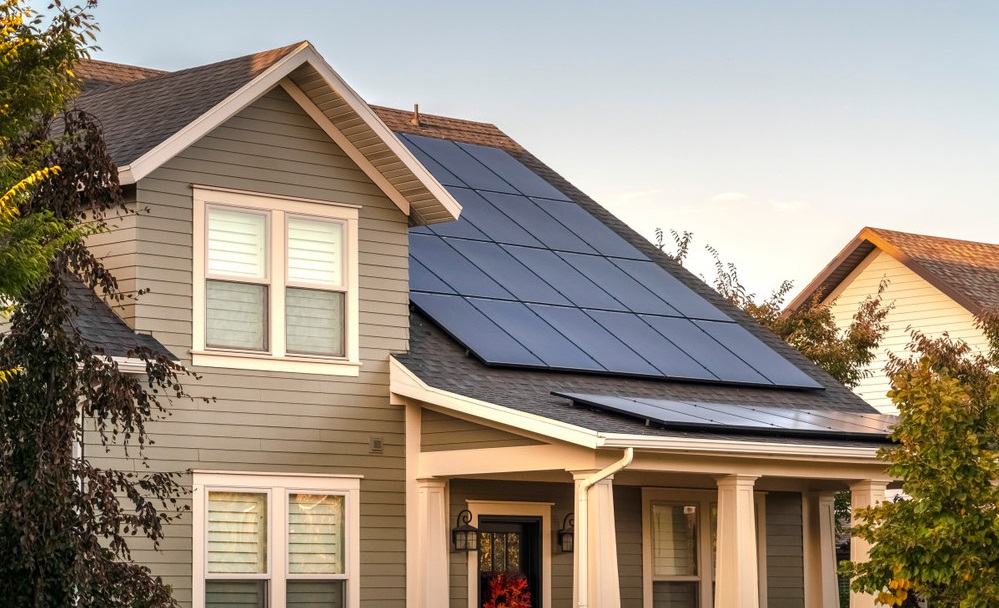 The residential solar industry in the US will be set for a growth spurt in 2023 and beyond as homeowner concerns combine with the blossoming impacts of the Inflation Reduction Act (IRA). So says the first Solar Industry Snapshot report from solar PV software provider Aurora Solar.
77% of US homeowners either already have solar arrays installed or are interested in doing so, and one in ten reported that they had residential modules fitted in the last year, according to the report. Perhaps the more striking view of that number is that just 27% of the homeowners in the survey weren't considering residential solar.
Additionally, over 90% of residential solar installers reported increased interest from customers in 2022, the year in which the IRA was passed with US$369 billion in credits and facilities to incentivise renewable energy adoption and deployment across the US.
A report from Wood Mackenzie last year showed that the US residential sector was in a sustained 'growth mode', which was corroborated by statistics that the firm released in collaboration with the Solar Energy Industries Association (SEIA) showing that residential solar was the only US market segment to see a year-on-year installation capacity rise in 2022.
Aurora Solar's "snapshot" surveyed 1,000 adult US homeowners and 889 solar professionals to get a picture of the state of the industry, as well as drawing on its own database of over six million solar installations nationwide that utilise its software and optimisation technology.
The extent of the IRA's effects will take years to realise and some specifics are still being untangled, but Aurora said that over 45% of installers have seen increased interest directly as a result of the bill, and a further 40% expect to in the fullness of time. The most attractive measure is reportedly the Investment Tax Credit (ITC), which was extended until 2032 under the IRA and gives residential solar adopters a credit of 30% on their federal income taxes.
62% of the survey participants said that they expected energy prices to keep rising; they've already risen faster than inflation, which is rising fast. A further 48% said that power outages through weather events would push them towards solar. The two figures speak to a desire for personal energy security and independence, a theme which was echoed in a report on Germany's residential solar sector which saw a 52% rise in residential solar-plus-storage deployments last year for many of the same reasons.
However, the sunny forecast of Aurora Solar's snapshot isn't the whole story. Whilst money is a push factor towards solar, it's also what prevents some people from opting in. The price of a residential array isn't inconsiderable, and additions like battery storage only increase the cost.
This was a key concern of industry commentators reacting to California's net metering 3.0 bill late last year, which was designed to heavily incentivise battery storage by slashing the export rates that consumers receive for selling power back to the grid. PV Tech Premium spoke to California industry players who argued that many consumers would be priced out of going solar altogether between the increase in cost of battery systems and lessened export rate incentive.
Earlier this year, PV Tech Premium spoke with US-based Aurora Solar about the benefits of AI monitoring technology for reducing the soft costs of residential solar.
The snapshot report also highlighted a number of perceptions that consumers held that had prevented them from installing solar panels. Chief among these is the belief that they don't have enough solar resources, that panels are less efficient in the winter. This isn't true. Concerns were also around the installation process, maintenance and implications for reselling the property. Aurora said that greater awareness of financing options and a clearer dialogue with installers would go some way to alleviating these misconceptions.
In terms of the developers, the main problem seems to be meeting demand. Supply chain issues in the US are well-documented, and are set to only alleviate slightly over this year. The second problem was available labour. The IRA is looking to swoop in and solve both of these problems, with its domestic manufacturing incentives and the swathe of employment created on the back of that.