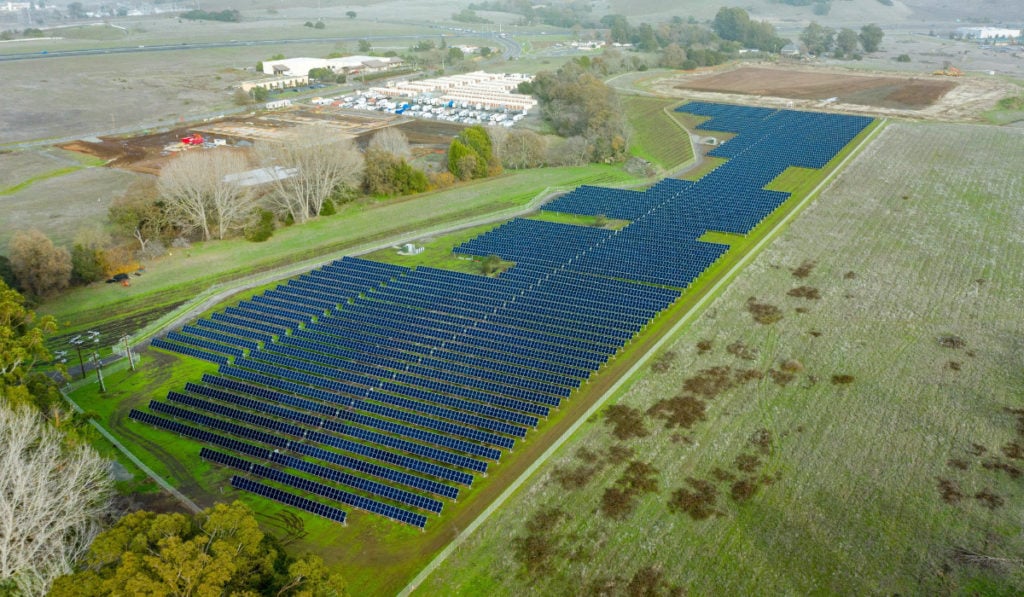 A round-up of the latest PV news from the US, including two funding news, construction of solar projects in Florida and Renewable Properties closing its Fund 8 portfolio with two financing partners.
Renewable Properties inks deal with financial partners for 30MW of solar projects
Utility and community solar project investor Renewable Properties has closed its Fund 8 portfolio with financing partners Nelnet Renewable Energy and AB CarVal.
Fund 8 comprises about 30MW of community solar projects in California and New York. With a capacity of 11.5MW, the Avenue 26 Solar Phase I & II projects, located in Madera County, California, will commence construction in Q2 2023 and are expected to be completed by the end of the year.
Meanwhile, New York projects, with a total capacity of 18.4MW, are in various stages of development. The Slayton Settlement Solar A & Slayton Settlement Solar B projects in Lockport began construction at the end of 2022 and are expected to be online in October 2023. Two projects in Batavia will commence construction by May 2023 and are expected to be finished by December 2023. The Clemons Road Solar project in Minoa will begin construction in April 2023 and is expected to be operational by the end of the year.
The latest fund enabled Renewable Properties to expand its community solar project portfolio to 15 states.
In 2020, funds managed by AB CarVal invested US$60 million to support the expansion of Renewable Properties' operations. The capital allowed Renewable Properties to further develop its existing community-scale solar project pipeline, expand development efforts into new and existing markets, and secure new project opportunities and acquisitions.
Fund 8 is Renewable Properties' fourth tax equity fund partnership with Nelnet.
Modern Energy announces a US$90 million investment in Industrial Sun
Clean energy company Modern Energy has announced a US$90 million deal with institutional investor EIG to invest in renewable energy and storage developer Industrial Sun.
The investment will see Modern Energy continue supporting Industrial Sun's growth. According to EIG, the investment aligned with its strategy of supporting projects and companies that drive the transition from fossil fuels to more sustainable energy sources on a global scale.
Wade Gungoll, CEO of Industrial Sun, said: "We are selective with our partners. Bringing EIG into the mix will only accelerate our growth and help us capitalise on our mission to bring net-metered industrial solar to market."
EIG and Modern Energy announced a partnership in July 2020, in which EIG committed US$100 million to Modern Energy through a debt facility to fund the development of clean energy assets. Modern Energy also previously committed US$30 million to launch Industrial Sun in November 2021.
"Industrial Sun was a brand new company 15 months ago, and now it is capitalised to execute on gigawatts of pipeline opportunities that will further the energy transition," said Chris Hamilton, chief investment officer of Modern Energy.
Duke Energy begins construction on two new solar sites in Florida
US energy company Duke Energy will begin the construction of two new solar projects in Florida later this month.
Duke Energy said the projects are part of its community solar programme Clean Energy Connection and will take up to 12 months to complete. The first project, the 74.9MW Mule Creek Renewable Energy Centre, will be built on about 700 acres, including site buffers for the community in Bay County.
Another project is the 74.9MW Winquepin Renewable Energy Centre, which will be built on about 530 acres in Madison County.
"These new renewable energy projects not only help strengthen the energy diversity in the state and advance our clean energy goals, but also bring additional economic benefits to the communities we serve," said Melissa Seixas, Duke Energy Florida state president.
OYA Renewables secures US$216 million for community solar projects
Energy transition solutions platform OYA Renewables has secured US$216 million to construct 15 community solar development projects in New York State.
The projects are expected to generate almost 100MWdc of renewable energy a year after completion.
Of the US$216 million in total financing, US$145M has been secured as a construction-to-term loan. CIT Power and Energy acted as lead on the loan, coordinating a syndicate of participating banks which was comprised of Amalgamated Bank, Siemens Financial Services Inc., Comerica Bank and Cadence Bank.
OYA secured an additional US$71M in project funding with Monarch Private Capital in the form of a tax equity investment.
"Not only does (the funding) significantly increase our asset base, it also advances our transition from being a developer to an independent power producer," said Manish Nayar, chairman and founder of OYA Renewables.