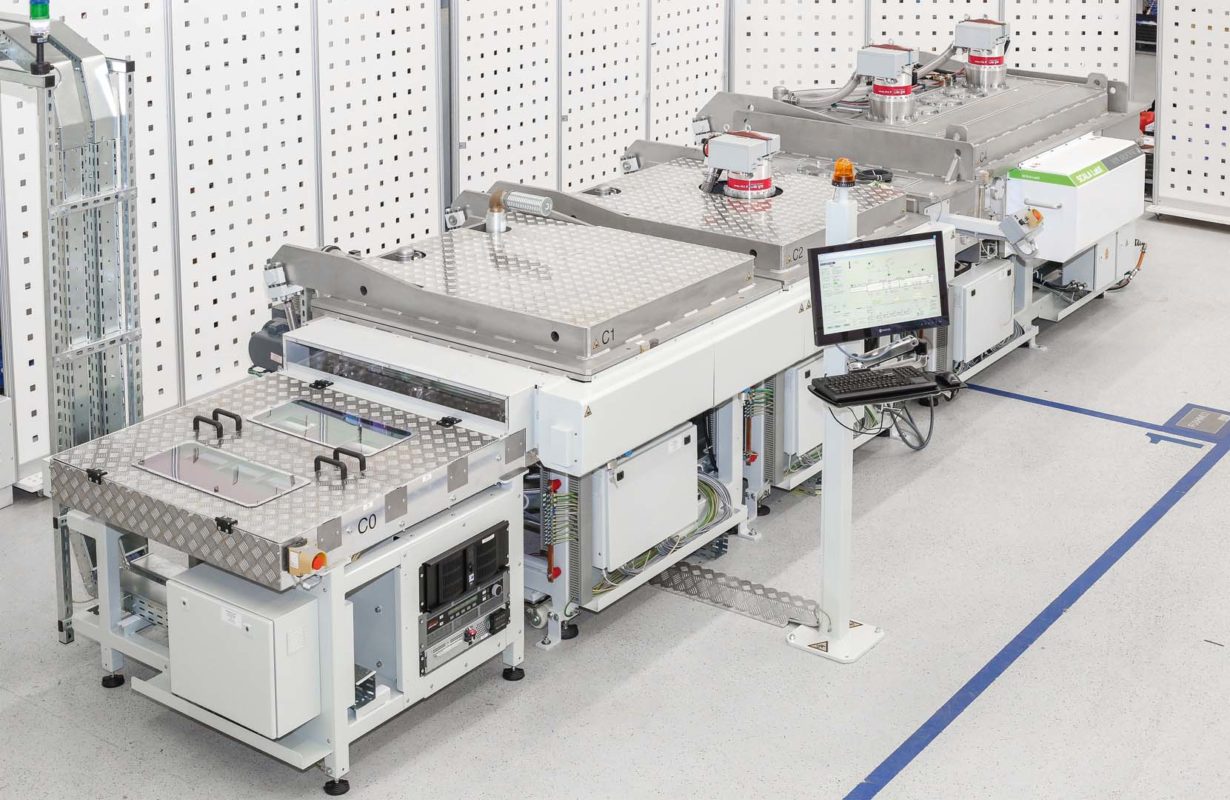 von Ardenne's 'SCALA' platform has been designed to close the gap between R&D and production of Silicon heterojunction (HJ) solar cells. The modular platform provides a pathway via a technology approach, the tuning of the PVD processing and the complementary technology steps such as texturing, PECVD and metallization processes for 22% conversion efficiencies on 6-inch substrates and thus to ease the path to commercialization.
Problem
Silicon HJ solar cells require only five major process steps, which in principle mean it is relatively easy to start manufacturing HJ solar cells. However, every process has its specific challenges and the interaction between all processes need to be kept in mind for optimization. It is also necessary to continuously develop the technology further in order to reach higher conversion efficiencies and to lower manufacturing costs. In contrast to research and development (R&D) on a laboratory level, process development and technology assessments for industrial use require industrial-scale manufacturing abilities. However, HJ adopters in recent years are preparing for volume production that requires all the necessary automation and measurement technology for full-scale production.
Solution
A lab-scale HJ solar cell pilot line is often regarded as the best base for developing technology to be transferred to full-scale production and to support production lines that are already in operation. The SCALA LabX is a single-ended tool for horizontal batch processing with or without load lock and is ideally suited for process and application development at laboratory scale. The SCALA PilotX is designed for horizontal inline operation and therefore suitable for pilot production and represents a smaller versions of the equipment used for full-scale production. Both platforms use scalable process components for TCO and metal PVD, such as rotatable targets. The requirements of developing new processes and demonstrating their transferability into full-scale production require a sophisticated manufacturing concept for lab-scale pilot lines. von Ardenne's 'SCALA' platform for volume production can deposit TCOs with standard mobility values above 50 cm²/Vs. During internal tests, the company has reached values of more than 70 cm²/Vs using process technology that is suited for industrial use. These values are best-in-class results, according to the company. Furthermore, the SCALA delivers cell efficiency values of more than 22% on 6-inch substrates and with screen-printed standard contacts.
Applications
Front and back side deposition of contact layers such as TCO or metal stacks for silicon heterojunction (HJ) solar cells and other crystalline PV applications.
Platform
von Ardenne's SCALA platform exclusively uses process technology that is claimed to be 100% scalable and that can be transferred from the laboratory to production scale, which is claimed to be a unique feature. The process chamber is equipped with up to four different process stations in a sputter down arrangement. It enables simultaneous or sequential processing of different material compositions, which is particularly suited for R&D purposes. The process chamber can be configured with magnetronsvusing planar or rotatable targets. Other process units are available on request, such as: electron beam guns, linear evaporators as well as ion pre-treatment or heating and cooling units. All auxiliary chambers, like entry/exit, buffer and transport chamber, can be upgraded in a similar manner. The flexible carrier design enables the coating of substrates with full or partial edge exclusion on one or both sides. The substrate can be coated on the full area and all around, including the bevel. The SCALA tool is available as an inline configuration and enables multi-wafer processing.
Availability
Currently available.