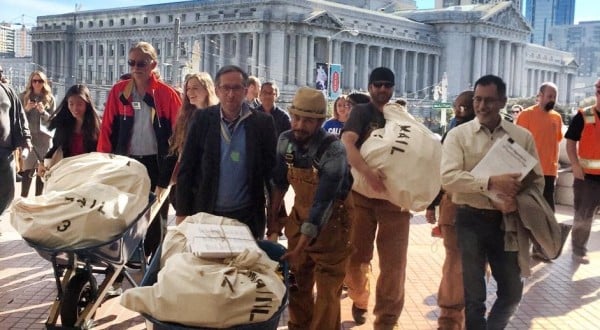 The California Public Utilities Commission (CPUC) has received a petition with more than 130,000 signatures calling on it not to enact controversial proposals to reform net metering in the state.
The petition, organised by pro-solar coalition Vote Solar, was delivered last week and is claimed to comprise the largest number of public comments recorded by the CPUC on any issue.
Consumer, environmental, public health and business organisations contributed towards the petition, which Vote Solar said was the result of a "growing outcry" from Californians in response to proposals put forward by state-owned utilities PG&S, SCE and SDG&E to end California's net metering policy and add fees to new solar installations.
Vote Solar said the policies would make solar "two to three times more expensive" than it currently is. "If approved, the proposals would halt consumer solar adoption and would put local jobs, public health benefits and climate progress at risk", the organisation said.
The petition comes on the back of a poll of Californians last month which revealed that 80% of them rejected a repeal of net metering and just over a month after governor Jerry Brown signed legislation mandating the state to meet half of its total energy demand from renewable sources by 2030.
Dan Jacobson, programme director at the Environment California Research & Policy Center, said that the petition showed that solar was a "top priority" for Californians.
"Eliminating the primary policy that has made California the number one solar state in the country would fly in the face of public opinion, our newly minted 50% renewables law, and California's ability to be a strong leader at the United Nations climate change summit in Paris next month," he added.
Jacobson's sentiments were echoed by Strela Cervas, co-director at the California Environmental Justice Alliance (CEJA), who said that weakening rooftop solar initiatives would "only give utilities the power to build more dirty energy".
"CEJA strongly urges the California Public Utilities Commission to continue to make net metering available to build upon California's thriving rooftop solar industry that will help more low-income families and communities of color participate in and benefit from a growing equitable energy economy for all Californians," Cervas said.