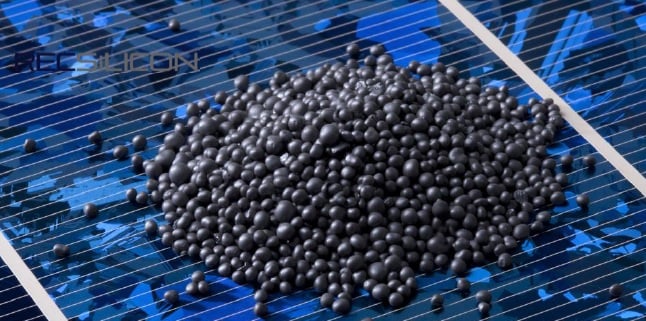 Since Wacker Chemie opened its new 20,000MT polysilicon plant in Charleston, Tennessee in 2016, there was a good chance that the German-headquartered chemicals firm could overtake incumbent market leader, GCL-Poly.
While Wacker ramped the new Charleston facility to full-production and kept its German plants at full-capacity throughout the year, GCL-Poly cut production in the second-half of the year and extended maintenance periods to reduce inventory on weaker domestic demand.
As a result, according to the latest polysilicon market analysis by Bernreuter Research, Wacker indeed beat GCL-Poly's production and capacity figures in 2016, the second time only since 2012 that the company was the market leader.
However, the battle at the top of polysilicon leadership table proved to be a close call, after GCL-Poly dominated the sector since 2013.
According to Bernreuter Research, Wacker's polysilicon production exceeded 70,000 MT in 2016, while GCL-Poly recently said in its annual report that polysilicon production capacity was held at 70,000MT in 2016 and production reached 69,345MT, representing a decrease of 6.7%, compared to 74,358MT in 2015.
"Wacker has benefitted from the smooth ramp-up of its new polysilicon plant in Tennessee (USA) while GCL-Poly's bet on low-cost fluidized bed reactor technology for producing polysilicon granules has not paid off," noted Johannes Bernreuter, head of the polysilicon market research firm Bernreuter Research and author of the Polysilicon Market Outlook 2020 report.
In contrast, GCL-Poly had not succeeded in commercially bringing its 25,000MT FBR (fluidized bed reactor) plant into production, due to technical difficulties, according to Bernreuter.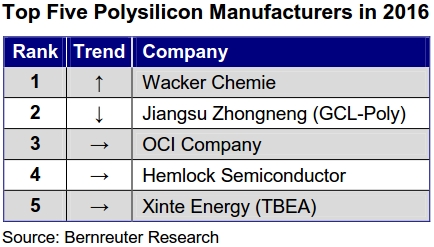 Bernreuter believes that Wacker could remain in the leadership position for a few years until GCL-Poly can ramp further Siemens reactor capacity at its subsidiary, Jiangsu Zhongneng Polysilicon's facility in Xinjiang, China.
However, GCL-Poly is expected to take control of Korean-based FBR production plant of former SMP, owned by bankrupt renewables firm SunEdison at the end of March, 2017. Although this FBR plant has never been ramped, again due to technical issues, GCL-Poly emphasised in its annual report that significant R&D strides had been achieved in 2016 in relation to its FBR technology but without being specific.
Such is the small gap between Wacker and GCL-Poly that Wacker noted in its 2016 annual report that it was ranked second to its close rival, while GCL-Poly's recently published annual report claims it remains the market leader. We can expect 2017 to be another close call on market leadership bragging rights.