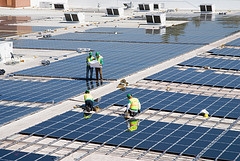 C2 Energy Capital has signed off on 46 Power Purchase Agreements (PPAs) and leases with Walmart that will see the company provide renewable energy to the retailer in five US states.
These deals, totalling around 40MW of capacity, fall in line with Walmart's goal of having 50% of its operations powered by renewable energy by 2025.
These 46 PV projects will generate more than 65,000,000kWh of renewable energy annually, enough of an energy output to power nearly 5,500 homes. These installations are expected to cover 10-60% of each stores' overall electricity use.
Mark Vanderhelm, vice president of energy for Walmart Inc., said: "Solar is a vital component of Walmart's expanding renewable energy portfolio. Walmart plans to tirelessly pursue renewable energy projects that are right for our customers, our business and the environment. These planned projects with C2 Energy Capital are moving us in the right direction toward our renewable energy goals."
This new deal comes one year after Walmart chose C2 Energy Capital to install 13 rooftop solar projects in South Carolina. All 13 projects are now operational.
Candice Michalowicz, co-founder and managing member of C2, said: "Walmart is a seasoned expert at onsite solar generation, and they have high expectations for their vendor partners. We are honored to be a part of their renewable energy program, and the important steps they are taking that will benefit the local communities and the environment."