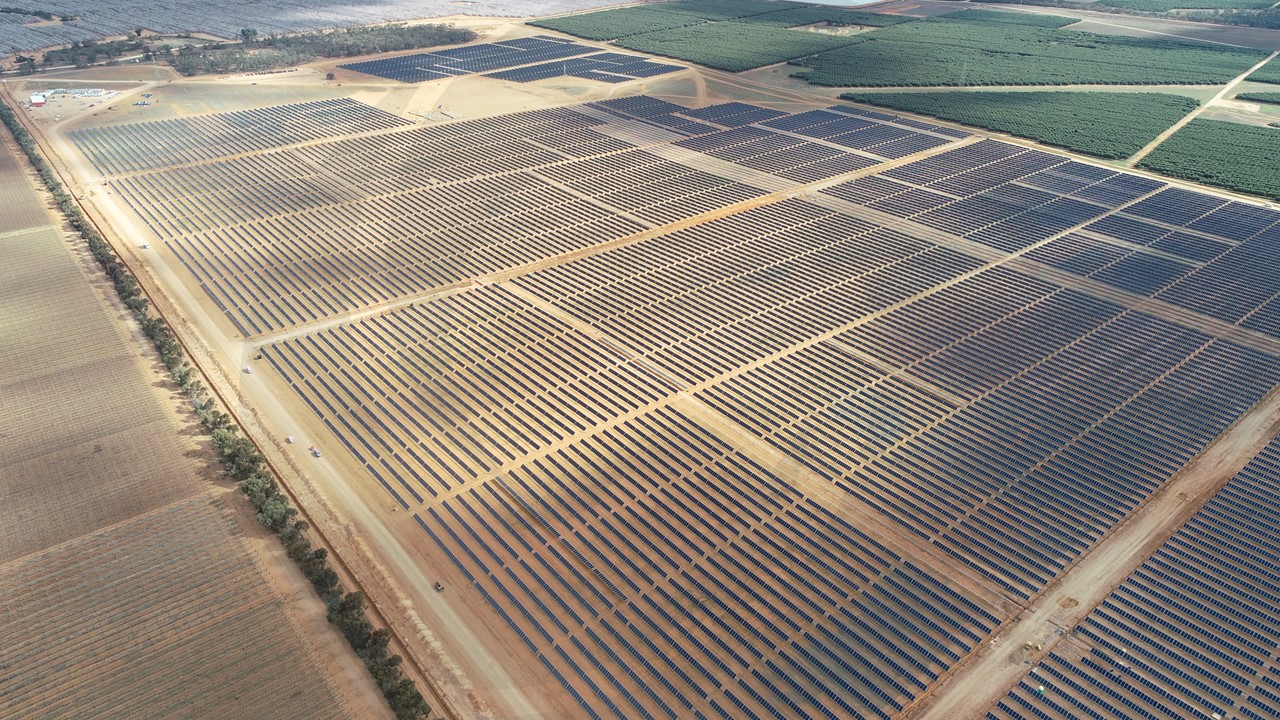 Contruction of a Tesla powerpack battery at the 60MW Gannawarra solar farm in Victoria, Australia – said the be the first battery storage system that has been retrofitted to an existing solar farm in the country – has been completed ahead of schedule.
Wirsol Energy, the Australian arm of the Wircon Group, and Edify Energy both own the 25MW/50MWh retrofit Gannnawarra Energy Storage System (GESS), which was developed by Edify.
According to a Wirsol release, the project had to overcome unique regulatory and technical challenges, but it now demonstrates the huge opportunity for integrating large-scale battery storage with solar projects.
Wirsol has now commissioned the 60MW Gannawarra Solar Farm and also connected the 110MW Wemen Solar Farm to the grid, again in Victoria. The two PV projects will power the equivalent of approximately 52,100 Victorian homes over the course of the year.
RCR Tomlinson, the EPC Contractor responsible for constructing Wemen Solar Farm, will continue commissioning with the goal of achieving completion by year end. The Wemen proejct has roughly 319,000 modules installed, making it one of the largest PV projects in Victoria.
Mark Hogan, MD of Wirsol, said: "We are delighted to reach two crucial milestones at Gannawarra Solar Farm. The overall project and how it has evolved is unique to the industry which in turn sets a benchmark for future projects, which enables the ability to optimise the delivery of energy at peak times supporting demand throughout the daily cycle. We are proud to be a major contributor towards Victoria's renewable energy target, with two of the state's largest projects now operating. This also underwrites our own personal mission of deploying greater than one gigawatt of solar energy by the year ending 2020 in Australia. Maintaining the deployment of solar, coupled with storage where appropriate, is a cornerstone in attaining sustainable and affordable clean energy, which is evidently now within reach on a global scale, specifically within Australia."
The Victorian government targets 25% renewables by 2020, 40% by 2025 and 50% by 2030 if re-elected.
A consortia led by Spotless Sustainability Services has also been delivering a 30MW/30MWh grid-connected battery at a terminal station in Warrenheip, Ballarat. Fluence, which was launched jointly by global engineering giant Siemens and energy storage system integrator and developer AES last year, will supply the battery, which will then be owned by AusNet. The Ballarat transmission terminal is heavily congested so the battery will be able to offer grid stability and reduce the need for expanding the substation. Moreover, the battery will help to increase the amount of energy supplied by surrounding wind and solar generation, at reduced cost.
Both batteries will be operated by utility EnergyAustralia under long-term power purchase agreements (PPAs).