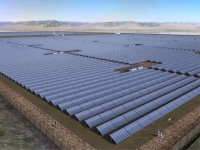 Independent solar developer 8minutenergy announced Wednesday that it has received approval on a power purchase agreement to develop the 90MW Springbok 3 Solar Farm in Kern County, California.
The project is the third installation in the Springbok pipeline, joining 8minutenergy's 105MW Springbok 1 project, and its 155MW Springbok 2 project. 8minutenergy also negotiated the interconnection agreements for the entire project.
8minutenergy signed the Springbok 3 PPA with the Southern California Public Power Authority (SCPPA) on behalf of its participating member — the Los Angeles Department of Water and Power (LADWP).
8minutenergy's chief executive officer Martin Hermann noted: "We are pleased to highlight the continuation of a long-standing partnership with LADWP and SCPPA, and we are proud to be a dedicated provider of reliable, cost-effective solar energy to the people of Los Angeles. We are fully committed to our project's successes and track record: our Springbok 1 and 2 farms are fully commissioned and operating. The addition of Springbok 3 is further proof of our reliable business model and partnership approach."
The three Springbok solar installations will generate enough combined clean, renewable energy to serve more than 152,000 Los Angeles homes.
Tom Buttgenbach, president of 8minutenergy, said: "Our Springbok projects are among the largest operational solar farms in California to beat fossil fuel prices. We thank our forward-thinking partners such as LADWP and SCPPA for making this possible, and for helping us to continue leading the industry in developing highly reliable solar energy with competitive prices."