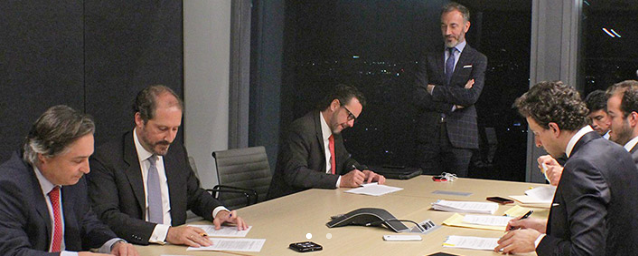 Acciona and Tuto Energy, who each own a 50% stake in the 404MW Puerto Libertad solar project in Sonora, Mexico, have signed a financing agreement for the project of up to US$264 million with four banks.
The banks, who are financing the project on an equal basis with a repayment term of 18 years, are North American Development Bank (NADB), Banco Nacional de Obras y Servicios of Mexico (BANOBRAS), Instituto de Crédito Oficial of Spain (ICO) and Banco Sabadell.
Construction work on the complex, one of the biggest in Latin America, began in February this year and it is expected to be fully operational in the first quarter of 2019.
"We are very pleased to have signed this finance agreement, which shows the confidence of the financial entities in our ability to complete and manage such an ambitious renewable project as this one, the biggest ever materialized by Acciona Energía", said Acciona Energía Mexico CEO Miguel Angel Alonso.
A total of 229MW of the plant will supply the Federal Electricity Commission (CFE) along with the corresponding clean energy certificates awarded to the project consortium in the second long-term electricity supply auction held in Mexico.
Another 114MW of the project's generation will be used to service a private electricity purchase-and-sale contract, and the remaining 61MW will be allocated to marketing energy in the wholesale electricity market.
The Puerto Libertad plant will be equipped with 1,222,800 polycrystalline modules mounted on horizontal tracking structures.
An average of 500 people will work on the construction of the plant, and this figure will rise to 900 at times of peak activity. In the operational phase, the facility will provide stable employment for 38 people.