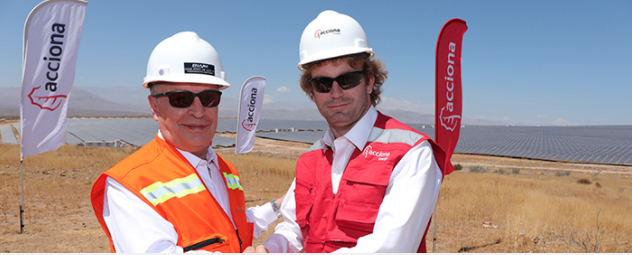 The National Mining Company of Chile (ENAMI) has contracted Acciona Energía to supply 100% of its electricity from renewable energy sources starting in April this year.
For the contract, Acciona will build a new solar PV plant in the north of Chile. Power will be supplied to ENAMI's plants in the regions of Antofagasta, Atacama and Coquimbo, and the agreement also covers the consumption related to the modernization of the Fundición Hernán Videla Lira foundry located in the town of Paipote, starting in 2022. This means that all ENAMI's plants will be supplied by Acciona's renewable energy generation by the same year.
"Helping the National Mining Company of Chile to achieve 100% renewable consumption gives us great satisfaction, due to the importance of the client, the sector it operates in, and because it strengthens our position in the corporate PPA market in the country," said Acciona Energía CEO for South America Ignacio Escobar. "The agreement also enables us to increase our photovoltaic capacity in Chile, which represents a major milestone in our development activity", he adds.
Jaime Pérez de Arce, Executive Vice-president of ENAMI, said: "This contract is part of the modernization that we are driving forward in ENAMI. This is very important for us, as it demonstrates our commitment to the sustainable development of the company and the country. The new emission-control technology that we will incorporate in the foundry at Paipote, plus the fact that all our plants are supplied with clean energies, places us among the companies with highest environmental standards in the sector."
Acciona has the 246MW El Romero solar plant in operation in Chile alongside an operational wind farm and another in the pipeline. However, the main supply to ENAMI will come from the PV projects in the Atacama region that Acciona won under a Chilean power tender.
Acciona also recently signed a renewable energy-based PPA with Aguas Chañar, a water cycle management company in the region of Atacama, Chile.