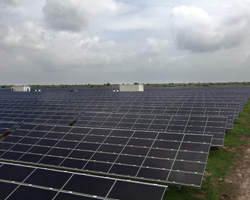 Indian developer Acme has won a 75MW solar PV project in Uttar Pradesh, in addition to the 50MW project win that it announced yesterday.
Solar Energy Corporation of India (SECI) had invited bids for 275MW to be executed at multiple solar parks in Uttar Pradesh. According to a release, Acme bid for 75MW at Parasan solar park in Jalaun District of Uttar Pradesh today and won the capacity at a tariff of INR3.32/kWh (US$0.049), which was slighty lower than the INR3.38/kwh tariff for its 50MW at the Gujrai solar park, which is said to have tough conditions for project development.
The next lowest tariff bid for the Parasan solar park was INR3.34/kWh.
Manoj Upadhyay, founder and chairman Acme, said: "We are delighted to win another project of 75MW in SECI bid in Uttar Pradesh today. Second consecutive win shows our commitment towards the development of clean power in the region. We will showcase these projects' success stories in solar power development arena with the use of innovative technology and special structures to overcome all the ground challenges."
By winning this bid, ACME's portfolio in Uttar Pradesh has reached 155MW.