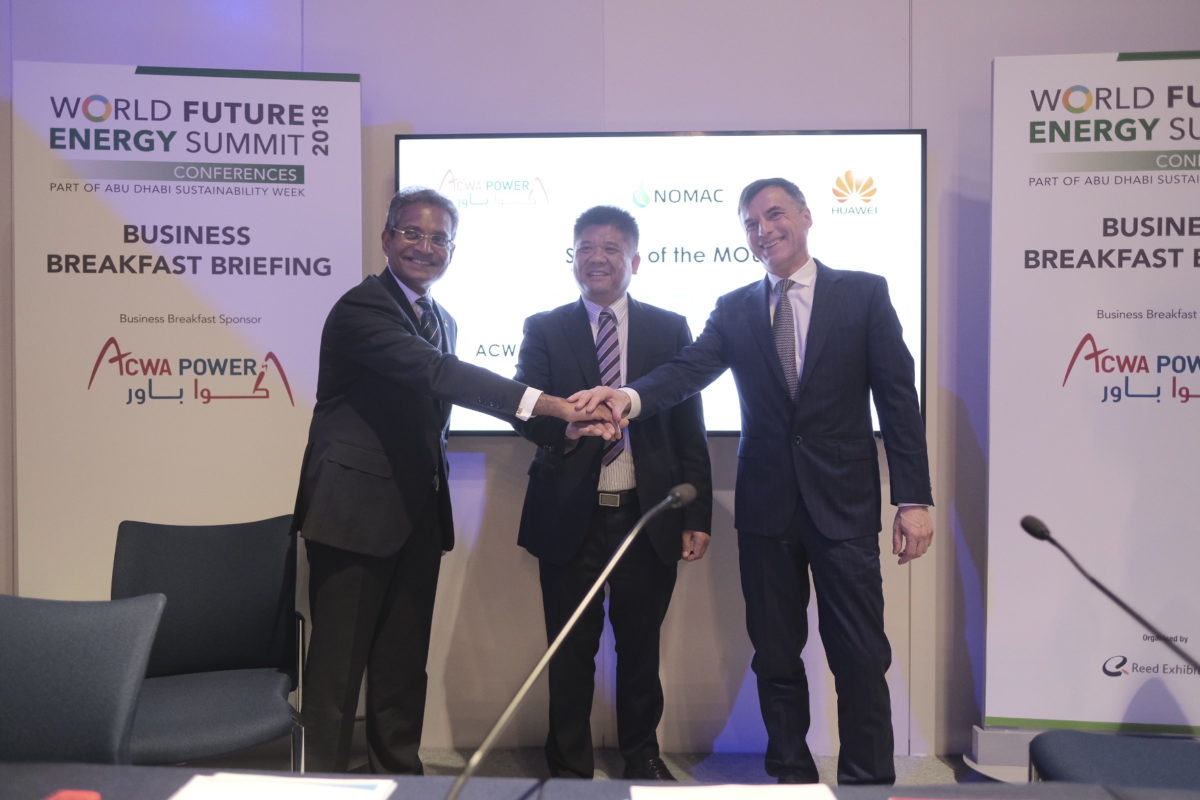 Independent power producer ACWA Power expects to see a 2% yield improvement following the installation of Huawei's FusionSolar Smart PV Management System.
Following a contract signing at the World Future Energy Summit in Abu Dhabi, ACWA intends to retrofit the system to an existing plant that does not use Huawei inverters. If the trial runs as expected, ACWA "fully intends" to roll it out across its ever-expanding solar PV portfolio.
"It automates and digitalises a PV plant with the aim of helping developers to optimise the efficiency of their O&M," said Paul Pan, general manager of Huawei's solar business in the Middle East and Africa. "They save cost on their O&M and can also improve the efficiency of the plant."
Garuda Prakash, director of O&M for ACWA Power told PV Tech the system would partially automate their maintenance.
"Overall energy production will increase by around 2% by improving the efficiency of how we manage the site," he said.
"If one module has reduced efficiency, we can compare it to what we expect from that panel. It could be a problem from shadowing, or dust or bird droppings, we can identify the exact module that is causing the problem and send an alarm to the technician. We will always be watching. This would be extremely challenging and labour intensive to find otherwise."
The system also aggregates the shared experiences of ACWA's technicians by logging both the problem and the solution. Prakash said this would usually rely on its staff, and those of its O&M contractor Nomac, sharing all of their experiences.
"With this system, the alarm can automatically alert a technician not just to the problem but the solution as well," he added. "The people on-site will be semi-skilled, the skilled workers will be in our central hub in Dubai. We're also considering a mirror control centre in Saudi Arabia," said Prakash.
Security
Huawei's Pan acknowledges that such systems raise security concerns but he is confident the firm's telecommunications background gives it an advantage.
"Cybersecurity is a common concern across society. All our software is security tested in the toughest way possible in the industry. That's a commitment we make. Energy is a sensitive industry and Huawei applies the same standards on these products as it does on its telecommunications products," claimed Pan. "The system is designed to ensure that there are multiple redundancies at multiple locations to protect the data.
"The FusionSolar Smart PV Management System is installed on more than 30GW of plants. This is the first one in MENA. That figure is all the customers using the system in total but each customer owns their data, which is held privately. We're just the technology supplier to support this," said Pan.
Huawei signed a number of other agreements at WFES including a franchise contract with Abunayyan Trading in Saudi Arabia and signed certified supplier contracts with Knights Energy of Jordan, ECOsys and Phoenix of Lebanon, 1 TEC Investment of South Africa and Enersyscom of Egypt.