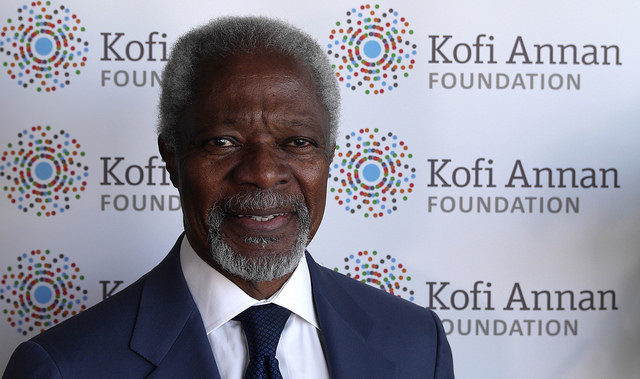 Africa cannot wait for the development of electricity infrastructure and should exploit more quickly deployable solutions such as solar PV, according to a report by Kofi Annan's Africa Progress Panel.
The report, Lights Power Action, calls for a diverse energy mix with an emphasis on immediate deployment of off-grid solar power to help the continent's 620 million people without electricity. This should be in tandem with the improvement of grid infrastructure.
"What we are advocating is for African governments to harness every available option, in as cost-effective and technologically efficient a manner as possible, so that everyone is included and no one is left behind," said Kofi Annan, chair of the Africa Progress Panel.
The report also talks up the use of mini-grids to help what it calls the "missing middle", those living between rural areas targeted for micro-scale off-grid solutions and areas connected to grid infrastructure.
"Traditional approaches to extending the grid are no longer viable as the main option for African countries," Annan said. "They will take too long and will not meet the needs of our growing economies and societies. Instead, governments and their partners need to seize the opportunity to re-imagine their energy futures.
"As our new report shows, where there is good leadership, there are excellent prospects for energy transition," added Annan. "We know what is needed to reduce and ultimately eliminate Africa's energy deficit. Now we must focus on implementation. The time for excuses is over. It's time for action".
Philanthropist Bill Gates has led calls for rapidly urbanising Africa to focus on developing its grid infrastructure. Intergovernmental efforts to boost renewable energy in Africa have tended to focus at the extreme ends of the scale. Utility-scale solar projects sprang up in a number of new markets during the last 12 months.
The Annan report drew on expertise from the World Bank, a host of think tanks, former heads of state and private sector groups including Blackstone and Lazards.