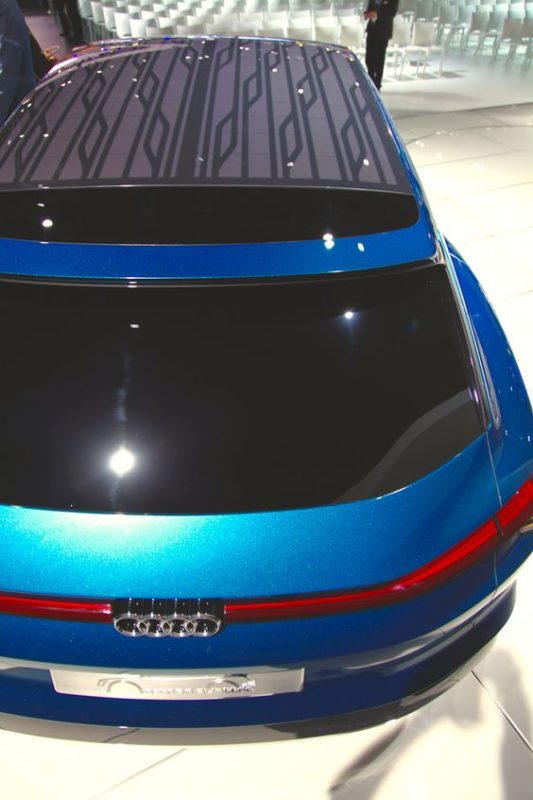 Automotive giant Audi AG and thin-film solar manufacturer Hanergy, via its US-based subsidiary Alta Devices have signed an MOU in respect of a development agreement to provide its electric vehicles with gallium arsenide (GaAs) flexible thin film based solar system integrated into a range of planned electric vehicles.
Initially, the project is expected to lead to Alta Devices solar cells being integrated into a panoramic glass roof and later be integrated on as much of an EV's roof surface. The electricity generated would be intended to support air-conditioning and seat heater applications, reducing the demand on the battery system.
Hanergy had previously worked with Aston Martin on its race car program and Audi and Volkswagen have produced a number of EV concept vehicles in the past with an integrated solar roof.
More recently, Panasonic and Toyota teamed on a unique car roof system for its hybrid cars and Tesla previously touted a roof system for its low-cost Model 3 but is believed to have scrapped that idea.
High-efficiency solar cells are a prerequisite for the automotive industry, due to area constraints.
"The range of electric cars plays a decisive role for our customers. Together with Hanergy, we plan to install innovative solar technology in our electric cars that will extend their range and is also sustainable," stated Audi Board of Management Member for Procurement Dr. Bernd Martens.
At a later stage, Audi noted that solar energy could possibly directly charge the traction battery, boosting range further. "That would be a milestone along the way to achieving sustainable, emission-free mobility," added Martens.
Alta Devices had been focused on other niche markets for its GaAs solar cells, primarily the Aerospace (high-altitude and long-endurance (HALE) unmanned aerial vehicles and other drone-type applications.
Hanergy Group has also touted its completely solar powered EV's, potentially becoming an automotive rival to Audi in the future.