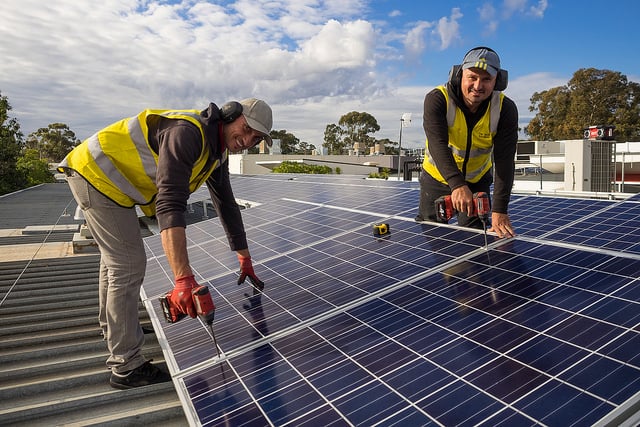 The Clean Energy Council (CEC), a body representing the renewables industry in Australia, has written to federal and state government ministers citing various barriers to the progress of clean energy in the country.
The letter said: "Not only has progress on energy market reform lagged behind the rapid advancement in new technologies, but some of the reforms that have been prioritised have been at odds with ensuring a level playing field within the energy market."
CEC said the rapidly growing commercial solar PV sector and declining energy storage costs mean that government should focus on maximising the efficiency of renewable energy investments.
It recommended a range of actions to overcome institutional barriers and market distortions that are disproportionately benefitting incumbent technologies.
This included establishing grid connection processes that embrace the technical capabilities of combining renewables and energy storage. Standards for this kind of grid connection must also be developed along with frequent reporting of the performance of these technologies.
It is also important to ensure that customers who install non-exporting renewable energy and energy storage systems are not treated any differently to other customers.
For example, Western Australia state utility Synergy recently proposed extra billing for the state's 191,000 rooftop solar owners, claiming there is a flaw in the fixed charges element of electricity tariffs, which results in many standard electricity consumers paying far more for their power than they should be.
However, solar homeowners labelled the proposals as an unfair "sun tax".
CEC also cited the proposed Optional Firm Access (OFA) reforms as a major barrier. OFA would change the way that electricity generators access the transmission grid and cause new large-scale generators to pay for a specified level of 'firm access rights'. However, firm access rights would be largely grandfathered to existing generators, so the existing fossil fuel fleet would receive a sanctioned competitive advantage when compared with new renewables, which would face increased costs and risks.
CEC said: "If implemented, OFA would unfairly discriminate against large-scale renewable energy generators at a time when barriers to the market's transition to cleaner energy sources need to be removed, not created."
Ultimately, among a range of recommendations, CEC said that Australia needs to reprioritise energy market reform to address the host of barriers to clean energy as soon as possible.