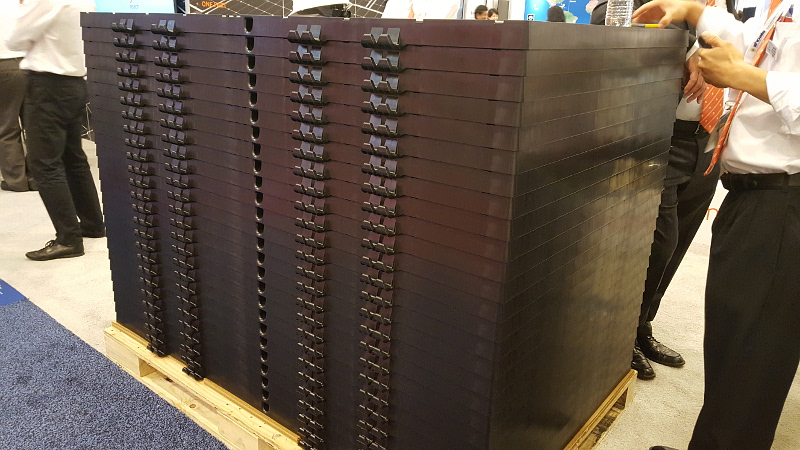 The main event this year at Intersolar North America was the installation demonstration of Beamreach Solar's new 'Sprint' lightweight PV module system for flat commercial rooftops.
The company generated a lot of buzz and big crowds to watch an array of modules clipped together in seconds, proving that an integrated design between the module, cabling and mounting system significantly reduces install times.
However, install reduction times are not the only feature that has attracted attention. The Sprint's design enables higher density, which the company claims results in up to a 30% higher installation density when compared to conventional modules and racking systems.
Wind tunnel testing and a 12 degree angle and end of string side deflector design eliminates the need for ballast and simplifies rooftop installs with a base pad per module coming with an adhesive sheet on the base ready for fixing to the roof.
Another neat feature is the way cabling is neatly located within the structure, an often lamented afterthought by installers.
The modules use high performance monocrystalline solar cells with maximum power capacities ranging from 290 watts to 320 watts.
Mark Kerstens, Beamreach Solar's CEO told PV Tech that the company was ramping production and "shipments would start very soon." The company uses an asset-lite manufacturing business model with a small solar cell pilot line in Milpitas, California.
Another unique feature is the bonded black composite module frame, designed with clip-in hooks and stacking features that enable dense pallet stacking with minimum flex, potentially reducing solar cell damage in the form of micro cracks, a feature not common across the industry.
The use of plastic mouldings for the module frames and racking system come from the automotive industry with proven outdoor characteristics for long-life, even in extreme conditions, noted Kerstens.
Such is the unique design that the company will be offering its own PV system design software to support optimised installations, given that conventional design software would not provide the right information.
With the US market a key focus for Beamreach Solar the company is also finalising seamless design integration for microinverters.
Beamreach Solar has shown that clever design across all key system parameters can gain significant interest and that innovations in this area have been conspicuous by their absence to date.