With the multi to mono transition largely a fait accompli in the PV industry, the buzzword for 2019 will certainly be on bifaciality. This has been brewing for some years, but the sheer weight of capacity and production will finally impact on large-scale utility solar in ways most appear to be grossly unprepared for.
In this context, what will be seen in 2019 is a fundamentally new methodology emerging for designing, building and operating utility-scale solar, with a shift from module supplier guarantees to ones where the mounting system deployed becomes the main factor in energy yields over 20-30 years.
The article below was in fact stimulated by discussions yesterday at the opening day (19 September 2018) of the rebranded 2018 Energy Taiwan (incorporating the former PV Taiwan Show, and co-located with the country's Circular Economy Taiwan event), held at the Nangang Exhibition Center in Taipei. It seeks to explain why bankability metrics need to move away from legacy thinking of the modules used, to the system design, in particular the mounting and tracking.
The topics and themes outlined below form the perfect lead-in to the presentations and discussions set for PV-Tech's forthcoming PV ModuleTech 2018 meeting in Penang, Malaysia on 23-24 October 2018.
PV stimulation from Taiwan never fails to disappoint!
It is over ten years now I have been coming to Taiwan, with many of the trips overlapping with the PV Taiwan annual show in Taipei, and rarely does the event fail to uncover global issues where the discussions are more open and stimulating than seen at most of the other exhibitions on the solar calendar.
Change is in the air for sure in Taiwan today, as its solar companies all change strategy based on external factors (largely outside of their control) and domestic opportunities arising from government/industry negotiations. More on this on PV-Tech in the coming days, but for now the topic here is firmly on bifaciality, and the result of a half-hour meeting with Big Sun at the 2018 Energy Taiwan show yesterday.
From module testing to tracker performance: why performance ratios for O&M's are set to be redefined in 2019
For the past 12 months, the most common question I've been getting from the downstream community relates to bifaciality, and how to understand this in terms of site yield, module selection and return-on-investments for utility-scale solar.
Indeed, at trade-shows, workshops and anything-solar, all too often the voices championing bifacial module performance levels have been coming from the module suppliers, or third-party agencies whose programmed modus operandi remains module and supplier choice biased.
However, the most critical issue for bifacial module performance at the utility-scale is not the module, but the tracker and mounting system deployed, and in this respect, lenders need to move rapidly to due-diligence based on the system design and not the module per se.
Some companies have been raising this issue for some years, in particular First Solar and SunPower, but bifaciality shifts things far more to system design than in the past. Indeed, on the flip side, much of utility-scale solar – from an EPC standpoint – has been firmly rooted in low-capex thinking and the use of fixed-axis mounting coupled with standard technology based 72-cell p-multi modules.
Mono and bifaciality changes this instantly, and the rate of change today in the solar industry is rapid, and there are many on the downstream side of utility-solar (from build to financing to investment) that need to get up to speed quickly.
Trackers move into the spotlight in 2019
For many in the solar industry, seeing a multi-tracker based module design may bring back memories of the failed traction that concentrator-cells had in the PV industry more than a decade ago. Remember the pictures that circulated the internet then from Spain of 3-axis, minute-precision trackers holding space-motivated concentrator cells (modules)?
If that is your reference point for multi-trackers, then thing again, as 2019 seems set to see the importance of trackers return as the design and yield optimization of bifacial modules goes mainstream.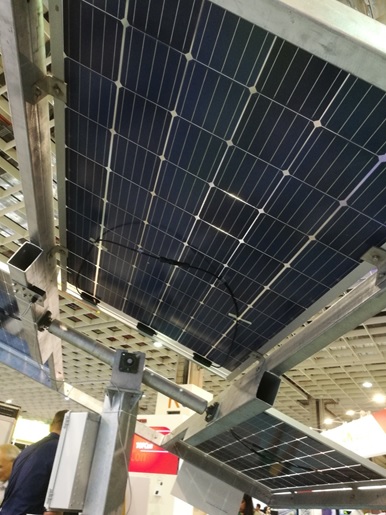 In single-sided (or mono-facial) PV modules, mounted on fixed-axis trackers, the choice of module type and supplier dominated all due-diligence and bankability-related questions for sites. Coupled with irradiation levels, one could fairly quickly tie down tolerances on system yield that would ultimately set IRR levels for investors and performance ratios for O&Ms.
With bifacial modules, this model is finished. Indeed, it is no longer the specification of the module performance (both front and rear side under STC) that needs to be prioritized but the mounting (height) and tracking equipment deployed.
While the argument will be made that the combination of the module type/supplier and the mounting/tracking forms the key system metric to understand, it is the mounting and tracking that dominates the site yield and returns, and not so much the module supplier.
We can look at this another way. Take for example 10 bifacial p-mono PERC modules (approximate same form/fit/function) from 10 equally-bankable global module suppliers, and then ask what differentiates the site yields over 20 years. The answer is then quite simply the mounting/tracking deployed, and nothing else.
Of course, nothing is ever so black-and-white, but compared to the days of mono-facial single-axis plants, it would appear that everything is about the mounting/tracking on bifacial yield setting and optimization.
Therefore, one could almost make the argument that the tracking companies almost become the go-to part of the value-chain, in terms of third-party analysis and bankability, coupled with site-specific inputs that arise from the role of the terrain (for rear side irradiation) at any given location.
Why module specs need to stay module-specific, not system/location based
Right now, much of the confusion on bifacial benefits is arising from the fact that it is often the module suppliers that are putting out bifacial gain factors (10%, 20%, 30%) that are ultimately only guidelines on a datasheet, and have no real value when it comes to tracking options and terrain variants.
In fact, it is really not the role of the module supplier to forecast bifacial gains at the system level; if anything is it the companies designing, building and operating the mounting/tracking arrangements that should fulfil this role going forward.
In an ideal world, those companies that have in-house module supply, tracking-design and EPC capability are ideally placed, and we then move firmly to system performance being the only game in town.
Again, this is not news to companies that have been doing system specification and design for years, but the difference today with bifacial modules relates to the variance in performance coming from mounting and tracking that was never there before with single-sided modules.
Still much work to be done in explaining and standardizing processes
The good news is that the above issues are broadly known in the industry. The bad news is that there is yet to be a global methodology established for bifacial modules that can bring confidence to lenders and investors simply wanting to know error bounds on IRR levels over the 20-30 year lifetime of an asset (solar farm).
This will take some time to work out. For now, there is no shortage of proposals, but how many can be applied to the US, to India, to China or any global market, not simply one where the companies in question have the strongest presence?
In fact, looking at sites being built today with bifacial modules and trackers, there is almost a three-stage process that needs to be followed in terms of setting yield expectations for lenders.
Pre-build, it is all about modelling, based on inputs from the module performance (STC front and back only), the choice of mounting and tracking and the ground characteristics. This sets error bounds for initial calculations.
During early site construction (prior to full build-out), it would seem to make sense to set up quickly a beta-mounting set-up and gain real-data that would greatly narrow the initially-modelled data.
Then the final stage would be using year-1 performance data to finally tie down the specs to be handed over to an O&M by way of performance ratios and final return-on-investment targets for long-term owners.
Over time, the volume of real-world data will of course allow for modelling to be far more accurate, but today, the variables in the mix are simply not known with enough confidence. What is known of course is that optimized bifacial design is a potential game-changer and everyone needs to get up to speed with the yield benefits on offer for utility solar.
From PV Taiwan to PV ModuleTech 2018: how to learn more quickly
With PV ModuleTech 2018 taking place shortly on 23-24 October 2018, the above topic will definitely be one that I intend to fully explore with the range of stakeholders present. It should provide an excellent platform to frame expectations for 2019 and beyond in terms of bifacial module deployment. Details on how to attend PV ModuleTech can be found on this link.
In this respect, perhaps I have now properly answered another question I have been getting for the past few weeks: why are you going to PV Taiwan and not SPI. Never underestimate what you learn from a trip to Taipei!