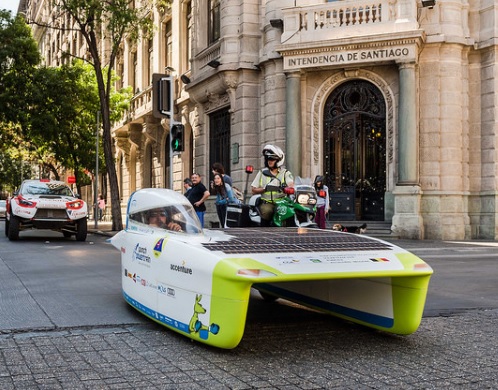 Major packaging specialists Borealis and Borouge are sponsoring the Agoria Solar Team in the 2019 Bridgestone World Solar Challenge in Australia, while using their 'Quentys' portfolio of PV module encapsulant materials on the roof of the solar race car.
Borealis and Borouge's said that they had signed a two year sponsorship agreement with the team from KU Leuven University in Belgium in anticipation of being placed higher in the next two races.
In June 2018, the commercial launch of two new encapsulant film types based on Borealis Quentys polyolefin (PO) grades were claimed to bring further improvements to long-term PV module performance and reliability, as well as greater cost efficiency. These films are now being used to encapsulate and protect the solar cells mounted on the racing car.
"I would be hard pressed to find a better demonstration of the power of solar than this race," claims Rudi Peters, Borealis Global Value Chain Manager Solar. "Our Quentys encapsulant films will enable this young and ambitious team to power their racing car better and more efficiently than before. What is more, by sponsoring this next generation, we at Borealis are helping foster innovation which will ultimately benefit the entire solar industry."
"Our testing of the Quentys front and back encapsulant confirmed its stability and ease of use, and its great optical properties mean that losses will be kept to a minimum," explains Nelis Geurts, the Agoria Solar Team member responsible for production of the car's module. "It will enable us to exploit every last bit of energy from the sun. We are confident that this partnership with Borealis will help us to be the first solar car to cross the finish line in Australia."
The biennial Bridgestone World Solar Challenge is a gruelling, 3,000-km race across challenging outback landscapes, and the ultimate test for a solar-powered vehicle.