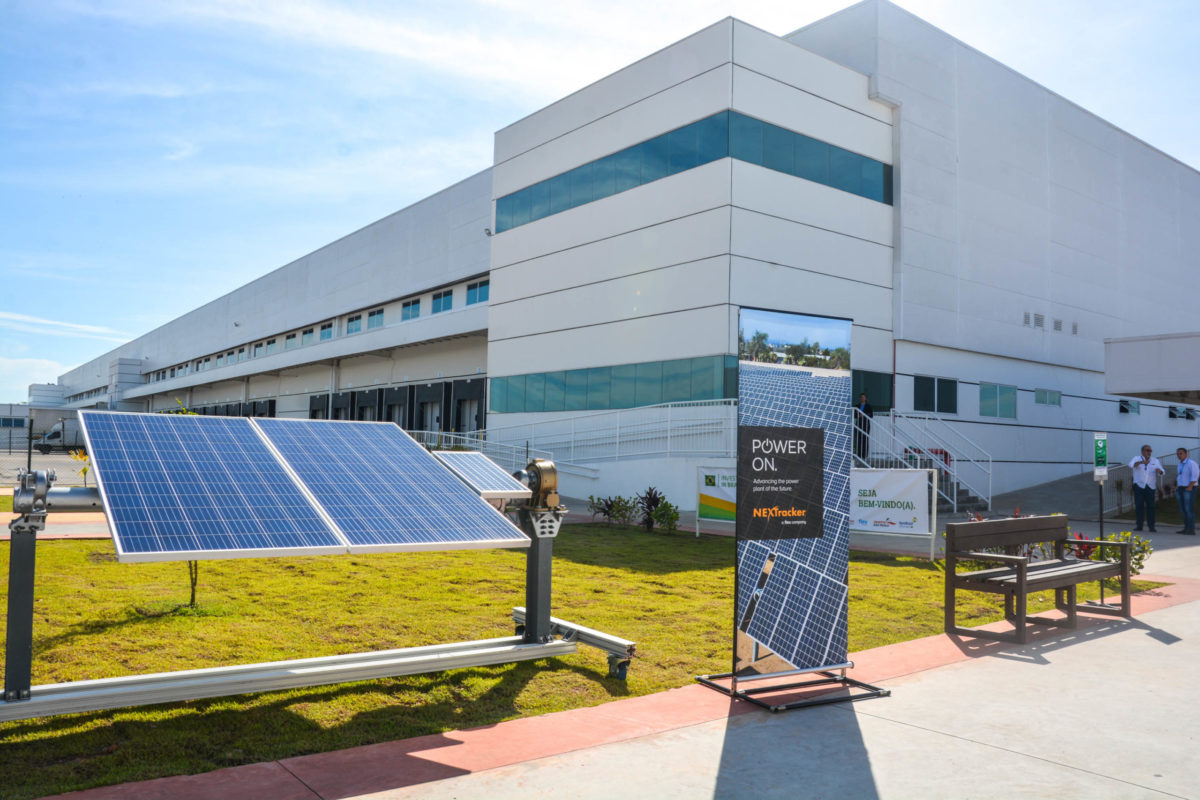 'Silicon Module Super League' (SMSL) member Canadian Solar has lowered its full-year 2018 revenue guidance for a second time, citing a closer focus on profitability through PV power plant project selection and manufacturing cost and capacity expansion controls.
Canadian Solar guided fourth-quarter revenue to be in the range of US$690 million to US$800 million, which indicated full-year 2018 revenue to be the range of US$3.53 billion to US$3.64 billion, compared to previously lowered full-year revenue guidance of US$4.0billion to US$4.2 billion.
Although the company had previously lowered full-year PV module shipment guidance to be in the range of 6GW to 6.2GW, compared to previous guidance of 6.6GW to 7.1GW, fourth quarter shipment guidance of 1.67GW to 1.72GW, which implies full-year shipments to be in the narrow range of 6,334MW to 6,384MW and therefore slightly higher than previous guidance.
Lowered full-year revenue but higher than guided module shipments can be attributed to continued module ASP declines. However, the company expects gross margin for the fourth quarter to be in the range of 24% to 26%.
Dr. Shawn Qu, Chairman and Chief Executive Officer of Canadian Solar said, "For our module and system solutions business, the average selling price of solar modules declined in Q3, compared with Q2, primarily due to China's May 31st solar incentive policy change. We have successfully maintained a healthy gross margin level, despite the headwinds, through product differentiation, operating efficiencies and raw materials cost reductions."
Supporting the improvements in gross profit which reached US$200.3 million, up from US$159.4 million in the second quarter of 2018 was selling higher margin PV power plants, such as the US located 102MWp 'NC102' project, while deferring lower margin projects, potentially into 2019 should overall market conditions improve.
Canadian Solar had a portfolio of utility-scale, solar power plants in operation totalling approximately 1.1GWp at the end of the reporting period and its pipeline in construction totalled approximately 2.9GWp.
"We made further progress in monetizing our solar power project portfolio by completing sales totaling 103 MWp in Q3 and we expanded our late-stage, utility-scale project pipeline in key markets, including the U.S., China and Australia," noted Dr. Huifeng Chang, Senior Vice President and Chief Financial Officer of Canadian Solar. "The monetization process continues with the October sale of two solar power plants totaling 260 MWp in the U.S., and the expectation of further sales in China, India, the U.K. and Africa in the coming quarters. While it is likely our gross margin will continue to fluctuate in future quarters, our solid execution in both our module and system solutions business and our energy business reinforces our competitiveness and positions Canadian Solar for continued business success."
Raw material cost reductions would have related to the significant decline in blended polysilicon ASP's, which have declined 50% in 2018.
Financials
Canadian Solar reported third-quarter 2018 revenue of US$768.0 million, up 18.0% from US$650.6 million in the second quarter of 2018 and down 15.8% from US$912.2 million in the third quarter of 2017.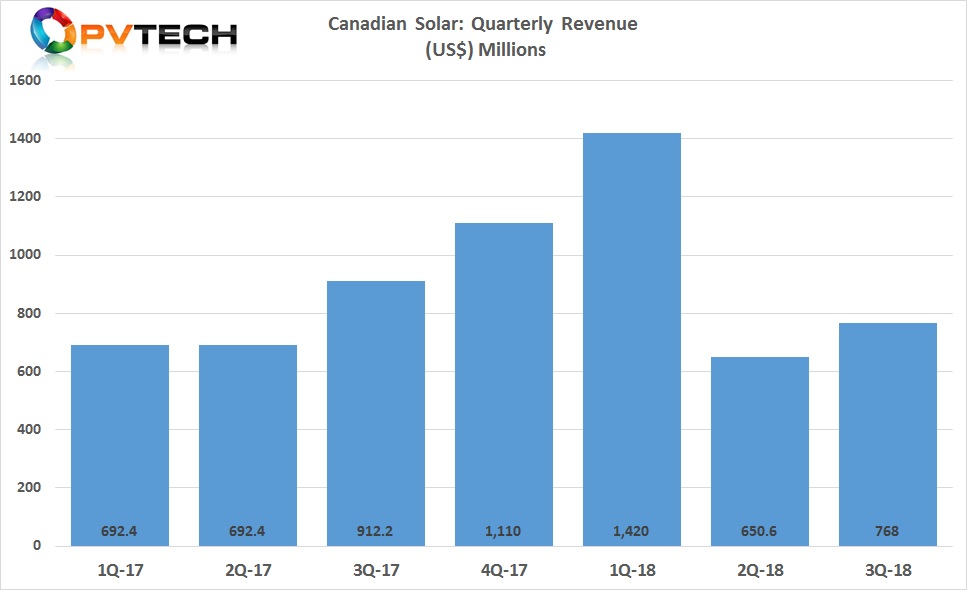 Third quarter net revenue from its modules and systems solutions (MSS) business was US$512.3 million, and was US$255.7 million from its Energy business.
Total solar module shipments in the third quarter of 2018 were 1,590 MW, compared to 1,700 MW in the second quarter of 2018, and third quarter of 2018 guidance in the range of 1,500 MW to 1,600 MW.
Gross profit in the third quarter of 2018 was US$200.4 million, compared to US$159.4 million in the second quarter of 2018 and US$159.8 million in the third quarter of 2017.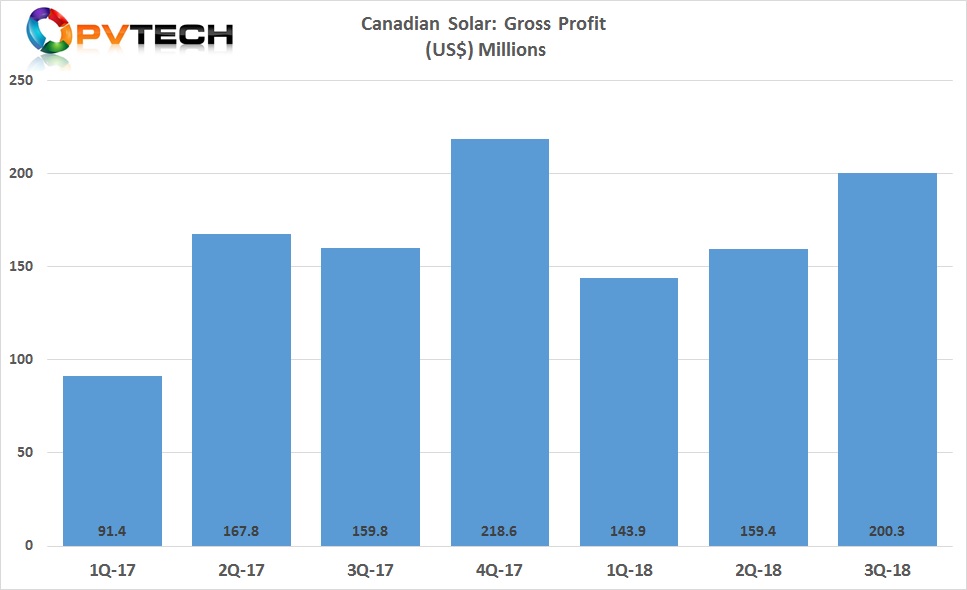 Gross margin in the third quarter of 2018 was 26.1%, compared to 24.5% in the second quarter of 2018 and 17.5% in the third quarter of 2017.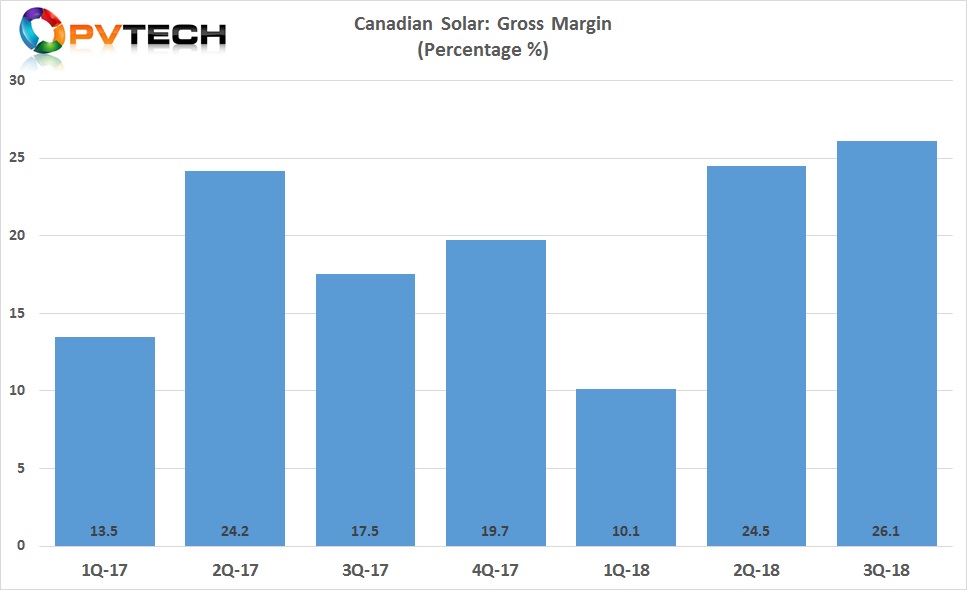 Manufacturing update
Canadian Solar lowered its module assembly capacity expansion plans from 9,910MW guided in the previous quarter to 8,700MW for the end of 2018. All other upstream segment plans were unchanged from the previous quarter.
The SMSL also provided its first guidance for manufacturing expansion plans in 2019, which included expanding module capacity to 9,640MW and solar cell capacity to 7,100MW.