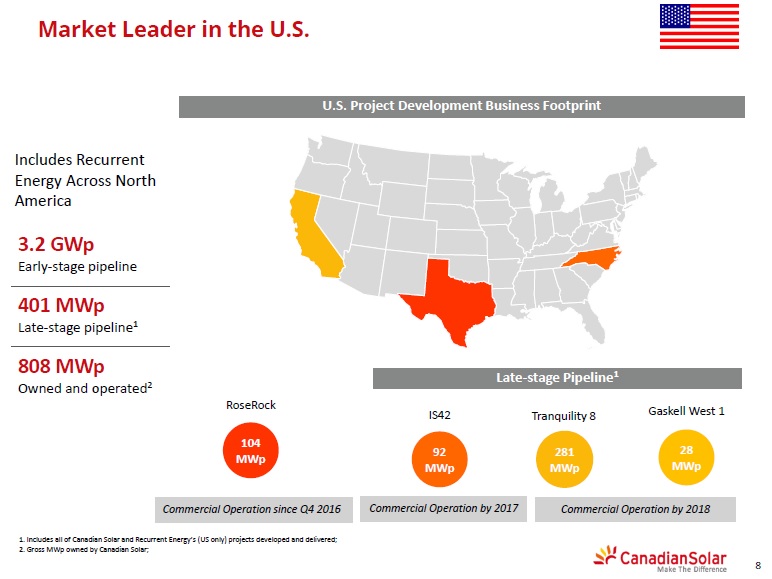 'Silicon Module Super League' (SMSL) member Canadian Solar has secured a US$97 million debt facility for a 92MWp project in North Carolina, US, from Prudential Capital Group and a tax equity investment commitment from US Bancorp Community Development Corporation (USBCDC).
The 92 MWp project, covering an area of approximately 450 acres in the Bladen and Cumberland counties of North Carolina was said to already be under construction with commercial operation expected in the third quarter of 2017.
"This agreement with leading financial institutions such as Prudential Capital Group and US Bank demonstrates the quality of the solar projects which Canadian Solar is developing in the US," said Dr. Shawn Qu, Chairman and Chief Executive Officer of Canadian Solar. "We are glad to further strengthen our partnership with Prudential Capital Group and USBCDC with this large project and support the growth of the solar industry in the country."
Around 509 construction workers would be needed for the project, according to Canadian Solar.
The most recent update from Canadian Solar on its US PV project pipeline indicates a late-stage pipeline of 401MW, while 92MWp was expected completion in 2017. A total of 309MW was earmarked for COD in 2018. As of the end of February, 2017, Canadian Solar had 808MWp of project in the US operational.