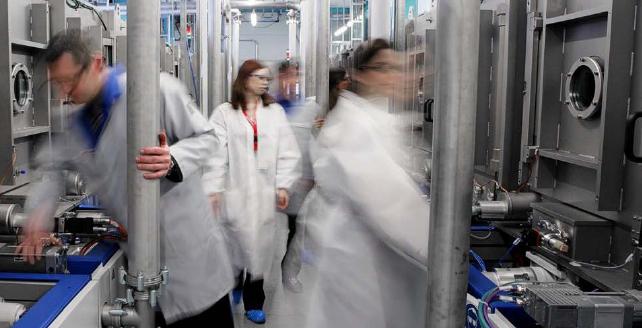 Specialist solar PV equipment supplier centrotherm International has reported first half 2017 photovoltaics and semiconductor segment equipment order backlog of nearly €141 million as well as securing CIGS thin-film tool orders from Manz for turnkey line projects in China.
centrotherm's Photovoltaics segment order backlog stood at €140.906 million at the end of second quarter of 2017 and its Thin film & special systems segment had an order backlog of €13.429 million, which included CIGS tools for Manz. centrotherm's Silicon segment had a backlog of €12.95 million. The total order book was said to be around €167.3 million.
The company reported first-half year 2017 revenue of €52.6 million. Photovoltaic and Semiconductor segment sales were €33.6 million and Thin film & special systems segment revenue was €11.7 million. Silicon segment revenue was €7.3 million.
Group Earnings Before Interest, Tax, Depreciation and Amortization (EBITDA) increased to €0.6 million, compared to €0.1 million in the prior year period.
However, restructuring measures are underway at subsidiary SiTec, which has a negative EBITDA of €1.7 million. centrotherm reported cash and cash equivalents increased by €11.2 million in the first half of the year to €51.8 million.
The company recently announced that it was unlikely to be profitable in 2017, due to the loss of an arbitration case against a cancelled €290 million integrated (wafer/cell/module) plant in Algeria.