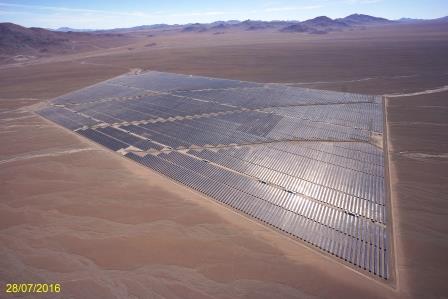 Participators in Chile's next 2,200GWh per annum power auction have been invited to submit proposals on 11 October, followed by bids on 31 October, according to the National Energy Commission (CNE).
Contract awards will be publicly announced and Power Purchase Agreements (PPAs) signed on 3 November.
The auction is for power to supply the central and northern grids, known as the SIC and SING, from the start of 2024 for a period of 20 years.
In a slight change to previous Chilean power auctions, capacity will be awarded in seven different supply blocks. There are three hourly blocks taking up 1,700GWh, and four quarterly blocks of 500GWh. The design of the blocks has also changed. Furthermore, bidders are required to provide a Risk Rating Report.
Last year, Solar took away just 6% of Chile's largest ever 4,200GWh power auction, partly due to the lack of supply blocks catering for the daytime period.
The forthcoming auction has lower capacity due to a fall in projected energy demand.
Chile has now surpassed 1.8GW of solar energy deployment.