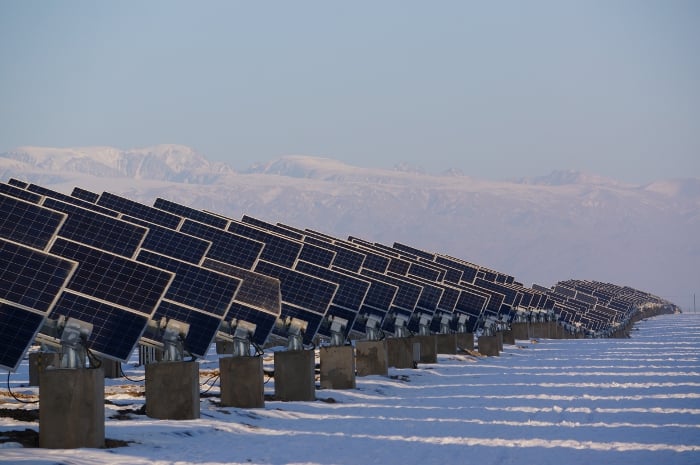 Below, PV Tech Premium provides a round-up of several key policy measures and company announcements from China last week, all with big implications for the global solar PV industry.
Chinese ministries guarantee polysilicon production and control prices
On 28 October 28, China's National Development and Reform Commission (NDRC) and the China National Energy Bureau jointly issued the "Notice on Promoting Issues Related to Healthy Development of the Photovoltaic Industrial Chain", which demands the reduction of obstacles in production capacity and prices at the upstream and downstream end as well as enhancing supply of supporting equipment for the PV industrial chain.
The document demands multiple measures are taken to ensure the reasonable production of polysilicon, create conditions to support the production capacity of advanced polysilicon on schedule and encourage polysilicon companies to properly control the price level of their products.
The document stressed that the authorities must strictly implement price and anti-monopoly laws, strengthen market monitoring, expose problems that disturb market order and interview relevant market entities in time to promote lawful business operations. Authorities should closely investigate and strictly punish price-gouging activities such as spreading false information about price increases, hoarding products and monopoly activities such as reaching relevant agreements and abusing power in the market. On top of this, they should effectively curb capital speculation to maintain fair competition in the industry.
Moreover, the document encourages the integration of the upstream and downstream sector, strategic cooperation across the supply chain, mutual equity participation, signing long-term orders and to support the construction of PV industrial parks. It encourages various capital types, including state-owned, private and others, to participate in all links of the industrial chain and effectively restrict disordered expansion of low-end production capacity.
Release of China's PV installation data for the first three quarters
On 27 October, China's National Energy Administration published the country's PV installation figures for the first three quarters of 2022.
Data show that in the first three quarters of 2022, China's added 52.6GW of grid-connected solar power capacity, including 17.3GW of centralised power stations and 35.4GW of distributed power stations. Among the distributed stations, household capacity increased by 16.6GW, a 42% increase year-on-year (YoY), accounting for 31% of the newly installed capacity. Commercial capacity increased by 18.7GW, up by 278% YoY, and accounting for 36% of the newly installed capacity.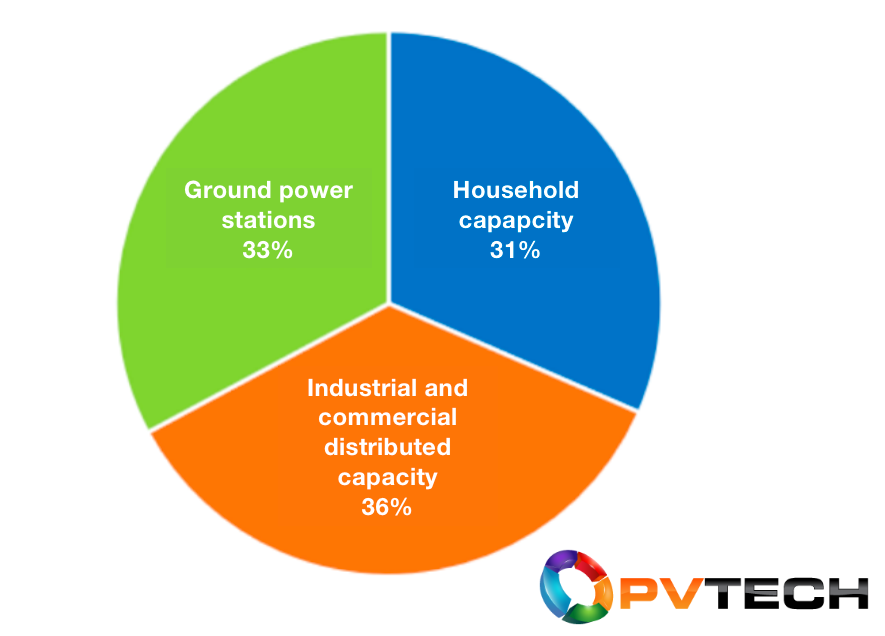 LONGi and Tongwei disclose their latest product quotes
On 24 October, LONGi Green Energy announced its latest silicon wafer price. The RMB value did not change compared with that of 26 September but the US dollar value slightly fell.
Among them, the price of 166mm and 182mm wafers remained unchanged, which has been stable since 26 July. It is worth noting that the quote of 158.75mm wafer was canceled.
On 25 October, Tongwei Solar released the latest pricing figures for its mono PERC cells. The price of its 210mm cell was RMB1.33/W, its 182mm cells reached RMB1.33/W and the company's 166mm cells stood at RMB1.31/W.
GCL joins TOPCon race with 20GW of capacity
On the 24 October, Chinese module manufacturer GCL System Integration confirmed its 20GW n-type cell manufacturing facility and supporting projects in Wuhu, Anhui Province. The total investment of the project is planned to be RMB8 billion (US$1.1 billion), of which the first phase will be 10GW and the total investment will reach RMB3.5 billion (US$480 million).
The new generation of cell technology, n-type TOPCon cell capacity is gradually ramping up and a number of manufacturers have been involved. GCL System Integration is actively carrying out the development and design of such large-size n-type modules and their related certification. So far, the efficiency of n-type TOPCon modules has exceeded 22%.
Trina Solar lands 30GW solar glass deal
On 24 October, Luoyang Glass signed a procurement contract with Trina Solar and its affiliates and reached an agreement to supply coated PV glass products to Trina Solar and its affiliates.
The announcement shows that the term for the procurement contract is two years. From 1 November 2022 to 31 October 2024, Luoyang Glass will supply Trina Solar and its eight subsidiaries with a cumulative 30GW of toughened coated glass products for single-glazed and double-glazed PV applications.
Luoyang Glass is expanding rapidly in the arena of PV glass. On 12 October, the company disclosed that its holding subsidiary CNBM (Yixing) New Energy Resources Co. and DAS Solar Co. had signed a 'Strategic Cooperation Agreement on Photovoltaic Glass', intending to expand all-round cooperation. The contract is also for two years. DAS will purchase 200 million square meters of PV glass from CNBM, with a quarterly average purchase of 20 million square meters. Specifications and quantity shall be subject to DAS's order.
CSI Solar announces foray into inverters
On 23 October, CSI Solar announced that it will officially enter the PV inverter sector.
CSI Solar has been expanding its layout in the industrial chain in recent years. In addition to achieving a global leading position in the development of ground-based solar power stations and large-scale energy storage power stations, CSI Solar is also progressing in electronics such as PV inverters.
Since the launch of its self-developed single-phase inverter in 2020, CSI Solar has been committed to the development and production of self-developed inverters. Recently, CSI's own 110/125KW industrial and commercial inverter has officially entered mass production phase.