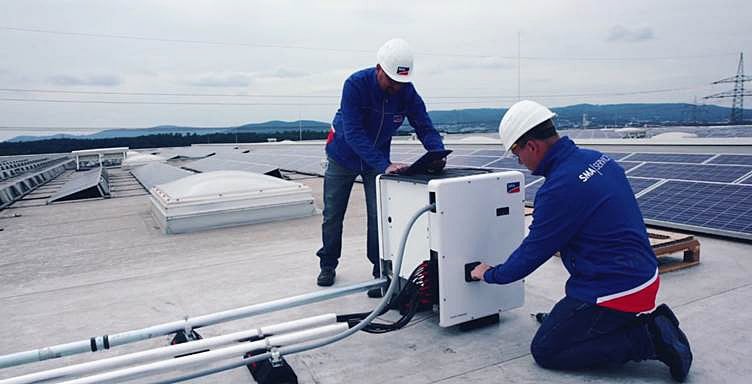 Major PV inverter manufacturer SMA Solar Technology came through another tough year with unit volume sold a record 8.23GW in 2016 but ASP pressure ensured sales were down. The bright spot was its commercial solar business unit, which bucked lower sales in the residential and utility-scale sectors with 27% growth, year-on-year.
SAM Solar reported PV inverter output sold reaching 8.23GW in 2016, up 14.2% from 7.26GW in 2015. The company continues to lose global market share, having limited penetration of the largest market, China (34.54GW in 2016) but has benefited from a strong presence in the US market.
According to SMA Solar's own analysis its market leading share by revenue fell to 20% in 2016, 1% lower than in 2015. Global market share by PV inverter output sold declined to 11% in 2016, down from 15% in the previous year. Two Asia-based competitors were said to have had 15% and 14% global market shares in 2016, both down from the previous year when market share was higher than SMA Solar.
Full-year 2016 revenue was €946.7 million, down 4% from €981.8 million in 2015, due to lower ASP.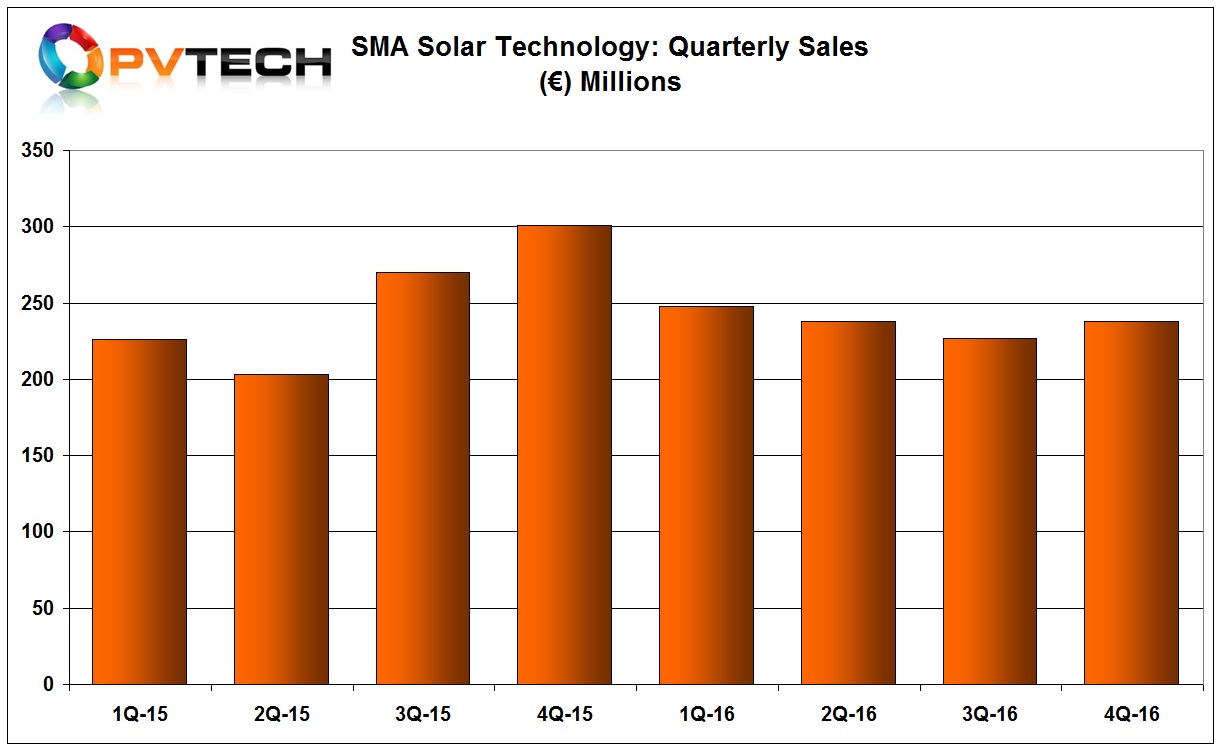 SMA Solar's residential business unit sales decline 31% in 2016 to €175 million, said to be due to weaker than expected demand in the US and Japan. Europe remains flat to down with the previous year.
Although utility business sales accounted for €397 million of annual sales in 2016, sales in this segment declined 5% from €416 million in 2015. The sales decline was attributed to PV project delays in the US and EMEA region.
As noted, the bright spot was its commercial business unit, which reported sales of €263 million, up 27% from sales of €207 million in 2015. The company is benefiting from the growing trend of mid-sized PV power plants and the adoption of string inverters for these power plants over traditional central inverters, such as its 'Sunny Tripower' string inverters in markets such as the US and Japan.
EBIT was positive €17.8 million in the commercial business unit, compared to losses (€15.4 million) in the residential unit. EBIT in utility business unit were €66.8 million in 2016.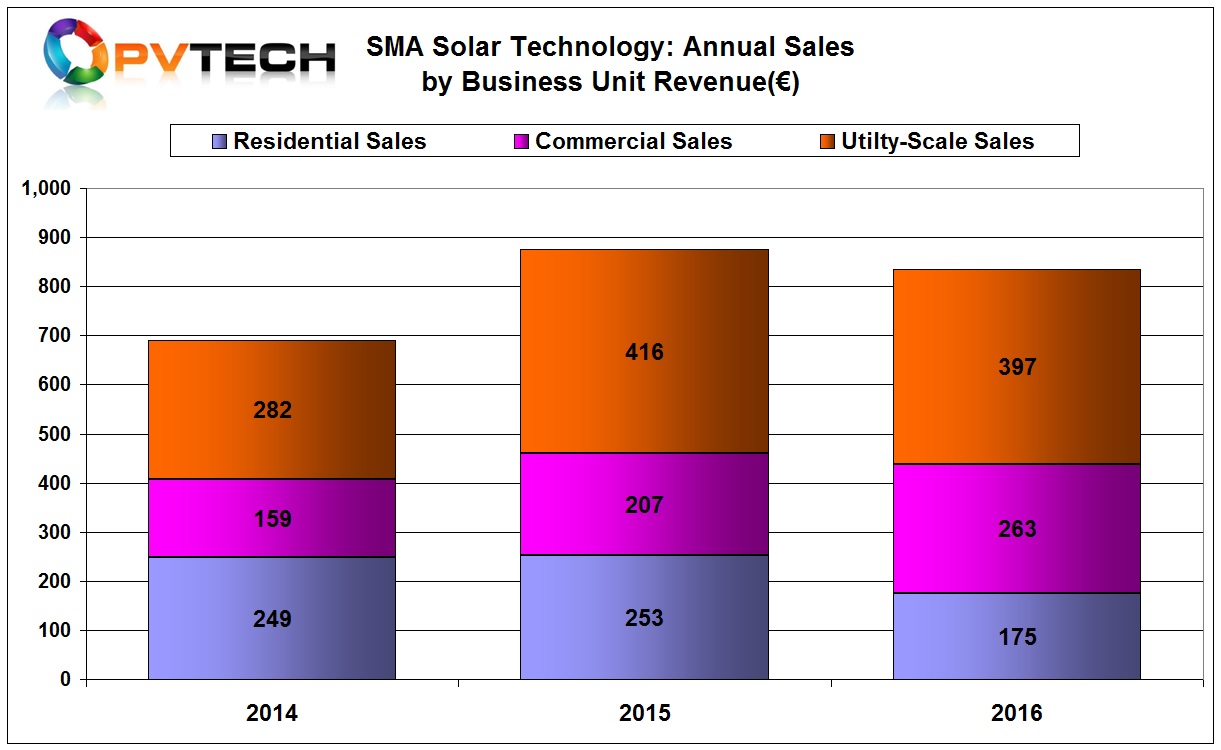 With continued business and manufacturing restructuring taking place, SMA Solar reported a net income of €29.6 million, compared to €14.3 million in 2015. Operating cash flow also increased significantly to €147.5 million, up from €102.7 million in the previous year. The company ended 2016 with net cash of €362.0 million.
R&D expenditure in 2016 was €78.3 million, down from €96 million in 2015 as the company focused on key product development in new technical areas and lowered R&D staffing from 791 in 2015 to 599 at the end of 2016.
"In addition to extremely low power generation costs, climate targets are also an important growth driver for the photovoltaics industry," said SMA Chief Executive Officer Pierre-Pascal Urbon. "However, the fundamental change in the energy sector will only be possible with digitization. Thanks to automation, in the future supply and demand will be reconciled more cost-effectively than before. SMA has focused its strategy on benefiting from attractive growth opportunities. This year, for example, we are launching a new energy management platform that allows commercial customers to monitor energy flows across different sectors (photovoltaics, heating, ventilation and air conditioning technology, and storage systems) for the first time. In developing our platform further, we will optimize total energy costs at a local level and facilitate interconnection with global IoT platforms."
Guidance
With product order backlog trend lower and first quarter 2017 backlog of €231 million, down from €295 million in the prior year period, SMA Solar guided sales in the quarter of €165 million to €175 million, and EBITDA of €15 million to €18 million.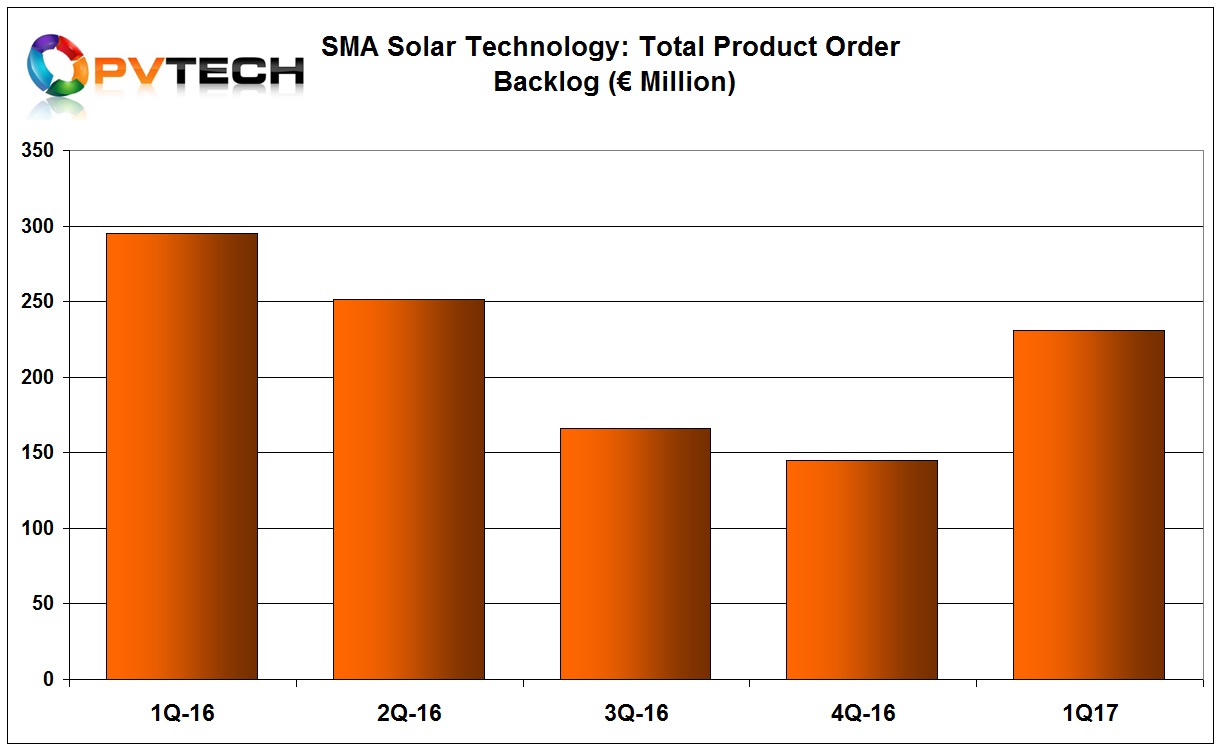 The 2017, SMA Solar guided revenue of €830 million to €900 million and EBITDA of €70 million to €90 million.
"Fiscal year 2017 will undoubtedly be a challenge for the entire photovoltaics sector," said SMA Chief Financial Officer Ulrich Hadding. "The continued high pricing pressure in all markets and segments combined with poor weather conditions in important sales markets such as the U.S. are also impacting SMA's business performance in the first quarter. However, we expect business to pick up over the coming quarters and are therefore confirming our forecast for the year as a whole."