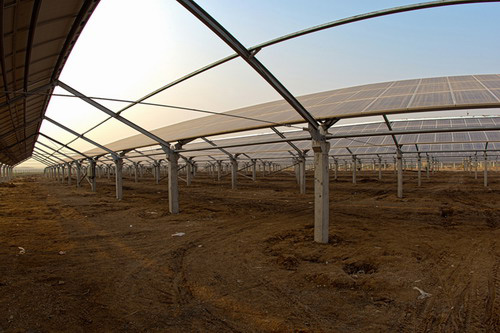 Post SNEC 2016 exhibition reports are starting to raise concerns over a looming collapse in downstream solar PV demand in China in the second half of the year that could lead to wider implications of both solar cell and module overcapacity and subsequent ASP declines hitting the global solar industry.
A report from ROTH Capital analysts, Philip Shen and Justin Clare started their post SNEC review with serious concerns over the market demand in China when the rush to complete PV projects by the end of June finishes, due to quota and FiT deadlines.
According to the ROTH Capital analysts, third quarter 2016 installations in China could be as low as 2GW to 3GW, with the fourth quarter at between 3GW to 4GW.
According to Ash Sharma, Senior Research Director, and Edurne Zoco, Senior Manager at market research firm, IHS Technology PV installations in China in the third quarter of 2016 are expected to drop by around 80%.
IHS said that it expected around 13GW to be installed in China in the first half of the year, while government targets of keeping installations below a 20GW target remained in place. Indeed, China is likely to surpass its 2016 target of 15GW, according to ROTH Capital, putting pressure on Chinese authorities to limit further growth in 2016.
'This pattern in China – which differs significantly from previous years – will drive a global slowdown in installations in the second half of this year and trigger a sharp adjustment in pricing,' noted the IHS analysts.
However, ROTH Capital noted that the government may extend the June 30th FiT reduction a further month to ease the rush to complete projects.
Regardless, PV project activity in China in the second half of the year appears to be set for a major decline.
Pricing pressure
IHS believes that as a result ASPs throughout the module value chain have already started to fall and sharply for delivery in the second half of 2016. Prices for Chinese tier-1 modules shipped in China were said to range from US$0.44/W to US$0.46/W (excluding value-added taxes), according to IHS, while prices as low as US$0.43/W for multicrystalline modules were quoted at SNEC.
ROTH Capital also noted the ASP threat, particularly on the likes of Renesola and Yingli Green as well as 'Silicon Module Super Leagure (SMSL) members, Trina Solar, JA Solar, and JinkoSolar, due to their 'meaningful China exposure'.
According to IHS, solar PV end markets such as India and Latin America, are already consuming larger PV module volumes at lower prices, while slowing demand for modules in the US, the second largest market in 2016, is adding to manufacturers' woes. IHS noted that module prices shipping in the fourth quarter of 2016 have already declined by as much as 10%, since the first half of 2016.
SMSL leader, Trina Solar recently reported in its first quarter earnings call that shipments to India increased 53.1% sequentially and we are up twofold on a year-over-year basis and ASPs fell faster than production costs in the quarter.
However, Trina Solar noted that the pressure on ASPs was not specific to one market, but globally, yet not declining sharply, guiding manufacturing margins were expected to remain relatively stable in 2016. The company said that it still expected overall module ASP declines to be in the range of 5% to 10%, for the year and module margins around 14% to 15%.
Overcapacity concerns
More contentious are the claims of looming overcapacity and importantly the wider implications. As recently highlighted in several PV Tech blogs by Finlay Colville, Head of Solar Intelligence at Solar Media after attending SNEC, noted that many China-based PV module manufacturers (excluding SMSL members) modules are now purchased only for Chinese PV projects. Overcapacity would therefore only primarily exist in China on a project demand slump.
China-based SMSL members such as Trina Solar, JinkoSolar, Canadian Solar and JA Solar and the top 10 producers are expected to account for nearly 50% of the global module market in 2016.
Global market reach for these producers is expected to continue to increase with overall end-market demand and capacity expansion plans that match demand.
Indeed, the majority of SMSL members have recently reiterated previous shipment guidance for 2016, rather than sequential increases in shipment guidance throughout 2015.