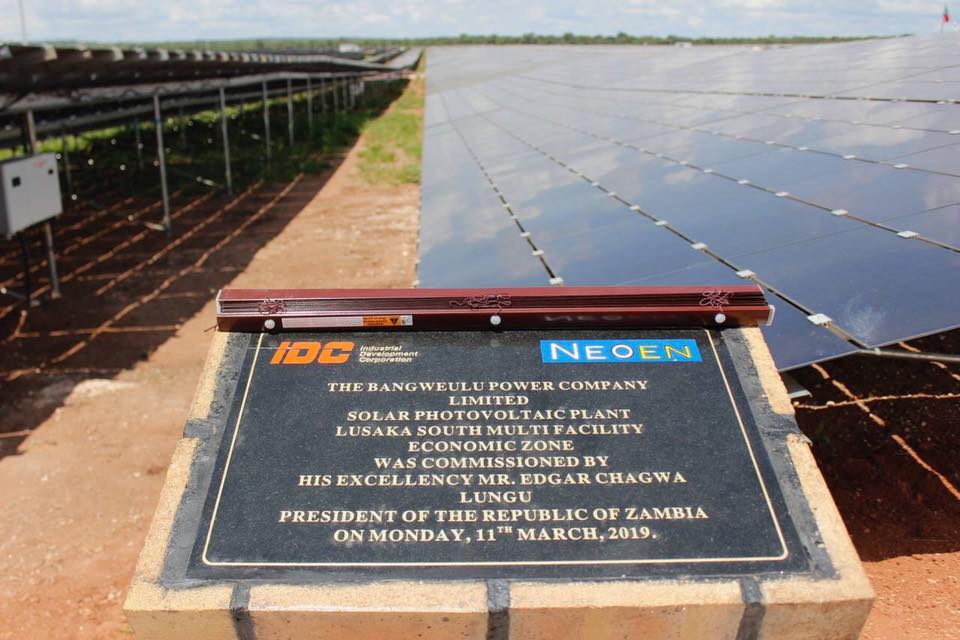 The first PV project to be tendered and financed under the World Bank's Scaling Solar programme is now fully built, a little more than a year after construction began with the help of development money.
Facebook and Twitter posts by Zambia president Edgar Chagwa Lungu documented the commissioning ceremony for the 54MW Bangweulu plant, the work of developer Neoen and manufacturer First Solar.
The event marks a milestone for the Scaling Solar initiative. Its 2016 inaugural auction, featuring a total of seven bidders, saw Neoen and First Solar win after tabling bids at the lowest price – 6.02 US dollar cents/kWh – African solar had ever seen until that point.
Construction of the US$60 million plant kicked off in late 2017, with funds drawn from the World Bank's (the IFC) and the US (OPIC) development finance institutions. A 25-year PPA had been signed earlier that year, anticipating the supply of power to Zambian utility ZESCO.
The Bangwelulu scheme is part of Zambia's ambitions to diversify its energy mix. Overreliance on large-scale hydro has seen the African state struggle when droughts kick in, sparking power shortages and rationing for customers.
The government's target is to push on-grid solar capacity up by 600MW within two to three years, up from the most recent 0.06MW figure. This is to be accomplished through domestic feed-in-tariff schemes run by German development bank KfW, as well as the Scaling Solar initiative.
The Bangwelulu plant aside, the other winner at the initiative's maiden auction – a 34MW farm Enel started building in August 2018 – should help push capacity up. A second procurement round was announced in 2017, with the 12 pre-qualified bidders including once more the Neoen/First Solar consortium and Enel, but also Scatec Solar, Tata Power and EDF.
The Scaling Solar program has also led to PV project procurement across Madagascar, Senegal and Ethiopia, among other African countries.