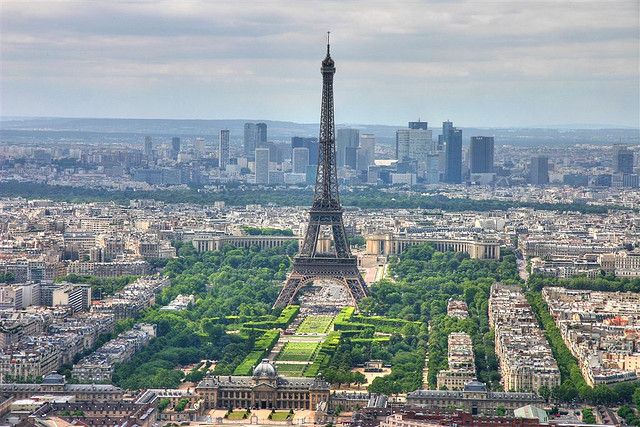 Microsoft founder Bill Gates, Mark Zuckerberg of Facebook and a Saudi Arabian prince are among the names signed up to support the Breakthrough Energy Coalition, an initiative launched as COP21 climate talks begin today in Paris.
The summit, taking place six years after the previous meeting in Copenhagen was widely deemed a failure as no agreement was reached, will also today see the launch of Mission Innovation, an initiative to "reinvigorate and accelerate clean energy innovation", through a joint statement signed by the heads of 20 nations.
The Whitehouse announced Mission Innovation's launch on Sunday. Countries which have signed up have committed to doubling investment in clean energy research and development over five years.
In alphabetical order, those nations are:
Australia, Brazil, Canada, Chile, China, Denmark, France, Germany, India, Indonesia, Italy, Japan, Mexico, Norway, Republic of Korea, Saudi Arabia, Sweden, the United Kingdom, the United Arab Emirates, and the US.
Those 20 nations between them represent 75% of world emissions from electricity but also more than 80% of global investment in clean energy, the Whitehouse statement, authored by the National Security Council's senior director for energy and climate change Paul Bodnar and Dave Turk, deputy assistant secretary for International Climate and Technology at the US Department of Energy.
Gates launches private counterpart to government efforts
The Breakthrough Energy Coalition is intended as a private sector companion to Mission Innovation. Along with Bill Gates, who since retiring from tech has done philanthropic work for the Bill & Melinda Gates Foundation, other participants include Facebook CEO Mark Zuckerberg and his partner Dr Priscilla Chan, Ratan Tata of India's Tata heavy industry group, noted fund manager George Soros, Jack Ma of Chinese home shopping site Alibaba, billionaire entrepreneur Richard Branson, founder and CEO of Amazon Jeff Bezos, chief of Japanese mobile telecoms company and solar developer Softbank Masayoshi Son and Prince Alwaleed bin Talal, a Saudi royal and philanthropist.
Breakthrough Energy Coalition said that while government support is vital to ensure that the development of renewables is mandated and carried out, "current governmental funding levels for clean energy are simply insufficient to meet the challenges before us".
However, Breakthrough Energy Coalition's approach has already drawn criticism on twitter this morning from solar industry veteran and clean tech entrepreneur and financier Jigar Shah.
Shah has said before that in his view, focus on R&D is less of a priority than the scaled deployment of technologies that are already market-ready such as PV. Once again he said that spending on R&D was not as fruitful an investment as spending on deployment. Shah jumped on a tweet by founder and chief science officer of compressed air energy storage startup Lightsail, Danielle Fong.
Other commentators early to react on Twitter including US entrepreneur Marc Andreessen said today that while hundreds of billions are spent on subsidising fossil fuels worldwide, either through costs for externalities that are not factored in to common calculations of spending such as clean up for oil spills, tax exemptions or direct subsidies, innovation spending in clean energy would be dwarfed in its impact by comparison.
This thanksgiving weekend, I am incredibly thankful for this rallying cry to push for breakthroughs in clean energy. https://t.co/uBpv9eUH4s

— Danielle Fong (@DanielleFong) November 30, 2015
I'm 100% in favor of https://t.co/gTyySMb6s3, but the real issue remains https://t.co/b4eGA2AQwz — $500B+ annual fossil fuel subsidies.

— Marc Andreessen (@pmarca) November 30, 2015
@pmarca respectfully disagree. The subsidies are important, but the power of a small amount of smart investment in R&D is a bigger lever

— Danielle Fong (@DanielleFong) November 30, 2015
In fact exactly wrong, energy R&D hugely important but take 30years to reach 1% penetration, look to deployment https://t.co/4s61DtBcAc

— Jigar Shah (@JigarShahDC) November 30, 2015
UN secretary general opens Paris talks
The COP21 opening day also included an address from UN secretary general Ban Ki Moon as well as the arrival of world leaders, in stark contrast to 2009's abortive attempt at reaching consensus. At that event in Copenhagen, heads of state and senior policy makers were only brought to the talks as the meeting neared its conclusion, leading to confusion and dissatisfaction on nearly all sides as major powers were accused of holding talks in small groups veiled in secrecy, leading many smaller nations to 'rebel'.