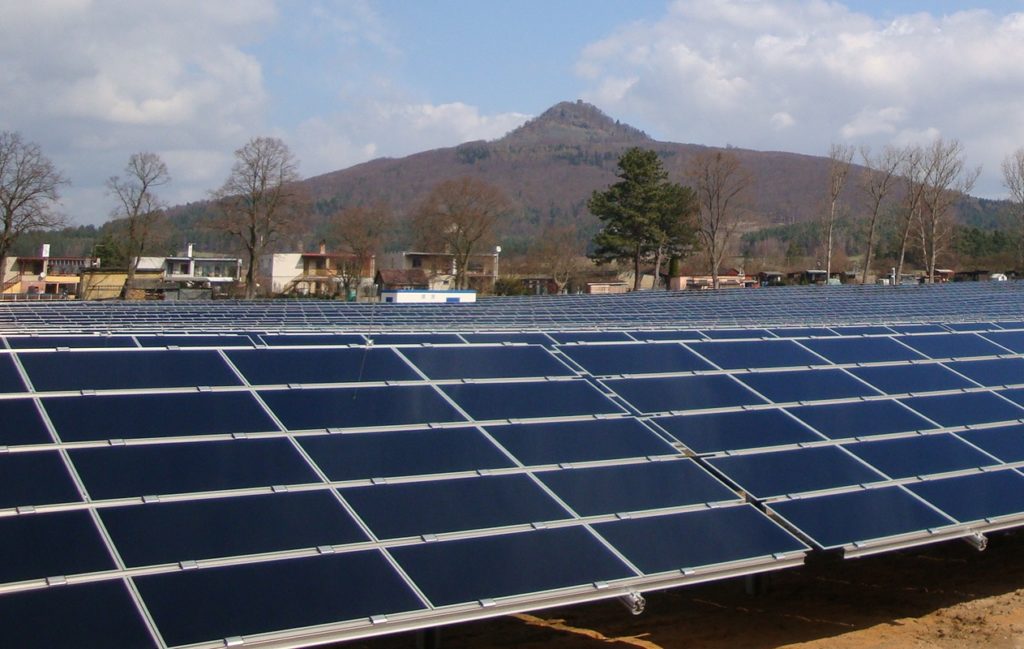 In the past few years in the Czech Republic, the installed capacity from solar PV came primarily from the rooftop market, despite a boom of ground-mounted solar PV back in 2009-2010 that saw nearly 2GW of capacity added under a feed-in-tariff (FiT).
"The feed-in-tariff was quite lucrative, which attracted a lot of investors. Too many. Now every year the state pays about €1 billion (US$1 billion) or close to that," says Jan Krčmář, director of the Czech Solar Association.
The success of the programme – and its subsequent heavy cost for the state – is also the reason why the country has suffered from a sort of 'Nimbyism' ('Not In My Back Yard') and with both politicians and citizens viewing negatively ground-mounted solar.
This feeling has also moved into the agricultural industry which is reluctant to allow for the use of the land to be combined with solar PV, says Krčmář, adding: "I'm convinced that if the feed-in-tariff hadn't been that high 12-13 years ago, then much fewer people would have problems building ground-mounted solar today in Czechia (the Czech Republic's official name)."
A law regulating agricultural land which would include a definition of agrivoltaics is currently being worked on and brought soon in Parliament, says Krčmář. However, its current state would limit land that would allocate the use of solar PV with agriculture to orchards, vineyards and hop production.
The optics of implementing solar projects with agricultural land could help accelerate ground-mounted solar in Czechia, and with just half a per cent of the entire agricultural land, it would be more than enough to add 10GW of solar PV, according to Krčmář. That would represent less than 5% of land currently used to produce biofuels.
If setting a legal frame on agriPV could help boost the growth of solar PV in Czechia – especially in the ground-mounted market – it will still require work on one of its main challenges that could hamper that progress, its grid. "The investments that were made were not enough to prepare us for a boom or for a growth that is comparable to our neighbouring countries," says Krčmář.
With the DSO (distribution system operator) currently without enough manpower to help connect all the capacity waiting to get grid access, some residential rooftop projects are waiting up to nine months to be connected, adds Krčmář.
And to make matters worse, the lack of transparency towards the process of allocating grid access makes it near impossible for developers to know if there will be any space available, while large power plants cannot be connected with a lower reserve capacity or even combining different renewable resources, such as biogas with solar PV. Coupling for instance a 1MW biogas plant with a 1MW solar PV would require asking for another grid connection of 2MW of capacity, with the DSO not yet ready to allow for such a change and thus limiting the installed capacity, says Krčmář.
"Our grid capacities are reserved and allocated, there's no transparent process to find out whether there is available capacity in certain locations or not. Sometimes investors have to submit multiple applications for grid connection to various locations just to make sure that there's some capacity somewhere. That of course clogs up the system because there are more applications in the system than needed and more capacity has been reserved."
Proof of this lack of power from the grid was shown last Easter when the Czech TSO (Czech Electric Power Transmission System) had to disconnect hundreds of megawatts of solar PV from the grid due to the weather being favourable for solar PV and low demand for electricity giving an excess of solar capacity to the grid. An issue that is more than likely to happen in the future if the TSO does not improve the grid to allow for the additional renewable capacity that is being added.
Krčmář, adds: "So we have this weird situation where agriPV is running into its own problems and where the problems with the grid connection were the blame has been put on solar."
Sooner or later the country will have to embrace solar PV along with other renewables due to its heavily industrialised economy still relying on fossil fuels, forcing the automotive, chemical and steel industries to quickly decarbonise.
"It is not an easy market currently, because we're at the beginning. Investors should definitely already look at it. And should already try to establish alliances with local companies, because we are a market which had big solar growth," says Krčmář.
However with Czechia being one of the ten EU member states part of the Modernisation Fund – a programme which aims to help modernise energy systems and improve energy efficiency – the country is well positioned to implement at a quicker pace its decarbonisation and shift its power capacity from fossil fuels to renewables.
More than a decade ago the country had its first major boom in solar PV, and now is waiting for the second one in the coming years, with the advantage of having experienced players who already know the market and with opportunities to secure power purchase agreements with industries who rely heavily on electricity.
Czechia's market, along with other solar emerging European markets will be at the centre of the next PV Tech Power 35 with the cover feature on the solar hotspots of Eastern and Southern Europe. PV Tech Power 35 will be released later this month, meanwhile, you can already read PV Tech Power 34 here.
PV Tech publisher Solar Media will be organising the third edition of Large Scale Solar CEE in Warsaw, Poland during 14-15 November. There will be a panel around Czechia's solar market – with discussions around its bottlenecks, the markets offering the biggest growth or prospects of agriPV and floating solar – with Jan Krčmář as one of the panellists. More information, including how to attend, can be read here.